Highly Volatile Gold prices, Experts advise Long straddle option strategy!
Gold was first used for money in 643 BC & that was the first barter system. The price of gold at 45 coins to half a kilogram was set by the Roman Emperor Augustus. Since then its value has steadily increased, reaching a peak of 35000 Rs/Kilogram in April 2013. Previously gold was used as coinage, and post the demise of a king of the First Egyptian Dynasty Gold jewelry was buried in the Tomb of Djer. Gold's beauty reusability and malleability made it perfect for many uses. Because of its unique property of reusability of soft yellow metal without losing the actual value of the metal, its value was recognized for a universal exchange of any goods. Since then Gold plays an important role worldwide. Due to consistent demand, most of the investors take advantage of the price appreciation without holding it as an underlying asset in a physical form. An end investor prefers to hold gold in the form of an Exchange-traded fund (ETF).
During the last 60 years, Gold prices have always given a positive compounded Annual Growth rate!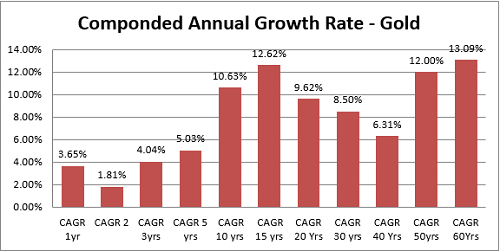 In October, due to the festival season (DEEPAWALI), demand for gold has seen an increase of 9% to 727 tonnes, and it is expected to reach 800 tons for this year.
Trading Sentiments in high volatile precious metal Gold

Gold prices during April - Oct 2018 traded at the levels of 32300, yet failed to build bullish sentiments. It has shown that the seller's strength is more when compared to buyers. These sentiments, made Gold prices go for correction and have given a decline of a phenomenal amount of 10% in a span of 3 weeks. Currently Gold is trading at 30500 levels by acting as a critical turning point of the trend line and as strong support.
Moving averages conversion and diversion indicator (MACD) is making a statistical plot at the zero line, which is a clear indication that sellers are winding up the short positions. Yet however fresh buyers' sentiments are yet to come which indicate that trend can be sideways or significantly volatile. Relative Strength Index (RSI) is also indicating that day traders are winding up the short positions and fresh buy positions are yet to build. This further indicates trend can be sideways or significantly volatile for some more time. Fibonacci price extension tool further clarifies that 30500 levels act as support and 32000 are a turning point of the trend. The trend line is showing a crossover at a similar point, hence we can strongly say that overall sentiments of the market are either sideways or volatile.
Due to this perplexing behavior in the market, the ideal trading strategy is "Long straddle" and we can take advantage of the volatility on either side of the direction by entering 30400 at Money CE options long position @ 360 levels, and 30300 PE long position @ 360 levels. The overall risk in this position would be 720 points of premium, i.e. close to 2.3% of the volatility moves in the market. Since the trend for the month is highly volatile, either side of the move in the market i.e. 30 and below or 31200 or above for beyond 1% move in the market will get the benefit of the high premium on the day of expiration.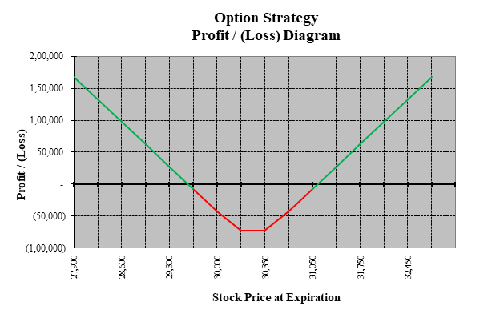 Global factors & Growth concerns on Weakening Dollar
Gold and dollar share an inverse relationship under normal circumstances. Since international gold is dollar-denominated, any fall in the dollar pushes up gold prices and vice versa. This is because firstly, a falling dollar increases the value of currencies of other countries which increases the demand for commodities including gold which also increases the prices. Secondly, when the US dollar starts to lose its value, investors look for alternative safe investment assets to store value and gold is an alternative source for them.
As the precious metal remains in a compressed trading range, an end-game to the Federal Reserve's tightening cycle is what gold needs to rally, senior commodity strategist at Bloomberg Intelligence, Mike McGlone said. Near-term sentiment on global growth could sour boosting gold prices, but he added that he thinks markets are being a little too pessimistic, as per Ryan McKay, a commodity strategist at TD Securities. Further, he added, we expect that long-term growth fundamentals will remain in place & appreciation in the price of gold is not likely to happen till mid of 2019, this can provide some support for Gold.