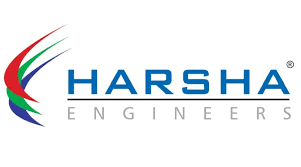 | | |
| --- | --- |
| Offer period | September 14, 2022, to September 16, 2022, |
| Price Band | ₹314 to ₹330 per share |
| Lot Size | 45 Shares |
| IPO Size | ₹755 crores |
Harsha Engineers International Limited - Company Overview
Harsha Engineers International Limited, founded in 2010, is India's largest manufacturer of precision bearing cages in terms of revenue in the organized sector. The firm is a subsidiary of the Harsha Group.
The company is divided into two sections:
Engineering division, which produces bearing cages (in brass, steel, and polyamide materials), complex and specialized precision stamped components, welded assemblies, brass castings and cages & bronze bushings.

Solar EPC business, in which the company provides complete turnkey solutions to all solar photovoltaic requirements as well as solar operations and maintenance services.
Business Overview
Customers purchase the company's products in over 25 countries across five continents, including North America, Europe, Asia, South America, and Africa.
Harsha Engineers International was able to manufacture more than 7,205 bearing cages and 295 other products for customers in the automotive, railways, aviation & aerospace, construction, mining, agriculture, electrical and electronics, and renewables sectors as of September 30, 2021. Furthermore, over the last three years, the company's product development and innovation centre have created over 1,200 different bearing types.
The company has five manufacturing facilities for engineering business, with two in Changodar and one in Moraiya, near Ahmedabad in Gujarat, India, and one in Changshu, China and Ghimbav Brasov, Romania.
Harsha Engineers International Limited - Objectives of the IPO
The company proposes to utilize the Net Proceeds of the Fresh Issue towards funding the following objects:
₹270 crores for debt repayment.

₹77.95 crores to fund working capital requirements for the acquisition of machinery.

₹7.12 crores for infrastructure repairs and renovation of existing manufacturing facilities, as well as general corporate proposals.
Harsha Engineers International - Financial Summary (Consolidated) in crores
| | | | | |
| --- | --- | --- | --- | --- |
| Period Ended | Total Assets | Total Revenue | Profit After Tax | Net Worth |
| 31-Mar-19 | 195 | 117.9 | -27.41 | 1.41 |
| 31-Mar-20 | 973.24 | 899.5 | 21.91 | 378.02 |
| 31-Mar-21 | 981.07 | 876.73 | 45.44 | 433.22 |
| 31-Mar-22 | 1158.25 | 1339 | 91.94 | 527.9 |
Harsha Engineers International IPO PROS
A comprehensive solution provider with a diverse portfolio of precision engineering products available across geographies and end-user industries.

Long-standing relationships with prominent clients.

Domestic and international production facilities and warehouses strategically located.

Tooling, design development, and automation expertise.
Harsha Engineers International IPO CONS
Rely on a small number of customer groups for a significant portion of its engineering business revenue.

Failure to maintain relationships with its network of agents for the fulfillment of customer needs, or a deficiency in the service provided by such agents, may have a negative impact on the business.

Failure to obtain, renew, or comply with required regulatory approvals and licenses may have a negative impact on operations.

The company and certain of its subsidiaries have unsecured loans that the lenders may call in at any time.

It also has certain contingent liabilities that, if they materialize, may have a negative impact on its financial condition.
How to Apply for Harsha Engineers International Limited IPO
Enter your client ID

Enter the OTP received in your registered mobile number.

Choose the IPO and click on apply button.

Enter the UPI ID, Quantity, and Cut off price.

Click on submit button

Confirm the mandate the mandate request received on your phone by entering the UPI Pin.

You can also watch our youtube video on "How to Apply on IPO"