Sub Broker
You might have heard of a 'Stock Broker' or 'Broker', but you're probably not familiar of a 'Sub-broker'. A sub-broker acts in the same capacity as a broker, i.e., acting as a middleman between two parties. However, a stockbroker act as an intermediary between an investor and the stock exchange; a sub-broker acts as an intermediary between the stock broker and the investor. As sub-broker works for a stockbroker, and responsible to bring clients to the brokerage firm. Sub broker also assists clients in dealing with their investments. As a reward, the sub-broker receives a fixed percentage of the transaction.
Difference Between a Sub Broker and a Stock Broker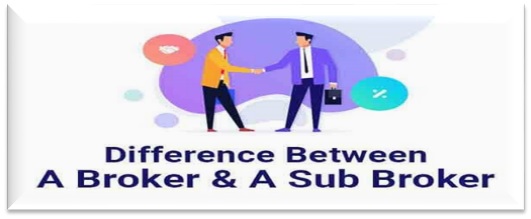 When someone asks: "What is a sub-broker"; comparing a broker to a sub-broker is perhaps one of the best way to explain it. A sub-broker, as previously said: works under a broker.
However, there are few differences between the two:
One of the key differences between two is: while stockbrokers are registered trading member of the stock exchange; sub-brokers are not. This does not mean that sub brokers do not need any certificate; they must obtain a certificate of registration from SEBI to operate their business.

Another key difference to note is that: while stockbrokers get paid by charging brokerage fees to their clients; sub-brokers get paid by charging a sub brokerage fee to brokerage firm.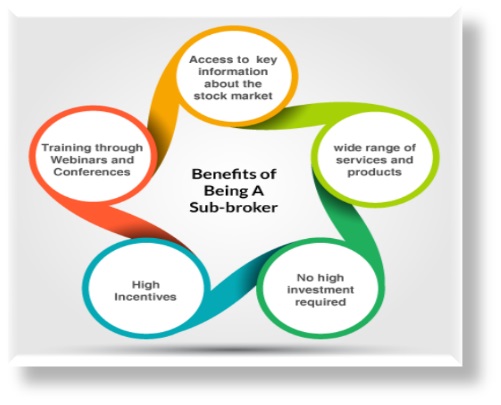 Advantages of being a Sub Broker
The advantages of being a sub-broker are as follows:
The first and foremost advantage of being a sub-broker or a 'franchise' is the knowledge and insights, you get on the stock market, which could be further utilized for personal trades. This self-sustaining loop not only allows sub-brokers to better serve their clients but also manage their investments.

Another advantage of being a sub-broker is that: the brokerage firm may allow you to offer other services apart from broking; for example, broker could allow its sub broker franchisees to offer mutual fund distribution and Loan service to their clients.

The third advantage is that: you do not need a large initial investment as a sub-broker, because your franchiser covers the majority of the costs. To start a career as a sub-broker, a sub-broker just needs a minor investment of say 10,000 rupees or more.
As a result of increase in demand for brokers - and surplus disposable income to invest; the role of Sub broker has gained momentum.
While becoming a broker necessitates extensive permissions and certifications; being a sub-broker allows you to perform similar functions, without having to register as a Trading Member.
You could consider partnering with reputed businesses such as ATS, to take advantage of their expertise and smooth processes.
For further queries regarding investments, financial planning and guidance, please call us at +91 7305923322
Please write to us at research@adityatrading.com
To read more posts from ATS, check our blog at https://adityatrading.in/