The cement industry registered the lowest volume growth during the past 15 years. Though the industry started the year on a positive note, achieving decent growth during the first six months of the year, the second half witnessed muted cement demand from the housing segment, the largest cement driver. The year saw the industry adding another 12 mtpa new capacity, taking the total installed capacity in the country to ~420 mtpa. With the new additions coupled with contraction in demand, industry capacity utilisation declined to ~65% (LY 67%). Cement prices have not shown any improvement over the last year and escalation in fuel prices has resulted in higher operating costs. Cement demand is expected to pick-up gradually. The Government sponsored affordable housing program, interest rate subvention scheme on housing loans, continuing infrastructure spending, improving demand sentiments in the markets of South India and revival in rural housing demand, backed by improved cash flow, are expected to be the key factors for cement demand growth. On the flip side, demand from the urban housing and private sector capex is still not showing any signs of recovery.
The cement industry is dependent on natural resources and is highly energy intensive. Natural resources like limestone, coal and minerals are essential to produce cement. The industry needs to ensure the uninterrupted supply of these materials at an optimum cost and quality, however due to the depletion of reserves, this is becoming challenging. Volatility in the price of coal is also an area of concern for the industry. The quality of raw material additive and mineral gypsum is also depleting. The MMDRA Act's new notification as of 12 January 2015, stated that the renewal of Mining Leases and grants of Mining Leases and Composite Licenses (PL-cum-ML) will happen through Auctions. For continuous operation, there is a need to secure limestone with a minimum reserve of ~50 years.
GLOBAL ECONOMY
The world economy has strengthened during FY 2017-18, as lingering fragilities in the global financial markets began subsiding. According to IMF – World Economy Report, global growth is projected to rise at 3.9% in 2018 vis-à-vis 3.8% in 2017. The improvement in global economy provides an opportunity to countries to adopt more sustainable policies that work towards low-carbon economic growth, economic diversification, reducing inequalities and eliminating deep-rooted barriers to the growth and development of an economy
CEMENT INDUSTRY IN INDIA
India is the world's second largest cement market, both in terms of production and consumption. During FY 2017-18, the cement sector grew by 6% owing to increased infrastructure spending by the Government of India and re-materialization of demand from the private sector.
India needs an investment of Rs 50 lacs crore in the infrastructure sector and the Government of India has undertaken various infrastructure projects to facilitate it including:
Selected cities for the Smart City project with a cost of Rs 2.04 lacs crore.
Planned 35,000 km of road development under the Bharatmala project Phase I with an outlay of Rs 5.35 lacs crore.
Chalked out construction plan of 10 million houses in rural India and 20 million toilets under Pradhan Mantri Awas Yojana and Swachh Bharat mission, respectively
Additionally, the implementation of GST has eliminated multiple points of taxation and increased access across markets for the organized sector, allowing smoother movement of goods. Also, the introduction of the Real Estate Regulatory Act (RERA) ensures accountability for all real estate projects and assures timely completions, which are likely to increase buyer confidence. These factors will impact the cement industry positively by facilitating access to various markets and bolstering the real estate market.
INDUSTRY TRENDS
Increasing presence of small and mid-sized cement players diminishing market concentration Growing adoption of cement instead of bitumen in construction of roads Huge investments in infrastructure development by the government
Grey Cement As per the IBEF Report, June 2018 India has a cement production capacity of ~455 MT, of which almost 98% is dominated by the private sector. The top 20 companies account for ~70% of the total production. Grey cement is one of the most important building materials used in construction and infrastructure activities. The rise in the real estate sector, housing demand, and infrastructure spending will augment grey cement demand.
White Cement
White cement provides a classy touch to architectural designs and is used in combination with inorganic pigments to produce brightly colored concretes and mortars. It is also used as an input for the manufacture of value-added products like wall putty and primers.
Performance: White cement registered a growth of 2% y-o-y in production volumes, whereas the value-added product, wall putty showed a growth of 14% on a yo-y basis.
INDUSTRY GROWTH DRIVERS
Housing
Housing forms the major portion of cement demand at ~65%, Improved rural incomes, higher rural credit and increased allocation for rural, agriculture and allied sectors are likely to encourage rural housing demand, Government initiatives provide demand impetus in the sector.
Infrastructure: 100 smart cities planned, Projects like dedicated freight corridors and ports under development, Metro rail projects underway in most major cities.
Urbanisation :Development of 500 cities with population of more than 100,000 under new Urban Development Mission.
INDUSTRY OUTLOOK: India's cement production capacity is expected to reach 550 million tonnes by 2025. Growth in the cement sector in 2018-19 is likely to be fairly high driven by the slew of infrastructure projects like Bharatmala, Smart Cities, PM Awas Yojana and Housing for All. The Union Budget 2018-19 looks promising with increased allocations to infrastructure spending, energising the segment.
INDUSTRY RISKS
Inflation rate
Inflation plays a pivotal role in the Indian economy. In 2017-18, average inflation dipped to a six-year low of 3.3%, however, it is expected to rise 4.40% during FY 2018-19. One of the major causes of inflation is an overall increase in demand for goods and services, which escalate their prices. Besides, in case a normal monsoon is affected, inflation may further rise making commodity prices dearer.
Interest rate
Reserve Bank of India has kept repo rate unchanged for the last year at 6.0%. However, due to increasing cost of funds for banks, the marginal cost of lending rate has started increasing. All banks have started lending on the basis of marginal cost of funds-based lending rate (MCLR), leading to higher cost of borrowing for property buyers, resulting in lower demand in the housing segment.
Raw material risk
The cement industry depends on limestone and other raw materials. However, availability of limestone is limited and thus, it is essential to promote the use of blended cement, which uses alternative raw materials such as fly ash and slag. The increase in the cost of these alternative materials — now fly ash is available on auction and slag on the basis of prevailing market prices — may further increase production costs.
Competition risk
India's cement sector has become highly competitive with multiple large players operating in the domestic market. While earlier most companies were catering to specific parts of the country, now most players are expanding their reach pan-India, thus creating greater market competition.
Infrastructure risk
Infrastructure sector drives overall development of the economy and is a major focus of the Government of India. Any pull back by the government on its initiatives will result in de-growth for the cement industry. Moreover, too many regulatory approvals and compliances might be a hindrance to the segment's progress.
Power and fuel risk
Cement industry is highly energy intensive and ~23% of its total expenditure consists of power and fuel costs. At J.K. Cement, ~80% of our requirement for kiln fire is met by petcoke, which is a derivative of crude oil. Thus, any rise in crude oil prices will adversely impact prices of petcoke and operating costs of the company. In case of increase in petcoke prices or non-availability, we use imported or indigenous coal (through e-auction) as the availability of linkage coal is limited. Further, owing to the ban on using petcoke for captive power generation, production costs would escalate more. Therefore, we are looking towards the adoption of green energy, which offers almost same calorific value as low-grade coal for a more sustainable and cost-efficient energy option.
Logistics risk
With the rise in diesel prices, the cost of road transportation increases. At J.K. Cement, we currently use railways for only 10-15% of our logistics needs for cement. This cost increase and huge dependence on-road transportation would have an impact on our operational costs.
INDUSTRY STRUCTURE AND DEVELOPMENTS:
The domestic cement sector is the second-largest market globally and accounts for 6.9 percent of the world's cement output. Cement is indispensable for nation-building and has a direct linkage with a nation's health and growth. The housing sector is the biggest demand driver of cement, accounting for about 67 percent of the total consumption in India. The other major consumers of cement include infrastructure at 13 percent, commercial construction at 11 percent, and industrial construction at 9 percent.
The GDP growth rate for the year 2017-18 was 6.7% down from 7.1% recorded in the financial year 2016-17. The cumulative index of cement production increased by 6.3% during the financial year 2017-18 over the corresponding previous year, with the bulk of growth reported in the second half of the year. The growth was largely on account of continued support from the Government led infrastructure and construction initiatives. During the year, the Government continued with its focus on rural development, affordable housing, setting up of smart cities, as well as laying thrust on construction of cement concrete roads, highways through its magnum "Bharatmala Project", one of the biggest highway construction project. Real Estate (Regulation and Development) Act, 2016 (RERA), implemented w.e.f. 1st May 2017 is expected to bring revolutionary changes in the manner the real estate sector functions. It has the potential to make the market disciplined and vibrant which is likely to boost customer confidence in Real Estate Sector.
The Indian cement industry is the second-largest globally with a production capacity of nearly 450 MT. The industry is currently producing 280 MT for meeting its domestic demand and 5 MT for exports requirement
INDUSTRY OVERVIEW – THREATS, OUTLOOK & OPPORTUNITIES
Cement Industry has overcapacity, demand is not rising as it should as or was expected, input costs are going up, regulatory environment is becoming increasingly strict, customers more demanding, competition increasing, etc.; are common refrains when it comes to explaining reducing margins and reducing returns on capital employed. Clearly there is need to see beyond the obvious.
Industry in last 2 – 3 years has witnessed some major structural changes. The industry is witnessing a sort of consolidation in which the total capacity in the hands of large and mid size players is gradually rising. For instance nearly about 15% of industry capacity in last 2 – 3 years has changed hands and has largely gone into the hands of the players who already dominate the industry landscapes. As a consequence of this consolidation, while 10 years ago large and mid-size players in the industry controlled 40% of the industry capacity, today more than 70% of industry capacity is with large and mid sized players. This consolidation undoubtedly on one hand has changed cost competitiveness equation for the industry; on the other hand, it has also put pressure on others to tighten the belt and be more cost competitive. Improving competitiveness is a good news for all and is also an opportunity for others to learn, improve, and adopt.
Another expected positive aspect of the consolidation in the industry is more responsible behavior and reducing volatility which has been one of its foremost characteristics. We are already witnessing the same in terms of a better price parity across markets and barring a few exceptions, the market is gradually getting used to pay a price per bag of cement that is more uniform across the country. GST will also contribute to it in no small measure. Though such a change is likely to cause some pain and discomfort initially but is also an opportunity for the industry to be more focused and concentrate on markets that are natural to them in terms of cost and price competitiveness. Stability in prices is also likely to result in stable markets and stable demand. A system that is stable and running in a steady-state is always more efancient and effective as compared to a system full of uncertainties and volatility.
After a period of initial turbulence caused by major disruptive economic reforms undertaken by the government, riding on the initiatives such as infrastructure development and Housing for all; cement demand is now witnessing a gradual but steady revival. Housing and infrastructure have always been the mainstay of cement consumption and both these sectors put together account for nearly 80% of cement consumption. Hence a revival of these sectors, even though in select pockets is overall a piece of good news for the industry. Though this revival would certainly bridge the gap between the industry capacity which is inching towards the 500 million mark and demand which is crossing the 300 million mark; there is little to believe that new capacity shall not be added in the industry before existing capacities are fully absorbed or are absorbed to the extent of 90 – 95% utilization levels seen by the industry in past.
Hence moving forward with the consolidation of capacities, consolidation of market presence and market share would be a major factor that would derive the capability to compete in the industry. Your company has taken various measures in this regard which will result in further consolidation of its presence and growth in market share in its operative markets. This combined with improvements in operational efficiencies should lead to better margins, accretion of wealth, and thereby further reinvestment in the future.
During FY18, the Cement industry in India witnessed revival backed by Government spending on infrastructure. The good monsoon ensured steady cement demand from the rural segment. However, the demand from the urban residential real estate segment remained subdued in comparison to FY17 due to elevated inventory levels and the introduction of RERA in May 2017, which disrupted construction activity as the real estate developers went slow on launching new projects. Cement production grew at about 6 percent for the full year against a decline of about 1 percent last year. Over-capacity in the cement industry continues to impact the price and margins. At the end of March 2018, the overall installed cement manufacturing capacity stood close to about 465 million tonnes. Cement production during FY2017-18 was about 298* million tonnes compared to 280 million tonnes in the corresponding period indicating growth of about 6%. * Source: Website of Office of Economic Adviser, Ministry of Commerce and Industry.
Cement production across the country saw revival with production increasing at 6% in FY18 as compared to de-growth in FY17 despite challenges for the cement industry such as the implementation of RERA, GST, sand mining ban and the after-effects of demonetization. Cement sector growth was led by construction of houses under the "Housing for All" Scheme and Pradhan Mantri Awas Yojana (PMAY) Scheme from the housing segment especially in the rural areas. Infrastructure projects under Bharatmala, Sagarmala and Smart Cities continued to drive demand. The year saw a rise in cost for the industry, which was not supported by a corresponding rise in prices.
According to expert estimates, the total installed capacity of the cement industry in India is 455 million tonnes (MT) and production is marginally lower than 300 MT resulting in overall capacity utilization level at less than 70%. While Central, North and East witnessed healthy utilizations level the drag on overall utilization level was due to Southern part of the country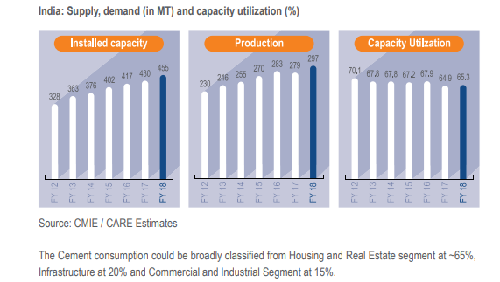 Demand drivers going forward
Infrastructure development need of the hour and continues to remain in focus:
Strong ordering witnessed in the road construction segment. NHAI project awarding increased by 70% during FY18. While execution has increased year on year over last four years, the Government's intentions are higher than current run rate. • Planned metro projects of more than 1,200 km across 23 cities. Closer to the region where the Cement Division sells its production, Lucknow Metro Rail Corporation has approved DPR of metro projects in Kanpur. • Development of international airports, industrial corridors & freight corridors, ongoing and increasing capex in railways and power transmission are the other focus areas, which would drive cement demand.
Housing and Real Estate segment demand drivers are rural housing and affordable housing in urban areas:
Increasing budgetary support for both PMAY – Gramin and Urban. These programs are likely to be one of the biggest catalyst for cement demand. The Government is taking several steps to ensure better execution in the form of providing funding directly into beneficiary account, interest subsidy, revised carpet area to include more beneficiaries and removing land constraints amongst others. • Impetus on increasing agricultural productivity, procurement and better pricing for same. Uttar Pradesh State Government has reported record procurement of Wheat and Paddy during FY18. • Demand from affordable housing is expected to increase on the back of Government allocating higher amount for urban housing. The PMAY – Urban has seen five-fold increase in budget outlay. • State Governments have re-aligned their budget and focus in line with Central Government. • Few pockets of urban housing segment are turning around. Commercial segment seems to have turnaround during last few quarters.
The challenges for the sector are mainly on the cost front with increasing commodity and fuel prices, nation-wide ban on pet-coke apart from the preponing / increasing capacity additions
The ready-mixed concrete industry has been considerably successful globally. In India, it is still at a nascent stage. Ready-mixed concrete accounts for only about 10-12% of the total concrete production in India. This is a small number as compared to western countries, where it comprises 50-70% of the total concrete consumption volume. The penetration level in the metropolitan and tier-I cities is relatively higher and accounts for about 35-40%, while in tier-II cities penetration level is about 20%. Over the past year, there has been a rise in demand for ready-mix concrete due to technological improvements and innovations. The central government is pushing for more infrastructure development as well as completing on-going projects in a time bound plan. Government is also focussing on the creation of "smart cities" which would lead to the construction of commercial, residential and recreational centres, along with public utilities like roads and railways. This will boost the prospects for RMC as a viable alternative to traditional concrete. RMC is also finding better acceptance among the most real estate developers in the country, especially in urban areas. Thus, the potential for this segment remains quite large.
Due to this reason, manufacturers have stepped up efforts to improve capacities in this sector. Increase in demand for RMC is expected to boost cement production as well, as cement is the most essential component of RMC. By 2022, RMC is expected to account for up to 25% of the total cement consumed as predicted by Cement Vision 2025, published by the CII and A T Kearney.
According to market estimates the domestic tiles industry market size is estimated at ` 280bn excluding the faster growing exports, which is estimated at ` 50bn. Morbi in Saurashtra, Gujarat, remains the epicentre of tile production in India, accounting for about 70% of the total Indian production. The sector is showing a shift towards more innovative, aesthetic products, especially in urban and semi urban areas. In another report, Ken Research expects the Indian tile market to reach over ` 477bn by FY22. However in the short run the industry faces few challenges in the form of continuing single digit growth rates as real estate continues its gradual revival, increase in fuel prices and pricing pressure especially in the value added and premium product categories.
Tiles and Bathroom Product Market:
Globally, India ranks the third largest producer and consumer of tiles. However, India ranks much lower in terms of per capita consumption, which is lower than even other developing nations such as Indonesia and Brazil. The Indian tiles industry has immense potential to scale up, led by increasing urbanisation and use of tiles for flooring. Further launch of specialised tiles based on area of application at competitive pricing along with real estate revival would lead to demand growth going forward. The tiles industry in India grew at compounded double digit growth for most part of the current century due to rising population, urbanization, affordability, increasing replacement to traditional flooring materials amongst others. The impact of demonetization, slowdown in new constructions due to introduction of GST and RERA and higher inventories in urban areas led to lower single digit growth rates in the past few years.
Bathroom Products (Santinaryware and Fittings):
The Bathroom Product segment could be broadly classified into Sanitaryware and Faucets. In the bath fittings industry, there is scope for growth, especially in the luxury and semi-luxury bath fittings segments. The sanitaryware industry is a much more organized industry as compared to tiles industry. According to a Ken Research report, the industry is expected to grow rapidly and reach a scale of ` 143bn by 2019. It is predicted that there will be a rise in the volume of products as well as the value of the products sold. This is because not only more consumers are buying these products but there is a higher demand for premium products due to rising disposable incomes and exposure to western designs and aesthetics. The demand from real estate developers has grown exponentially over the past few years.
Some constraints faced by this sector are low demand in the replacement market, restriction of the market to urban areas, and smaller bathroom sizes in Indian homes. Despite this, increase in the number of nuclear families and exposure to better liefstyles have fuelled the rise of the bath fittings & accessories industry.
Opportunities and threats:
Constraints on inputs: The cement industry is a highly energy intensive sector. Energy, along with other raw materials mainly comprising coal and lime stone, forms a most critical component in the manufacture of cement. While your company does not face any problems with respect to the availability of limestone, it attaches high priority to keep its energy cost, which forms a significant portion of the input costs, to the minimum. This is sought to be achieved, among other means, by ensuring an optimum combination in the consumption of indigenous coal along with imported coal, which is relatively cheaper.
After successfully commissioning the Waste Heat Recovery Plant with an initial capacity of 6 MW capacity, which is presently operating at 8.50 MW capacity at its Mattampally plant, your company is now setting up a coal based plant of 18MW capacity at the said unit. Further, as your company is also keen on meeting its power requirement from renewable energy sources, apart from setting up of a solar power plant of 1 MW capacity at the said plant, it has recently acquired 2 mini hydel power units, one with a capacity of 4.3 MW on the Guntur Branch Canal and the other with a capacity of 4 MW in Lock-in-Sula in Kurnool District, both in Andhra Pradesh.
Your directors hope that the above measures would contribute to your company's efforts in further optimizing its energy cost.
Freight cost
Cement being a freight-intensive industry, transportation of cement over long distances can be uneconomical and this has made it largely a regional play. As the logistics and the optimizing the freight cost continue to be the main area of concern with the distribution cost remaining a significant component in the cost structure notwithstanding the availability of a railway siding at your plant, your company is also weighing various other options available to it like setting up of grinding stations/full fledged cement plants in distant areas where opportunities exist, to cater to the local market and this is sought to be achieved through routes like mergers, acquisitions, joint ventures, strategic marketing tie-ups and setting up of green field projects. As part of optimizing the freight cost, demand in the Eastern markets, which until recently was served by your company from its plant at Mattampally in Nalgonda District of Telangana is now being serviced from its plant at Bayyavaram in Visakhapatnam in A.P.
Lower demand
Housing sector which accounts for a major portion of cement demand is yet to pick-up in a big way both in Telangana and Andhra Pradesh, which are significant markets for your company. While the initiatives by the governments, like 'Smart Cities Mission', 'affordable housing' will help the construction, real estate, infrastructure and cement sectors in due course, the cement industry may have to wait for some more time to see any significant revival in demand in these states.
In the above circumstance, your company which has its major markets in Telangana, Andhra Pradesh and in the border areas of the other neighboring States, needs to look into expanding its Markets beyond these areas. However, the freight cost involved in moving the material from its plants at Mattampally and Bayyavaram to these areas, discourages it to do so, as the price of the locally produced cement in such areas would tend to be much cheaper.
As the company cannot afford any more to ignore the growing demand for cement in its neighboring states just because of the transportation cost involved in catering to these markets, apart from serving these markets from its own production, it buys cement in bulk from other sources located in these states and sell the same in the retail markets in those areas under the brand name 'Sagar Cement', wherever there is cost advantage in doing so. It is hoped that this, apart from increasing the sales turnover of the company without incurring any additional capital expenditure and in turn improving its bottom line, would help it in popularizing its brand in new areas as well as in firmly establishing it in the areas where it might only have a token presence at present.
Impact of new entrants: The Indian cement industry with its huge potential continues to attract the entry of global cement majors and encourages the strengthening of production bases by existing companies. This may lead to a substantial part of the cement capacity being controlled by a few players. Sagar Cements proposes to meet some of the challenges posed by this development, by focusing on cost reduction and by further improving its brand image, greater expenditure on advertising, strengthening its distribution networks as well as by other customer-focused initiatives. Apart from these, Sagar Cements is looking for opportunities to expand its market through strategic alliance and setting up of grinding stations, wherever viable. Sagar Cements Limited - Annual Report 2017-18 15
Future outlook the per capita consumption of cement is still very low in India and therefore there is a vast scope for growth in its demand on the long term. However, for such a real growth to happen, there should be an overall growth in investments in the real estate and infrastructure sectors. Since India is emerging as one of the fastest growing economies in the world, the future outlook for cement looks to be bright, provided government formulates growth oriented policies, so that our per capita cement consumption matches at least with some of the developing economies. Notwithstanding the plans to expand its market in other states, Telangana and Andhra Pradesh will continue to be the major markets for your Company. With the respective Governments in these states rightly focusing on the development of infrastructure along with the importance given by the Union Government for the development of National Highways, Rural and Urban Roads, Affordable Housing, Port Connectivity, Development of smart cities, etc., coupled with private agencies coming up with a slew of their own infrastructure development projects, demand for cement in these and their neighboring states is expected to see a significant growth, which augurs well for your company, which, with its aggressive and innovative marketing duly supported by its well motivated marketing personnel, is poised to grab the opportunity available in this scenario.
However, till such time that the above scenario becomes a reality, your company may have to continue to face the problems like rising input and distribution costs, despite the efforts being made by your company as mentioned above to mitigate the same. The impact of the Goods and Services Tax rate has since been absorbed by the cement industry. The Company, on its part, will optimize the distribution/warehouse network under GST regime to further improve its operational efficiency. Therefore, taking an overall view of the above, your Board is cautiously optimistic about the future outlook for your company
Industry landscape
India is the world's second-largest cement market and has added 110 million tonnes of cement by way of capacity in the last five years. India's cement capacity stood at 460MTPA as of December FY 2017 and is expected to increase by 5.0-5.5% y-o-y in FY 2018. There are 575 operational cement plants in the country and the industry is largely dominated by private players (98%). The top 20 cement companies manufacture around 70% of the total cement and a larger share of bigger plants are situated across southern and western parts of India across the states of Andhra Pradesh, Rajasthan and Tamil Nadu.
The year's performance
The year was a relatively slow and difficult one for the industry. Cement demand was flat at 1% during the year, affected mainly by demonetisation but also because of sand shortage, implementation of the Real Estate Regulatory Authority (RERA) Act, weather implications and introduction of GST. A slowdown in the housing sector, which utilises 65% of India's total cement, also led to the deceleration. Ban on sand mining, use of pet coke and diminished market concentration of industry leaders are some of the other contributing factors. Rural demand was affected by less-than-normal monsoon, while cement demand from industrial capital expenditure was adversely affected due to existence of excess capacities across various industrial sectors. The supply side on the other hand continued to reflect over-capacity leading to lower capacity utilisation levels by cement companies.
Government initiatives
The government allocated US$ 92.22 billion for infrastructure development in the FY 2018 Union Budget FY 2018compared to US$ 76.31 billion in FY 2017. The government's focus on developing roads, railways and infrastructure in the coming years will help the cement industry grow. Projects like Housing for All, Smart Cities Mission and Swachh Bharat Abhiyan are expected to increase cement demand by 6-7% to reach 307 million tonnes during FY 2018, subsequently growing the industry by 5-6% CAGR between FY 2017 and 2020. Improved rural incomes, higher rural credit and increased allocation for rural, agriculture and allied sectors are also likely to increase the demand for rural housing.
Impact of GST on the cement industry
Cement falls under the highest GST rate slab and attracts 28% tax. This led to an increase in rate of taxation, further leading to increase in costs for the infrastructure sector. Post implementation of GST, the industry is looking for optimisation avenues in logistics costs through direct supplies and by creating hubs to serve distant markets at lower costs.
Opportunities for the industry
Adoption of cement over bitumen: Use of cement instead of bitumen for the construction of all new road projects will add to the growth of the industry, developing a niche market for RMC (Ready Mix Concrete).
Diminishing market concentration: There is an upsurge of small- and mid-size cement players across regions which is diluting the market concentration of industry leaders. A large number of international players have also entered the market owing to the profit margins, constant demand and the right valuation.
Increasing investment opportunities: The government is making major investments to develop the infrastructure along with incentivising affordable housing for people across the country. This is a significant opportunity for the industry to grow
Outlook:
The outlook for the cement industry is promising and positive with numerous opportunities and low threat from substitutes. Favorable initiatives and policies will boost the growth of the industry but there is a need for change in the GST rates. Robust investments are being made by the existing players to expand production capacities, which will further add value to the industry. The government needs to relook at the tax slabs and help keep input costs low. At a regional level, the eastern zone followed by the central and northern regions would see healthier growth in demand over a low base as the state governments have a strong focus on development. 28 ANNUAL REPORT 2017-18 SHIVA CEMENT LIMITED From a long-term perspective, the focus on infrastructure spending by the Government and downward trend in the interest rates will revive demand across sectors. The 7th Pay Commission is also expected to aid in housing demand.
Cement Industry
All India Cement production during 2017-18 is estimated to have clocked a figure of around 298 million tones, which indicates of growth of around 6.3% over previous year. While the demand conditions during first half remained sluggish for reasons such as sand shortage, GST roll-out, Implementation of Real Estate Regulatory Authority (RERA) Act etc., and the second half witnessed sharp recovery support by improved sand availability, overall pick-up in economic activities and government projects. The profitability of the Industry remained under pressure because of rising costs due to sharp upward movement in fuel prices and freight costs.
Improved Cement demand conditions witnessed towards second half of 2017-18 are expected to continue mainly driven by pick-up in the housing segment and infrastructure spending by Government, Improved rural income, higher rural credit and increased allocation for rural, agricultural and allied sectors are likely to give further boost to rural housing demand. Pick-up in implementation under Pradhan Mantri Awas Yojana (PMAY) will be a major driver for cement demand in 2018-19. Also, the demand is likely to be supported by increased thrust on infrastructure as reflected in higher allocation in budget. Industrial production thought has picked up in recent months, the same for the year as a whole, is still showing low growth. However, policy reform must also include a revival of public investment in infrastructure which is below the level two years ago. Private investment and cement demand will then revive.
Above developments indicate a positive outlook for cement sector for 2018-19.
Road Ahead
India has a lot of potential for development in the infrastructure and construction sector and the cement sector is expected to largely benefit from it. Some of the recent major government initiatives such as development of smart cities are expected to provide a major boost to the sector.
In the next 10 years, India could become the main exporter of clinker and gray cement to the Middle East, Africa, and other developing nations of the world. Cement plants near the ports, for instance the plants in Gujarat and Visakhapatnam, will have an added advantage for exports and will logistically be well armed to face stiff competition from cement plants in the interior of the country. A large number of foreign players are also expected to enter the cement sector, owing to the profit margins and steady demand. In future, domestic cement companies could go for global listings either through the FCCB route or the GDR route.
With help from the government in terms of friendlier laws, lower taxation, and increased infrastructure spending, the sector will grow and take India's economy forward along with it.