Future of Indian cement sector looks solid
India is the world's second-largest cement market and has added 110 million tonnes of cement by way of capacity in the last five years. India's cement sector capacity stood at 460MTPA as of December FY 2017 and is expected to increase by 5.0-5.5% y-o-y in FY 2018. India has 575 operational cement plants in the country and this industry is largely dominated by private players (98%). The top 20 cement companies manufacture around 70% of the total cement and a larger share of bigger plants are situated across southern and western parts of India across the states of Rajasthan, Andhra Pradesh, and Tamil Nadu.
The cement industry is dependent on natural resources and is highly energy intensive. Natural resources like limestone, coal and minerals are essential to produce cement. The industry needs to ensure the continuous supply of these materials at an optimum cost and quality, however due to the depletion of reserves, this is becoming challenging. Volatility in the price of coal is also an area of concern for the industry. The quality of raw material additive and mineral gypsum is also depleting. The MMDRA Act's new notification as of 12 January 2015, stated that the renewal of Mining Leases and grants of Mining Leases and Composite Licenses will happen through Auctions. For continuous operation, there is a need to secure limestone with a minimum reserve of 50 years.
The year was a relatively slow and difficult one for the industry. Cement demand was flat at 1% during the year, affected mainly by demonetization but also because of sand shortage, implementation of the Real Estate Regulatory Authority Act, weather implications and introduction of GST. A slowdown in the housing sector, which utilizes 65% of India's total cement, also led to the deceleration. Ban on sand mining, use of pet coke and diminished market concentration of industry leaders are some of the other contributing factors. Rural demand was affected by less-than-normal monsoon, while cement demand from industrial capital expenditure was adversely affected due to existence of excess capacities across various industrial sectors.
The ready-mixed concrete industry (RMC) has been considerably successful globally. RMC in India is still at a nascent stage. RMC accounts for only about 10-12% of the total concrete production in India, which is a small number as compared to western countries, where it comprises 50-70% of the total concrete consumption volume. The penetration level in the metropolitan and tier-I cities is relatively higher and accounts for about 35-40%, while in tier-II cities penetration level is about 20%. Over the past year, there has been a rise in demand for RMC due to technological improvements and innovations. The central government is pushing for more infrastructure development as well as completing on-going projects in a time bound plan. Government is also focusing on the creation of "smart cities" which would lead to the construction of commercial, residential and recreational centres, along with public utilities like roads and railways. This will boost the prospects for RMC as a viable alternative to traditional concrete. RMC is also finding better acceptance among the most real estate developers in the country, especially in urban areas. Thus, the potential for this segment remains quite large.
For the above reason, manufacturers have stepped up efforts to improve capacities in this sector. Increase in demand for RMC is expected to boost cement production as well, as cement is the most essential component of RMC. RMC is expected to account for up to 25% of the total cement consumed by 2022, as predicted by Cement Vision 2025.
In India, there are 71 companies that operate integrated cement production facilities and 36 companies that operate grinding plants, 6 of which do not have integrated capacity. The top 10 cement producers in india are shown in the below table.
Rank

Company

Integrated (Mt/yr)

Grinding (Mt/yr)

Total (Mt/yr)

1

UltraTech Cement

59.2

25.1

84.3

2

LafargeHolcim

41.4

23.6

65.0

3

Dalmia Bharat

17.4

6.5

23.9

4

Shree Cements

8.0

12.2

20.2

5

HeidelbergCement

12.1

7.5

19.6

6

Ramco Cement

13.0

4.1

17.1

7

Chettinad Cement

14.8

2.0

16.8

8

The India Cements

13.0

3.7

16.7

9

JK Cement

7.9

4.2

12.1

10

Vicat

11.8

0.0

11.8

Top 10 Total

198.6

88.9

287.5

Indian Total

328.6

117.4

446.0
India's total cement production is nearly 297 million tonnes, as of 2017-18. From last two years, almost 15MT Production has been increased year on year. As it shows how much demand has been increased for the cement sector in India. The following are the top companies in terms of production.
UltraTech Cement:
UltraTech Cement's Net Sales have soared 20% to Rs 8,111 crore from Rs. 6,752 crore over the previous year. Profit before Interest, Depreciation and Tax was Rs. 1,447 crore vis-à-vis Rs. 1,550 crore in the corresponding period of the previous year. Domestic Sales volume jumped 21% over Q2FY18. Rising energy and logistics cost coupled with rupee depreciation resulted in costs increasing by 14% as compared to Q2FY18, bringing down profits as compared to the previous year.
Production and Capacity Utilisation (grey cement):
| | | | |
| --- | --- | --- | --- |
| Particulars | FY18 | FY17 | % change |
| Installed capacity (MTPA) | 85.00 | 66.25 | 28 |
| Production (MMT) | 57.23 | 47.91 | 19 |
| Capacity Utilisation | 71% | 72% | (1) |
MTPA – Million Metric Tonnes per Annum.
MMT– Million Metric Tonnes.
LafargeHolcim:
LafargeHolcim subsidiary ACC sales increased by 14% to US$1.06bn in first half of 2018 from US$934m in the same period in 2017. Its net profit after tax rose by 8% to US$125m from US$108m. ACC's sales volumes of cement increased by 8% to 14.4Mt from 13.3Mt.
Meanwhile, LafargeHolcim's other subsidiary Ambuja Cement, sales benefit from more infrastructure projects, improved sand availability and increased government spending in the first half of 2018. Its sales volumes of cement grew by 6% YoY to 26.9Mt in the first half of 2018 from 25.4Mt in the same period in 2017. Its net sales increased by 10% to US$1.89bn from US$1.72bn and its EBITDA rose by 7% to US$328m from US$306m.
Dalmia Bharat:
Dalmia Bharat announced that it sold 17.0Mt of cement in the Indian fiscal year to 31 March 2018. It saw an income from operations of US$1.2bn, EBITDA of US$284m and a profit after tax of US$89.5m. The profit was 88% higher than in the previous fiscal year.
| | |
| --- | --- |
| Year | 2017-18 |
| Capacity (MnT) | 25.0 |
| Production (MnT) | 17.0 |
Shree Cement:
Shree Cement reported, Cement Sales Volume went up 16% to 5.64 million ton from 4.88 million ton recorded in the corresponding quarter of the previous year. Cement price realization were also marginally higher. Operating Profit however moderated mainly due to increase in Power & Fuel cost revenues of US$1.4bn in the 12 months to 31 March 2018, with an operating profit of US$398m and a net profit of US$192m. Company became eligible for railway freight rebate under the Long Term Tariff Contract scheme of Ministry of Railways during the current quarter.
| | |
| --- | --- |
| Year | 2017-18 |
| Cement Production (Lac MT) | 222.02 |
| Cement Production Capacity(MTPA) | 34.9 |
HeidelbergCement India reported an increase of 50.48% in its net profit at Rs 50.08 crore for the September quarter, helped by volume growth. The company had posted a net profit of Rs 33.28 crore in the July-September period a year ago. At the end of March 2018, the overall installed cement manufacturing capacity stood close to about 465 million tonnes. Cement production during FY2017-18 was about 298* million tonnes compared to 280 million tonnes in the corresponding period indicating growth of about 6%.

With nearly 455 million tonnes of cement production capacity, India is the second largest cement producer in the world. The cement production capacity by the time of 2020 is estimated to touch 550 MT. all India installed capacity was around 480 MT, in September 2018. Of the total capacity, 98 percent lies with the private sector and the rest with the public sector. The cement demand is expected to grow by 7-8 percent in FY19.

The housing and real estate sector is the biggest demand driver of cement, accounting for about 65% of the total consumption in India. The other major consumers of cement include public infrastructure at 20% and industrial development at 15%.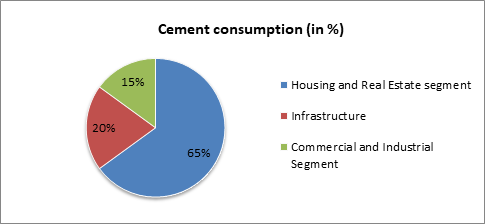 GST Impact on the cement industry
Cement falls under the highest Goods and Services Tax (GST) rate slab and attracts 28% tax. This led to an increase in rate of taxation, further leading to increase in costs for the infrastructure sector. Post implementation of GST, the industry is looking for optimization avenues in logistics costs through direct supplies and by creating hubs to serve distant markets at lower costs. Indian producers have complained about the high rate of the local GST in the country and are expecting to reduce it to 18%.
INDUSTRY GROWTH DRIVERS
Infrastructure:
Strong ordering witnessed in the road construction segment. During FY18, NHAI project awarding increased by 70%. While execution has increased YoY over last 4 years, the Government's intentions are higher than current run rate.
Planned metro projects of around 1,200 km across 23 cities. Closer to the region where the Cement Division sells its production, Lucknow Metro Rail Corp has approved DPR of metro projects in Kanpur.

Development of international airports, industrial corridors & freight corridors, ongoing and increasing capex in railways and power transmission are the other focus areas, which would drive cement demand.
Housing and Real Estate segment:
Increasing budgetary support for Pradhan Mantri Awas Yojana (both Gramin and Urban). These programs are likely to be one of the biggest catalysts for cement demand. The Government is taking several steps to ensure better execution in the form of providing funding directly into beneficiary account, interest subsidy, revised carpet area to include more beneficiaries and removing land constraints amongst others.
Impetus on increasing agricultural productivity, procurement and better pricing for same. Uttar Pradesh State Government has reported record procurement of Wheat and Paddy during FY18.

Demand from affordable housing is expected to increase on the back of Government allocating higher amount for urban housing. The PMAY – Urban has seen five-fold increase in budget outlay.

State Governments have re-aligned their budget and focus in line with Central Government.

Few pockets of urban housing segment are turning around. Commercial segment seems to have turnaround during last few quarters.
Tiles and Bathroom Product Market:
India ranks the third largest producer and consumer of tiles globally. However, India ranks much lower in terms of per capita consumption, which is lower than even other developing nations such as Indonesia and Brazil. The Indian tiles industry has immense potential to scale up, led by increasing urbanization and the use of tiles for flooring. Further launch of specialized tiles based on the area of application at competitive pricing along with real estate revival would lead to demand growth going forward. The tiles industry in India grew at compounded double-digit growth for the most part of the current century due to rising population, urbanization, affordability, increasing replacement to traditional flooring materials amongst others. The impact of demonetization, slowdown in new constructions due to the introduction of GST and RERA, and higher inventories in urban areas led to lower single-digit growth rates in the past few years.
INDUSTRY RISKS
Inflation rate: Inflation plays an important role in the Indian economy. Average inflation dipped to a six-year low of 3.3% in 2017-18, is expected to rise 4.40% during FY 2018-19. One of the major reasons for inflation is an overall increase in demand for goods and services, which escalate their prices.
Raw material risk: The cement industry is highly dependent on limestone and other raw materials and the availability of limestone is limited and thus, it is essential to use blended cement, which uses alternative raw materials such as fly ash and slag. The increase in the cost of these alternative materials may further increase production costs.
Competition risk: Indian cement sector has become highly competitive with multiple large players operating in the domestic market. Earlier most of the companies were catering to specific parts of the country, now most players are expanding their reach pan-India, thus creating greater market competition.
Infrastructure risk: The infrastructure sector drives the overall development of the economy and is a major focus of the Government of India. Any pullback by the government on its initiatives will result in de-growth for the cement industry. Moreover, too many regulatory approvals and compliances might be a barrier for the segment's progress.
Power and fuel risk: Cement industry is highly energy intensive and 23% of its total expenditure consists of power and fuel costs. Any rise in crude oil prices will adversely impact on cement sector.
Logistics risk: With the rise in diesel prices, cost of road transportation increases. This cost increase and huge dependence on road transportation would have an impact on this sector.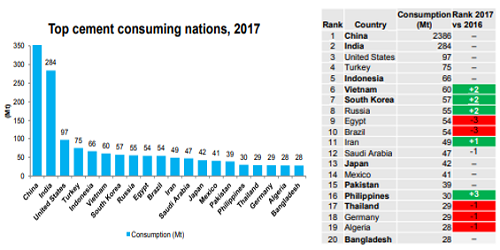 In terms of top cement consuming nations, 2017, India is in 2nd position, consuming around 284 Million Tones during 2017. China is in first position, this country is in first place in terms of productions as well.US is in third position.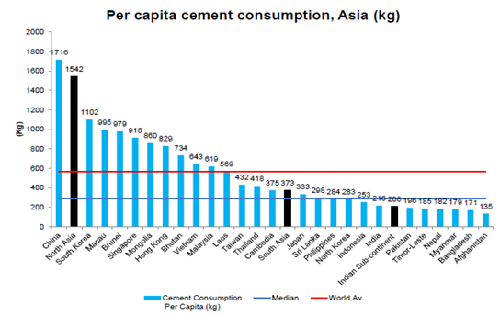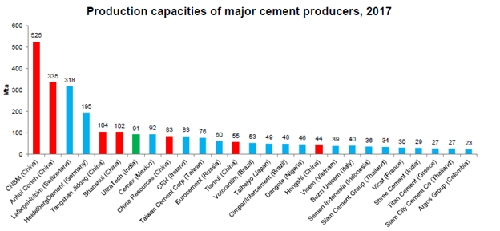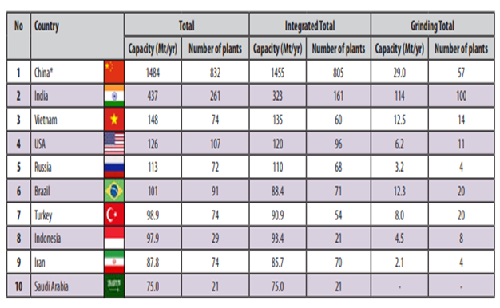 | | |
| --- | --- |
| Demand | Housing sector plays a vital role in cement sector growth. Industrial and infrastructure sectors are also emerged as demand drivers. |
| Barriers to entry | High capital costs and long gestation periods. Cement is highly depends on its limestone reserves (key input) which can also acts as a significant entry barrier. |
| Bargaining power of suppliers | Licensing of coal and limestone reserves, supply of power from the state grid, etc., all controlled by the government. However, many producers are depends more on captive power. |
| Bargaining power of customers | Cement is a commodity business and sales volumes mostly depend upon the distribution reach of the company. Cement is sold in two segments, trade and non-trade. Trade cement is the one sold to the dealers. Non-trade cement is sold directly to the consumers, mainly institutional buyers. Trade cement sells higher compared to non-trade. As such, companies that have a strong distribution network and retail presence tend to have better cement realizations. |
| Competition | Indian cement sector has become highly competitive with multiple large players operating in the domestic market. Earlier most of the companies were catering to specific parts of the country, now most players are expanding their reach pan-India, thus creating greater market competition. |
Stock Advisory
| | | | | | |
| --- | --- | --- | --- | --- | --- |
| Name | Last Price | Market Cap.(Rs. cr.) | SalesTurnover | Net Profit | Recommendation |
| UltraTechCemet | 3,944.50 | 108,330.08 | 29,790.10 | 2,231.28 | Buy |
| Shree Cements | 16,641.90 | 57,975.76 | 9,833.10 | 1,384.18 | Hold |
| Ambuja Cements | 218.45 | 43,376.42 | 10,446.85 | 1,249.57 | Buy |
| ACC | 1,494.05 | 28,056.36 | 13,284.60 | 915.45 | Avoid |
| Dalmia Bharat | 2,372.90 | 21,155.19 | 232.53 | 89.69 | Sell |
| Ramco Cements | 617.95 | 14,557.47 | 4,406.36 | 555.66 | Buy |
| J. K. Cement | 724.90 | 5,069.03 | 4,591.21 | 341.87 | Avoid |
| Rain Industries | 140.70 | 4,732.38 | 59.62 | 32.11 | Buy |
| Birla Corp | 602.05 | 4,636.11 | 3,723.97 | 115.13 | Avoid |
| Star Cement | 104.30 | 4,372.56 | 1,463.82 | 210.78 | Buy |
| Sagar cement | 679.00 | 1,385.16 | 747.99 | 49.39 | Buy |
| Heidelberg Cem | 151.05 | 3,422.99 | 1,961.96 | 133.18 | Buy |