| | | | | |
| --- | --- | --- | --- | --- |
| Industry | Market Price | Recommendation | Target | Time Horizon |
| Pharma Industry | 221.30 | BUY | 250 | 12 months |
Coal India Limited - Company Profile
Coal India Ltd incorporated on November 1975, is a Public Sector Undertaking under the ministry of coal, and Government of India with its headquarters in Kolkata, West Bengal. Coal India had a modest production of 79 million tonnes at the year of inception. Presently, CIL is the single largest coal producer in the world. Operating through 81 mining areas, an apex body with seven wholly-owned coal producing subsidiaries and one mine planning and consultancy company spread over eight provincial states of India.
Coal India Limited - Investment Summary
| | |
| --- | --- |
| CMP (Rs) | 221.30 |
| 52 Week H/L | 316.55/221.3 |
| Market Cap (Cr) | 137,742.41 |
| Face Value (Rs) | 10.00 |
| Promoter Holding (%) | 78.32 |
| FII+DII+Retail Holding (%) | 21.68 |
| Total (%) | 100.00 |
Largest coal mining company in India.

Promoted by the Government of India

Consistent and regular dividends

Capex and production Increased.

Strong company's fundamentals.

Technology development & Modernization
Coal India Limited - Financial Summary
| | | | | | |
| --- | --- | --- | --- | --- | --- |
| Particulars(Rs. Cr) | FY18 | FY17 | FY16 | FY15 | FY14 |
| Total Assets | 127,491.73 | 117,815.22 | 112,828.20 | 110,541.46 | 104,242.35 |
| Total Revenue | 90,520.76 | 90,520.76 | 82,195.88 | 83,735.42 | 83,735.42 |
| Profit after Tax | 7,019.78 | 7,019.78 | 7,019.78 | 9,281.53 | 9,281.53 |
| EPS( Rs) | 11.00 | 11.00 | 11.00 | 15.00 | 15.00 |
Outlook and Valuation
Coal India Limited reported its Q2 results on 12th November, CIL's net profit increased more than eight times in the Q2 of the current financial year to Rs 3,085 crore. The net profit of the company was Rs 370.4 crore in the corresponding quarter last fiscal. During this period, the total income of the company increased from Rs 19,171.7 crore to Rs 24,209.3 crore. The company has reduced its debt substantially, in fact company is virtually debt free going forward. Coal India having established dominance amongst the coal players in India is well poised to deliver consistent growth as Industry demand picks up. Coal India is a cash cow and regular dividend paying Company. Considering all these variables, we recommend "Buy" for this stock for long term.
Management Profile
| | | |
| --- | --- | --- |
| Key Personnel | Designation and Experience | Auditors |
| Mr. Anil Kumar | Chairman and Managing Director: Mr. Anil Kumar Jha was formerly the Chairman and Managing Director of Mahanadi Coalfields Limited (MCL), a leading subsidiary of Coal India Limited from November 1, 2015.Mr. Jha has completed his M-tech in the Mine Planning and Design from Indian School of Mines, Dhanbad, Jharkhand. Having a profound experience of 35 years in connection with mine planning, production, management supervision and directing of underground and open quarries. Jha provided valuable services in CMPDI, Ranchi, both underground and open mine for 14 years. | |
| Mr. Shyam Nandan Prasad | Managing Director: Mr. Shyam Nandan Prasad formally took charge as the Director (Marketing) of Coal India Limited, Coal India Limited, Kolkata, on 1 February 2016. Shri S. N. Prasad is a MBA (Marketing) and he is a Coal India Ltd. has contributed in the form of Management Trainee (Marketing) in 1982. He has been working in the field of marketing for more than 33 years, and Pitt Head, Coal Stock Yard, CH Etc. Shyam has experience of working in corporate offices of mines and subsidiary companies, before taking over as Co-India Limited Director (Marketing), CIL's subsidiary company - Central Coalfields Limited, Western Coalfield Limited and South Eastern Coalfields Ltd. Shyam worked in various positions including General Manager (Sales and Marketing). | |
| Mr. Binay Dayal | Director (Technical): Mr. Binay Dayal took charge of Director Technology on October 11, 2017. Mr. Dayal graduated from the mining in Indian School of Mines (ISM), Dhanbad in 1983. He also obtained the qualification certificate from first class mines manager from DGMS, Dhanbad. He joined junior officers (trainee) in Coal India in 1983 and has been placed in central Sondha Colliery, Barkakana area of ​​Central Coalfields Limited. | |
| Mr. R.P. Srivastava | Independent Director: Mr. R.P. Srivastava took charge as Director (Personnel and Industrial Relations) of Coal India Limited. Earlier, he was working as the Executive Director (Corporate Services) as the Directorate General of Personnel Directorate of National Steel Corporation Limited, Visakhapatnam. He has received a postgraduate diploma in management from MDI Gurgaon, a renowned institution in India. | |
Coal India Limited - Company overview:
Coal India Ltd is the single largest coal producing company in the world and one of the largest corporate employers. The CIL produces non-coking coal and coking coal of various grades for diverse applications. Most of the coal production is from open cast mines. Company's major consumers are power and steel sectors, also include cement, fertilizer, brick kilns and a host of other industries.
The CIL sells substantially all of the raw coal it produces in the Indian market. It has eight fully owned Indian subsidiary companies namely Eastern Coalfields Limited, Bharat Coking Coal Limited, Central Coalfields Limited, Western Coalfields Limited, South Eastern Coalfields Limited, Northern Coalfields Limited, Mahanadi Coalfields Limited and Central Mine Planning & Design Institute Limited. The company's coal production operations are primarily carried out through its wholly-owned subsidiaries in India. In addition, another wholly owned subsidiary, CMPDIL, carries out exploration activities for their subsidiaries and provides technical and consultancy services for their operations as well as to third-party clients for coal exploration, mining, processing and related activities.
Coal India Ltd has supplied 389.63 MT coal to power sector during current year (up to January 22, 2019) registering a growth of 8% over the same period of last year.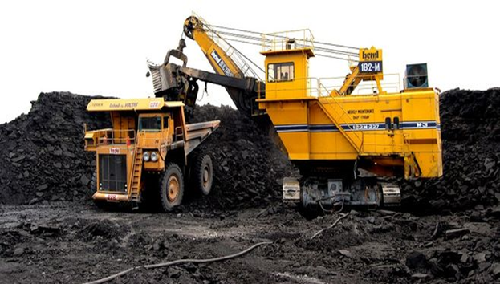 Coal India Limited - Products
COKING COAL
Coking coals, when heated in the absence of air, form coherent beads, free from volatiles, with strong and porous mass, called coke. These have coking properties, mainly used in steel making and metallurgical industries AND also used for hard coke manufacturing.
SEMI COKING COAL
Semi Coking coal have comparatively less coking properties than coking coal, mainly used as blend-able coal in steel making, merchant coke manufacturing and other metallurgical industries
NON-COKING COAL
These are coals without coking properties and used as thermal grade coal for power generation and also used for cement, fertilizer, glass, ceramic, paper, chemical and brick manufacturing, and for other heating purposes.
WASHED AND BENEFICIATED COAL
These coals have undergone the process of coal washing or coal beneficiation, resulting in value addition of coal due to reduction in ash percentage. These are used in manufacturing of hard coke for steel making, beneficiated and washed non-coking coal is used mainly for power generation
MIDDLINGS
These are by-products of the three stage coal washing / beneficiation process, as a fraction of feed raw coal. Middlings are used for power generation and also used by domestic fuel plants, brick manufacturing units, cement plants, industrial plants, etc.
REJECTS
Rejects are the products of coal beneficiation process after separation of clean and / or middlings, as a fraction of feed raw coal. Used for Fluidized Bed Combustion Boilers for power generation, road repairs, briquette making, land filling, etc.
CIL Coke / LTC Coke: is a smokeless, environment friendly product of the Dankuni Coal Complex, obtained through low temperature carbonization, used in furnaces and kilns of industrial units
COAL FINES / COKE FINES
Coal Fines are the screened fractions of feed raw coal and LTC coke / CIL Coke respectively, obtained from the Dankuni Coal Complex and other coke oven plants, used in industrial furnaces as well as for domestic purposes
TAR / HEAVY OIL / LIGHT OIL / SOFT PITCH
These products are from Dankuni Coal Complex using low temperature carbonisation of non-coking coal in vertical retorts, used in furnaces and boilers of industrial plants as well as power houses, oil, dye, pharmaceutical industries, etc.
Key Ratios
| | | | | | |
| --- | --- | --- | --- | --- | --- |
| Key Ratios | FY18 | FY17 | FY16 | FY15 | FY14 |
| Current Ratio | 1.17 | 1.17 | 2.77 | 3.23 | 4.73 |
| Inventory Turnover Ratio (x) | 17.04 | 17.04 | 4.24 | 1.09 | 6.64 |
| Total Asset Turnover Ratio (%) | 1.97 | 1.97 | 1.53 | 0.77 | 1.74 |
| PBDIT Margin (%) | 2,489.74 | 2,489.74 | 4,964.64 | 10,065.13 | 3,591.56 |
| PBIT Margin (%) | 2,484.76 | 2,484.76 | 4,958.60 | 10,055.21 | 3,589.71 |
| ROCE (%) | 55.87 | 54.45 | 81.76 | 85.54 | 67.35 |
| RONW (%) | 73.20 | 73.20 | 104.17 | 103.41 | 79.97 |
| Payout (%) | 10.95 | 0.00 | 16.50 | 12.37 | 13.59 |
| Price/Book Value (x) | 13.86 | 13.86 | 13.06 | 11.49 | 13.68 |
| EV/EBITDA (x) | 19.34 | 19.34 | 12.57 | 10.80 | 15.86 |
| Market Cap/Sales | 482.80 | 482.80 | 626.99 | 1,114.23 | 591.30 |
Investment Rationale
Largest coal mining company in India.

Coal India is the largest coal manufacturer in the world with total production of 567 MT in FY2018. Coal India produces 84% of the coal produced in India with a market share of 60% to 65%. In India where approximately 55% of primary commercial energy is coal dependent, Coal India alone meets to the tune of 40% of primary commercial energy requirement.

Promoted by the Government of India

Coal India Ltd as an organized state owned coal mining corporate came into being following the nationalization of coal industry in India. Coal India Ltd was incorporated on June 14, 1973 as a private limited company with the name Coal Mines Authority Ltd. During the year 1975-76, the name of the company was changed from Coal Mines Authority Ltd to Coal India Ltd. Central Mine Planning and Design Institute Ltd, Eastern Coalfields Ltd, Western Coalfields Ltd, Bharat Coking Coal Ltd and Central Coalfields Ltd became the subsidiaries of the company.

Production increased

The company has increased by 7.4% to 41.24 million tonnes during the April-December period of the current financial year. This was during the same period of last financial year, Coal India's production was 38.39 million tonnes. The company's production in December is almost steady at 5.41 million tonnes. It was 5.46 million tonnes in December 2017. Coal India's rise in the April-December period was 5.5% to 44.45 million tonnes. Its share of coal production in the country is more than 80%. Company is focusing on making best use of technology to increase its production.

Consistent and regular dividends

In FY18 CIL paid a dividend of Rs 16.50 per share, making its dividend yield very attractive at 6.97%. Historically, CIL has been sharing its entire free cash flow with its shareholders as dividends and it continued to do so in FY18.In FY18, CIL paid Rs 8,000 crores to government as dividends with a cash flow from operations of Rs 21,000 crores.

Technology development and Modernization of Mines in CIL

Coal India Ltd is focusing on making best use of technology. It has ambitious plans of using GPS/GPRS based vehicle tracking system to enhance productivity. It also has services such as E-Auction, EProcurement of goods and services.
Industry Overview
India is the 3rd largest producer of coal. Coal production stood at 676.51 million tonnes in FY18. India has the 5th largest estimated coal reserves in the world, standing at 319.02 billion tonnes in FY18. India's coal production grew at a CAGR of 4.19% between FY08 and FY18 to reach 688.78 million tonnes. Coal production during Apr-Nov 2018 stood at 439.84 million tonnes.
In the coming years, coal production in the country is likely to receive a boost as the government plans to replace the country's captive mining policy in coal and iron ore with an open bidding one. During FY2017-18, 45.18 million tonnes of coal linkages have been auctioned for the non-regulated sector.
Coal Production
The overall production of Coal for 2017-18 was projected at 730.10 MT. During the period April to December 2017 the actual production was 461.42 MT compared to 452.97 MT during corresponding period of 2016-17 and showing a growth of 1.9%. The Company-wise details for coal production from CIL, SCCL and Others are given below:-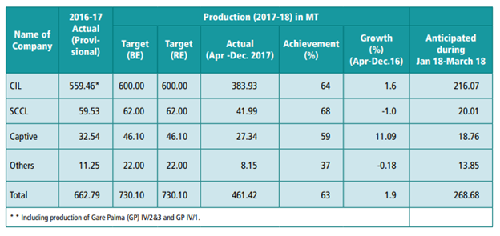 Measures being taken to increase coal production
In 2017-18, the targeted coal production from On-going projects of CIL was 289.53 Mt. As per Annual Plan proposal of 2018-19, Coal India envisages to produce 353 Mt. from these projects same resulting in addition of 64.28 Mt. from the ongoing projects.

In respect of CIL, major increase in production is envisaged from on- going projects mainly from four subsidiaries viz. SECL, MCL, CCL & NCL. Out of 153 on-going projects, clearances are available for 97 projects with a total output capacity of 352.03Mt. Production of 207.71 Mt. has been achieved in 2016- 17 from these 97 projects.

The balance 55 projects, with a total capacity of 223.00 MTY, will require clearance to achieve their planned capacity. However with part clearance obtained in forest land, these projects have produced 41.40 MT. in 2016-17.
Peer Review
| | | | | | |
| --- | --- | --- | --- | --- | --- |
| Name | Last Price | Market Cap. | Sales Turnover | Net Profit | Total Assets |
| Coal India | 224.00 | 139,045.97 | 364.50 | 9,293.42 | 12,694.71 |
| Vedanta | 194.15 | 72,169.37 | 45,524.00 | 7,256.00 | 112,443.00 |
| NMDC | 91.45 | 28,933.78 | 11,614.90 | 3,805.88 | 24,853.92 |
| MOIL | 160.60 | 4,137.20 | 1,323.46 | 421.99 | 2,799.19 |
| Guj Mineral | 85.25 | 2,710.95 | 2,069.97 | 434.60 | 4,401.47 |
| Maithan Alloys | 393.50 | 1,145.54 | 1,878.96 | 291.75 | 903.79 |
| Indian Metals | 225.00 | 606.98 | 1,765.60 | 186.93 | 1,935.33 |
Profit and Loss
| | | | | | |
| --- | --- | --- | --- | --- | --- |
| Particulars (Rs. Cr) | FY18 | FY17 | FY16 | FY15 | FY14 |
| INCOME | | | | | |
| Revenue From Operations [Gross] | 127,162.17 | 127,162.17 | 81,700.00 | 122,286.96 | 122,286.96 |
| Less: Excise/Sevice Tax/Other Levies | 45,462.17 | 45,462.17 | 0.00 | 46,827.85 | 46,827.85 |
| Revenue From Operations [Net] | 81,700.00 | 81,700.00 | 81,700.00 | 75,459.11 | 75,459.11 |
| Other Operating Revenues | 4,162.44 | 4,162.44 | 4,162.44 | 2,952.10 | 2,952.10 |
| Total Operating Revenues | 85,862.44 | 85,862.44 | 77,537.56 | 78,411.21 | 78,411.21 |
| Other Income | 4,658.32 | 4,658.32 | 4,658.32 | 5,324.21 | 5,324.21 |
| Total Revenue | 90,520.76 | 90,520.76 | 82,195.88 | 83,735.42 | 83,735.42 |
| EXPENSES | | | | | |
| Cost Of Materials Consumed | 9,345.99 | 9,345.99 | 6,829.57 | 9,514.97 | 9,514.97 |
| Finance Costs | 431.79 | 431.79 | 431.79 | 409.18 | 409.18 |
| Provsions and Contingencies | 373.19 | 373.19 | 373.19 | 2,331.95 | 2,331.95 |
| Depreciation And Amortisation Expenses | 3,066.38 | 3,066.38 | 3,066.38 | 2,906.75 | 2,906.75 |
| Other Expenses | 9,496.94 | 9,496.94 | 24,780.33 | 9,538.71 | 9,538.71 |
| Total Expenses | 79,794.32 | 79,794.32 | 79,794.32 | 69,289.09 | 69,289.09 |
| Profit/Loss Before Exceptional, ExtraOrdinary Items And Tax | 10,726.44 | 10,726.44 | 2,401.56 | 14,446.33 | 14,446.33 |
| Profit/Loss Before Tax | 10,726.44 | 10,726.44 | 2,401.56 | 14,446.33 | 14,446.33 |
| Current Tax | 3,706.66 | 3,706.66 | 3,706.66 | 5,164.79 | 5,164.79 |
| Total Tax Expenses | 3,706.66 | 3,706.66 | 3,706.66 | 5,164.79 | 5,164.79 |
| Profit/Loss After Tax And Before Extra Ordinary Items | 7,019.78 | 7,019.78 | -1,305.10 | 9,281.54 | 9,281.54 |
| Profit/Loss From Continuing Operations | 1,468.52 | 1,468.52 | 974.94 | 1,462.30 | 1,181.09 |
| Profit/Loss For The Period | 7,019.78 | 7,019.78 | 7,019.78 | 9,281.53 | 9,281.53 |
| Basic EPS (Rs.) | 11.00 | 11.00 | 11.00 | 15.00 | 15.00 |
| Diluted EPS (Rs.) | 11.00 | 11.00 | 11.00 | 15.00 | 15.00 |
Coal India Limited - Balance Sheet
| | | | | | |
| --- | --- | --- | --- | --- | --- |
| Particulars (Rs. Cr) | FY18 | FY17 | FY16 | FY15 | FY14 |
| Equity Share Capital | 6,207.41 | 6,207.41 | 6,316.36 | 6,316.36 | 6,316.36 |
| Total Share Capital | 6,207.41 | 6,207.41 | 6,316.36 | 6,316.36 | 6,316.36 |
| Reserves and Surplus | 13,639.16 | 18,310.68 | 28,516.80 | 34,036.71 | 36,088.10 |
| Total Reserves and Surplus | 13,639.16 | 18,310.68 | 28,516.80 | 34,036.71 | 36,088.10 |
| Total Shareholders Funds | 19,846.57 | 24,518.09 | 34,833.16 | 40,353.07 | 42,404.46 |
| NON-CURRENT LIABILITIES | | | | | |
| Long Term Borrowings | 1,054.40 | 294.80 | 263.06 | 201.83 | 171.46 |
| Other Long Term Liabilities | 5,530.13 | 4,862.47 | 4,730.33 | 3,999.44 | 3,528.94 |
| Total Non-Current Liabilities | 56,487.63 | 48,935.38 | 46,536.10 | 41,699.92 | 37,339.41 |
| CURRENT LIABILITIES | | | | | |
| Short Term Borrowings | 174.43 | 324.26 | 1,131.68 | 1,380.20 | 876.91 |
| Trade Payables | 1,580.02 | 1,298.21 | 990.84 | 1,496.60 | 962.56 |
| Other Current Liabilities | 579.07 | 670.58 | 582.73 | 352.42 | 333.20 |
| Short Term Provisions | 398.18 | 262.78 | 249.22 | 349.52 | 244.07 |
| Total Current Liabilities | 2,731.70 | 2,555.83 | 2,954.47 | 3,578.74 | 2,416.74 |
| Total Capital And Liabilities | 17,094.97 | 15,607.22 | 15,239.05 | 15,191.82 | 12,924.00 |
| ASSETS | | | | | |
| NON-CURRENT ASSETS | | | | | |
| Tangible Assets | 24,063.30 | 22,035.99 | 20,662.55 | 15,345.96 | 13,863.19 |
| Capital Work-In-Progress | 10,286.42 | 8,585.22 | 4,553.22 | 3,104.60 | 2,836.48 |
| Fixed Assets | 37,863.83 | 32,396.59 | 26,635.71 | 21,274.41 | 19,100.20 |
| Long Term Loans And Advances | 1,020.08 | 23.29 | 80.60 | 1,688.22 | 1,163.66 |
| Total Non-Current Assets | 58,677.45 | 47,895.31 | 40,501.68 | 26,838.32 | 24,015.80 |
| CURRENT ASSETS | | | | | |
| Inventories | 6,443.85 | 8,945.27 | 7,569.17 | 6,183.82 | 5,568.07 |
| Trade Receivables | 8,689.16 | 12,476.27 | 11,447.61 | 8,521.88 | 8,241.03 |
| Cash And Cash Equivalents | 31,475.07 | 31,149.19 | 38,014.91 | 53,092.52 | 52,389.53 |
| Short Term Loans And Advances | 3.69 | 12.48 | 21.80 | 8,826.80 | 6,595.69 |
| OtherCurrentAssets | 21,996.94 | 16,823.23 | 13,333.07 | 5,227.73 | 4,844.91 |
| Total Current Assets | 68,814.28 | 69,919.91 | 72,326.52 | 83,703.14 | 80,226.55 |
| Total Assets | 127,491.73 | 117,815.22 | 112,828.20 | 110,541.46 | 104,242.35 |
Stock Performance Chart