Coffee Day - Background
Started in 1996, Café Coffee Day has now expanded to 1500+ outlets across 28 Indian states. Internationally, they have presence via 16 outlets in Pakistan, Austria, the Czech Republic and Malaysia and UAE. As per the filing, CDEL has a debt of Rs 2864 crore as of December 31, 2014.
Issue Details
| | |
| --- | --- |
| Issue Open | Oct 14, 2015 - Oct 16, 2015 |
| Issue Type | 100% Book Built Issue IPO |
| Issue Size | Equity Shares of Rs. 10 |
| Issue Size | Rs. 1,150.00 Crore |
| Face Value | Rs. 10 Per Equity Share |
| Bid Lot | 45 Equity Shares and in multiples thereof |
| Issue Price | Rs. 316 - Rs. 328 Per Equity Share |
| Listing At | BSE, NSE |
| Issue Breakup | |
| QIB Category | 50% |
| Non Institutional Category | 15% |
| Retail category | 35% |
Coffee Day - Financial Details
| | | | | | |
| --- | --- | --- | --- | --- | --- |
| Business | 2011 | 2012 | 2013 | 2014 | 2015 (#9Months) |
| Coffee | 25.82 | 16.48 | 30.62 | 24.71 | 29.81 |
| Tech Park | 20.66 | 15.81 | -7.64 | 17.26 | 12.16 |
| Hospitality | -1.76 | -5.77 | -4.08 | -3.89 | -1.77 |
| Fin Services | -11.04 | -7.52 | -4.48 | -0.7 | -0.63 |
| Logistics | -- | 19.69 | 84.82 | 45.75 | 22.16 |
| Investments | 0.66 | 1.06 | 1.24 | 1.85 | 4.09 |
| Net Profit | 17.50 | 19.29 | -24.10 | -77.03 | -75.23 |
Coffee Day - Recommendation
CDEL is issuing IPO at price band of Rs.316-328 per share, at P/BV ratio of ~ 3.9-4.1 on post issue book value of approx Rs 80.53 per share. Though the company has strong promoter background, brand name, pan India presence, valuations looks not impressive. CDEL being a highly diversified company with large number of subsidiaries and has been posting losses for past several years, we are not positive on this upcoming issue and hence keeps a Neutral rating. For retail investors, its best to follow a wait and watch strategy and is advised to invest only when the company start posting profits. This view is primarily based on taking into consideration about the level of competition in the industries the company operates in, financial position and margins.
Subsidiaries
| | |
| --- | --- |
| 1. A.N. Coffee Day International Limited | 21. Norsea Offshore India Limited |
| 2. AlphaGrep Holding HK Limited | 22. Sical Adams Offshore Limited |
| 3. AlphaGrep Securities Private Limited | 23. Sical Infra Assets Limited |
| 4. Amalgamated Holdings Limited | 24. Sical Iron Ore Terminals Limited |
| 5. Bergen Offshore Logistics Pte Limited | 25. Sical Iron Ore Terminal (Mangalore) Limited |
| 6. COFFEE DAY CZ | 26. Sical Logistics Limited |
| 7. Coffee Day Gastronomie und Kaffeehandels GmbH | 27. Sical Multimodal and Rail Transport Limited |
| 8. Coffee Day Global Limited | 28. Tanglin Developments Limited |
| 9. Coffee Day Hotels & Resorts Private Limited | 29. Tanglin Retail Realty Developments Private Limited |
| 10. Coffee Day Properties (India) Private Limited | 30. Techno Commodity Broking Private Limited |
| 11. Coffee Day Trading Limited | 31. Techno Shares & Stocks Private Limited |
| 12. Coffee Lab Limited | 32. Way2Wealth Brokers Private Limited |
| 13. Ganga Coffee Curing Works Limited | 33. Way2Wealth Capital Private Limited |
| 14. Giri Vidhyuth (India) Limited | 34. Way2Wealth Commodities Private Limited |
| 15. Karnataka Wildlife Resorts Private Limited | 35. Way2Wealth Distributors Private Limited |
| 16. Magnasoft Consulting India Private Limited | 36. Way2Wealth Illuminati Pte Limited |
| 17. Magnasoft Europe Limited | 37. Way2Wealth Insurance Brokers Private Limited |
| 18. Magnasoft Spatial Services Inc. | 38. Way2Wealth Realty Advisors Private Limited |
| 19. Mandi2Market Traders Private Limited | 39. Way2Wealth Securities Private Limited |
| 20. Norsea Global Offshore Pte. Limited | 40. Wilderness Resorts Private Limited |
Business profile
Coffee and related businesses – Cafe Coffee Day (CCD), Cafe Coffee Day Lounge, Cafe Coffee Day Square, Coffee Day Xpress, CCD International and coffee vending machines;

Leasing of commercial office space – Technology parks and Special Economic Zone (SEZs) – Under Tanglin brand;

Logistics – Via its subsidiary Sical Logistics which is an integrated logistics provider;

Investments – Major investments include 16.76% holding in Mindtree Limited (listed on both BSE and NSE), and stakes in Ittiam Systems, Global Edge Software Limited and Magnasoft

Financial Services – 85.53% stake in Way2Wealth, investment advisory and commission brokerage company;

Hospitality – The Serai Resorts through a wholly owned subsidiary, Coffee Day Hotels & Resorts Private Limit.
Shareholding Pattern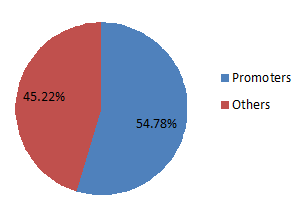 Group Companies
Shankar Resources Private Limited

Dark Forest Furniture Company Private Limited

Kathlekhan Estates Private Limited

Chandrapore Estates Private Limited

Kurkenmutty Estates Private Limited
Revenue Breakup
Profit Breakup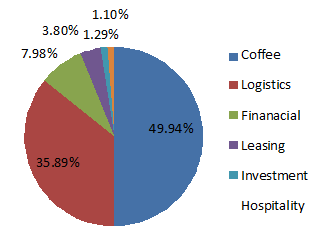 Allocation of IPO Fund
| | |
| --- | --- |
| Expansion of Coffee Business | Rs. 287.51 Cr. |
| Setting-up of new 216 Cafe network outlets and 105 Coffee Day Xpress kiosks during FY 2016 and FY 2017 | Rs. 87.71 Cr. |
| Manufacturing and assembling 8,000 vending machines | Rs. 97.36 Cr. |
| Renovation of existing (240) Cafe network outlets and (7,000)vending machines | Rs. 60.58 Cr. |
| Setting-up of a new coffee roasting plant facility, along with integrated coffee and tea packing facility | Rs. 41.86 Cr. |
| Repayment/prepayment of loans of the Company and Subsidiaries | Rs. 632.80 Cr. |
Industry Overview
The increased income levels, favourable demographics, development of Tier II and III cities and the advent of many international chains, the cafe culture in India has been witnessing a phenomenal growth. The coffee shops and café market in India is expected to grow threefold and become a US$ one billion market by 2017. Café Coffee Day is the biggest player in the coffee shops and café market in India, followed by many international chains that have also opened up. With increasing global exposure, people expect a distinguished or a gourmet coffee experience, which many of the international brands are able to provide. However, even the Indian coffee house chains aren't far behind. The Indian youth segment is expected to increase to 55 per cent, a major contributor to the growth
observed in the cafe houses in India. Coffee shops served as social hubs for the youth segment, particularly those with steady, disposable incomes. And now, coffee chains offer a basic emotional need – refuge, with brands acting as a place between home and office, complementing urban development, not just for the premium segment but becoming a necessity for all.
Also with the Indian middle class consumer ready to spend more and be a part of global lifestyle and culture, coffee parlours in the country are on an expansion spree. This trend increasingly being popular in Tier II and III cities of India. The compounded annual rate of growth is expected to be 25 per cent and will continue to grow with similar pace in the next few years, Coffee consumption in India has rapidly increased over the years, with out-of-home coffee consumption in India fast growing, thereby contributing immensely to the growth of in-home consumption of coffee in the non-traditional markets. India has cafes strategically located close to offices, colleges, high streets and shopping malls. The current generation is not looking at having plain cappuccino, their choices have evolved and they prefer having new innovative flavours like hazelnut, mocha, caramel etc. The tremendous success of our flavour of the month programme is a testimony to this evolving palate. CBTL develops and launches around 20 to 24 new products every year, based on seasonality as beverage of the month with the innovations bringing together international flavours.
There is a potential for a café in every street of urban India and with such potential, the café story has just begun in India. Café culture is more about creating a meeting place for people and providing suitable ambience for people to hang out and spend quality time. The corporates or entrepreneurs typically hold business meetings and use the coffee shop as a meeting places given the ambience and thereby frequenting a café more than a casual customer for whom coffee is an 'impulse' category. The size of the Indian food services market (organized and unorganized) in 2014 is estimated to be Rs.2.73 billion and is projected to grow to RS.5.05 billion by 2020 at a CAGR of 11%. The unorganized market holds a 68% share with an estimated market size of Rs.1.86 billion in 2014. The organized restaurant segment is estimated at Rs.0.79billion (29%) and is projected to grow at a CAGR of 17% to reach RS.1.97 billion by 2020.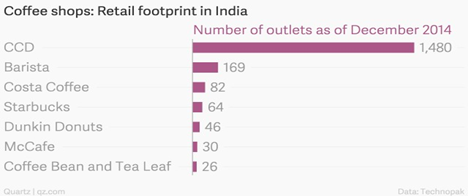 Growth prospects
Good brand value and Wide reach
Coffee day is a well recognized coffee chain brand having 1,538 cafes (as of June 30, 2015) spread across 219 Indian cities and 16 foreign countries. CCD have priced its products ~25% less when compared with its peers in the domestic markets will make the products of CCD more price attractive in the market. And having goodwill among customers and wide reach and market share of ~46% of coffee chain segment will help the company to capitalize on the demand for the products in the market.
Extensive expansion plans
Coffee day has extensive expansion plans. Over the next three years, it plan to open ~150 new outlets every year at an estimated spend of Rs.400-450 crore. Company plans to have at least 5,000 stores by the end of 2020. The 70% of the new stores will come up in existing cities where CCD already operates and the remaining will come up in new cities and on highways via direct outlets and franchises will help to tap the market potential. The franchise cost of Cafes starts from Rs.20lakhs, which make the franchise opportunity affordable when compared with other brands and it will further add to the growth prospects of the company.
Favorable demographics
India being a country with majority population under the age of 35, with high disposable income, increase in urabanisation, growing middle class and increase in coffee and cafe culture will help the company to increase its revenue to a notable extent.
Favorable growth prospects
The organised café market is estimated to be around Rs 6,700 crore in 2014 and is expected to grow to Rs 15,100 crore by 2020 at a compounded annual growth rate (CAGR) of 15%. The chain cafe market is approximately 27% of the total organised cafe market at Rs 1,800 crore in 2014 and is estimated to be 36% of the total organised market by 2020. The chain cafe market is estimated to grow at a CAGR of 20%. The per capita consumption of coffee is still about 110 gram a year as against about eight kilogram in developed countries.
Risks and Concerns
Not so attractive financials
CDEL has a debt of Rs 2864 crore as of December 31, 2014. Sales (Revenue from Operations) for the 9 months of previous year ended 31st December 2014, stood at Rs.1,760 crore which translates into CAGR of 17.45% over 6 years. Debt to Equity ratio stood at 3.87 (based on the most recent debt and net worth figures disclosed in the DRHP. The Company has reported losses consecutively for 3 yeary. Company has reported loss of Rs.75 crore for the 9 months of previous year ended 31stDecember 2014 as well as for the past two years. Since there are no profits for the last few years, EPS is also negative and for the 9 months of previous year ended 31st December 2014, EPS stood at minus Rs.6.4.
Thin margins
Average sales of CCD outlets come between Rs.15000 to Rs.22000 compared with Rs.55000 to Rs.65000 of Starbucks. Part of the reason for the lower sales is Cafe Coffee Day selling more beverages (61 per cent) than food products. And selling the products ~25% less price compared with its competitors will reduce the profit margins of the company to a significant extend.
Burden of subsidiaries
CDEL have 40 subsidiaries spread across cafes, coffee, logistics, leasing, investments, hospitality and financial services. The hospitality and financial services segment of the company is registering losses. The bad performance by any of the subsidiary may drag the overall profit and profit margins of the company.
High competition
The unoragnised players in the cafe and coffee market have a market share of ~70% of the overall café and coffee chain in India. The major organized direct competitors such as Starbucks, Costa Coffee, Barista, Coffee Bean and Tea Leaf and other local Cafes. The Company faces competition from quick service restaurants such as McDonald's, Dominos, Dunkin Donuts, KFC, and Pizza Hut. With the increase in the low priced franchise opportunity available mainly from startups and international players further add competition to the company.