Global Information Technology Industry
The global economy was affected significantly by the Covid-19 pandemic. The whole world came to a near standstill, with many global businesses ceasing or slowing down their operations. As per a report by the World Bank, the world economy contracted by 3.4% in 2020. A major correction was seen in the advanced economies across the world. The World Bank estimated that the global economy has expanded by 5.5% in 2021, its strongest post-recession pace in 80 years. The relaxation of pandemic-related lockdowns across the globe aided the growth rate. Global growth is forecasted to slow down to 4.1% in 2022 and further to 3.2% in 2023.
China and USA will continue to be the major economies in the world, leading the GDP growth rate in 2022. These two economies contributed to about 25% of the world's GDP growth rate in 2021. Fiscal support was the highest in the US at $5.9 trillion. Policy support and accelerated vaccination drive in the US drove the growth rate to 5.6% in 2021. Among the major economies, China was the least affected country by Covid, it posted a growth rate of 2.2%, even in 2020, while the global economy was shattered. China registered an estimated growth rate of 8% in 2021, while the country's focus shifted towards reducing financial instability. The emergence of the pandemic led to a recession in Europe, which subsided with the easing of restrictions and increased vaccination, along with huge public investment programs. The Euro area's growth rate is estimated at 5.2% in 2021, which is forecasted to fall to a rate of 4.2% in 2022. Countries under the category of emerging market and developed economies (EMDE) excluding China registered a growth rate of 4.5% in 2021, as per World Bank estimates. This growth rate is expected to slow down to 4.2% in 2023.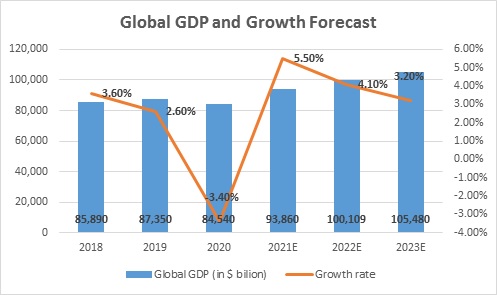 Worldwide IT spending was projected to fall to $ 3.4 trillion in 2020, a decline of 8% from the levels in 2019, because of the pandemic effects. The pandemic and the effects of the global economic recession made the companies prioritize spending on technology and services over growth and transformation initiatives. The hardest-hit industries because of Covid were entertainment, air transport, and heavy industries. This made these industries spend less on IT services. In 2020, it was expected that it would take 3 years to reach back to 2019 IT spending levels. Surpassing the above estimates by Gartner, global IT spending grew to $ 3.87 trillion in 2020 from $ 3.75 trillion in 2019, growing at a rate of 0.9%. With the pandemic arrival, many businesses were forced to adapt to the changes. The companies that were successful in adapting, focused on newer technologies and digital work environments than ever, which led to a marginal increase in the global spending towards information technology. Volatility is expected to remain in focus, while the businesses continue to deal with uncertainty and increase their investments in digital tech initiatives, as they continue to reinvent the future of work and accommodate increasingly complex hybrid work for employees.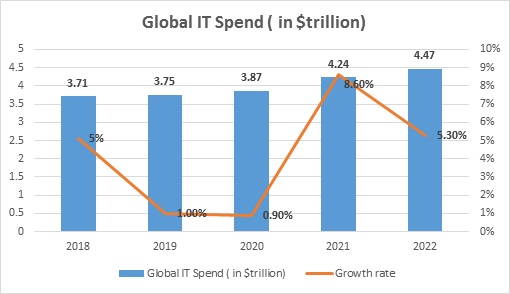 Over the years, a pattern of increasing global spending towards the sub-segment Software is visible. In the years 2020 and 2021, the sub-segment Enterprise software registered a growth rate of 9.5% and 13.2% respectively. A similar uptrend is projected to continue in 2022 as well, at an estimated rate of 11.5%. The other sub-segments that are growing at a good rate are IT services and Data Center systems. Over the next 5 years, the growth in traditional IT spending is expected to be driven by four platforms mainly: cloud, mobile, social and big data. Spending on newer technologies such as AI, Robotics, AR/VR, and blockchain is expected to increase significantly.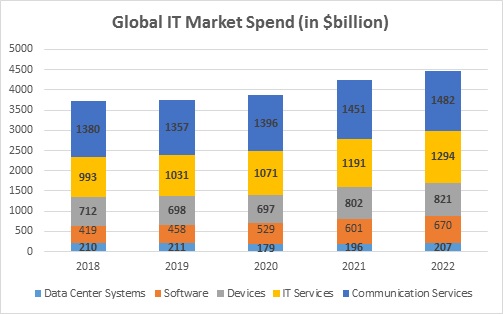 United States is the largest tech market in the world, representing around 33% of the world's IT spend. The US has witnessed a growth rate of around 5-6% over the last few years. Among the other regions, Europe remains a significant contributor. Western Europe contributes to around 19% of the IT spend. Asia continues to be one of the leading players in the tech industry. China, as an individual country, established itself as a major player in the global tech market. Australian region, South America, and Africa are the other noticeable players, with a growing share in the industry.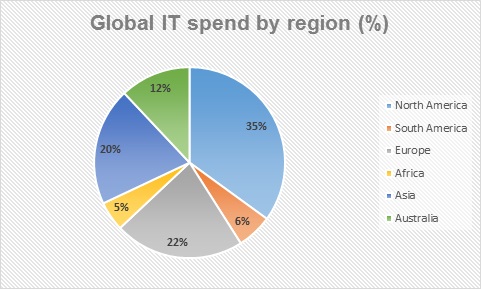 Indian Information Technology Industry
The data released by the Ministry of Statistics and program implementation showed that the Indian economy contracted by 7.25% in FY21, because of Covid-19. In March 2020, the whole country was put under lockdown, forcing factories, transport services, and businesses to shut down their operations temporarily. The lockdown had a devastating effect on all the businesses and resulted in slowing down the economy. The government of India announced several fiscal and monetary relief measures, while the country was reeling through severe economic repercussions and lockdown restrictions, to pull back the country into the line of growth.
Indian economy is expected to grow at a 9.5% growth rate in FY22, aided by the contraction in FY21. The business activities in the country are reeling strongly to reach pre-Covid levels. This strong growth, in 2021 is expected to lift the real GDP rate to 1.3% over the rate in 2020. Most of the businesses have picked up the pace in business operations, yet there are few industries like hospitality, air transport and entertainment industry still struggling to put uncertainty behind. The growth in FY22 was largely driven by government capital spending and economic measures undertaken by the Reserve bank of India.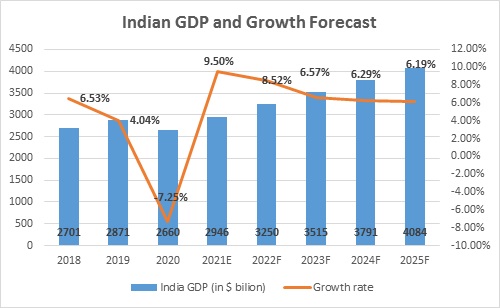 In the last decade, the IT industry grew five times in terms of revenue. IT-Business Process Management (BPM) is the largest private-sector employer in India. India is the leading sourcing destination across the world and captures around 55% of the total global sourcing business (USD 200-250 billion). This industry contributed to 8% of India's GDP in 2020 and is expected to contribute 10% to India's GDP by 2025. According to Software Technology Park of India (STPI), the IT exports in the first quarter of FY22 stood at Rs 1.2 lakh crore. According to Gartner estimates, Indian IT spending is expected to reach USD 101.8 billion in FY22, a growth rate of 7% from 2021. The Indian software product industry is estimated to reach USD 100 billion by 2025.
Indian IT companies are expanding their footprint across the globe by acquiring off-shore companies, to enhance their global delivery centers. Similarly, the major countries have significantly invested in Indian IT. Over the last 21 years, Indian computer software and hardware sector attracted foreign direct investment (FDI) worth USD 74.12 billion. Japanese Investments in the IT sector increased 4X between 2016 and 2020 and stood at USD 9.2 billion in FY21. Indian IT-BPM industry is well diversified across all verticals ranging from BFSI to telecom and media. In Union Budget 2021, the Central government allocated Rs 3,108 crore to the IT and telecom sector. The Indian government extended tax holidays to the IT sector for STPIs and Special Economic Zones (SEZs). In August 2021, the Ministry of State for Electronics and IT announced that the IT export would reach USD 400 billion by the end of FY22. The government plans to increase its focus in areas such as cybersecurity, hyper-scale computing, artificial intelligence and blockchain technology.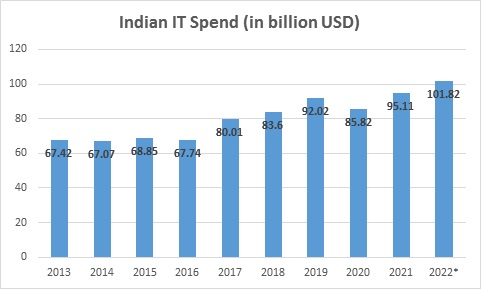 The major sub-segments of the Indian tech industry are data center systems, enterprise software, devices, IT services and communications services. The majority of the spending in India is towards the sub-segments of devices, communication services and IT services. However, the share of the sub-segments IT services and devices have doubled, while the share of IT spending on software services has tripled over the past decade. Increasing investments in R&D are enabling the companies to differentiate themselves by getting patents in related areas.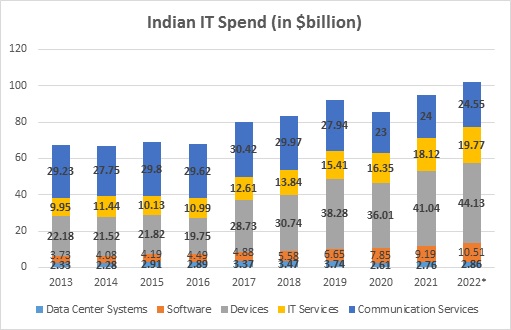 Growth Drivers of Indian IT
Digitally mature IT workforce: Continuous exposure to emerging technologies, multiple service requests from multinational companies enabled the Indian IT workforce to mature, from a global perspective. Stiff competition within the market pushed the Indian workforce to acquire digital skills to withstand competition by differentiating themselves, which led to the creation of a portfolio of IT experts within the IT services domain.

Extensive push from the government: The Indian government, through its initiatives such as digital India campaign and smart city developments pushed the country towards a digital economy. The government also improved the IT infrastructure required for the players in the country. In Union Budget 2021, the Central government allocated Rs 3,108 crore to the IT and telecom sector.

Increasing connectivity in the rural sector: Over the last few years, the network connectivity in India has increased significantly, with 4G already available in rural areas. 5G rollout is expected to further boost the connectivity in India and the usage of smartphone-related services. This has the potential to disrupt the industry verticals like manufacturing and retail.

Rising number of start-ups and indigenous development: Around 9,000 start-ups are technology-based, out of the total 21,000 start-ups in India. With the start-ups' successful revenue growth and favorable mergers and acquisitions stories, the start-up numbers are expected to increase in the coming years. Domestic-market focused companies like Ola, Zomato, OYO and Flipkart made the companies look at domestic markets with increased focus.
Challenges of Indian IT
While the technology industry is one of the most sought industries for employment in India, Indian IT predominantly labeled itself as a reliable major outsourcing destination. This made the country lag behind the countries like the US, UK and China in the adoption of high-end technologies for their operations. The challenges faced by the Indian IT industry are listed below:
Employee attrition rates: With the increase in demand for talented skills in emerging digital technologies, the companies are offering better salaries and attractive package plans for the employees. This demand further fueled the already existing high attrition rates in IT companies. The funding for tech-based start-ups also increased exponentially, which enabled the start-ups to invest more in the hunt for talented IT employees. In addition to these major factors, alternatives for talented tech people have also emerged, which is making them switch to other industries.

Emerging technology talent crunch: Indian IT industry faces a shortage of skilled workforce in emerging technologies like artificial intelligence, machine learning, blockchain, Internet of Things and cybersecurity. The supply is 1/3rd of the total demand in these emerging technologies.

Economic slowdown: With the advent of Covid-19, many industries that used IT services like travel and tourism, hospitality, and aviation were hit hard and have not yet recovered. This made the companies spend less on IT services. Less troubled sectors, such as BFSI are in cash-conversation mode.

Remote workplace issues: WFH presents unique challenges due to the lack of supervision or resources to consult, in times of need. The infrastructure availability in the form of computers, low internet bandwidth, and security concerns pose issues to the IT companies.
Indian IT: Key Government Initiatives
The Indian government pushed Unified Payments Interface (UPI), and efforts towards enhanced infrastructure and adoption of digital infrastructure resulted in the increase of market share of digital payments. This enabled multiple service providers to step up into the e-payment ecosystem. The government's Indian Computer Emergency Response Team (CERT) operates the botnet cleaning and malware analysis center called Cyber Swachhta Kendra to create a secure cyber ecosystem in the country. This center also works with the aim to increase awareness among Indian citizens about botnet and malware infection, along with the required measures to be taken to secure their devices. The Indian government earmarked Rs 100 crore for the set-up of innovation centers in the IoT domain.
A task force on Artificial Intelligence was created under the Ministry of Commerce and Industry to create strategies that encourage the advancement of AI, machine learning and related technologies. The Indian government, under the Digital India campaign, allocated around $ 480 million to promote AI, ML and IoT. The government also opened 9 centers of excellence (COEs) to take artificial intelligence to the grassroots level.
The Indian government is increasingly promoting digital education through various platforms such as eBasta, Swayam, Diksha and ePaatshaala. The Make in India program promoted by the government is expected to drive robots in the industrial space, as the 2nd phase specially focuses on robotics. Some of the programs were launched by NITI Aayog to promote Industry 4.0, which focuses on big data, cybersecurity and robotics.
Overview of various sub-segments in the Indian IT Industry
| | | | | | |
| --- | --- | --- | --- | --- | --- |
| S.No. | Sub-segment | 2020 (USD bn) | 2021 (USD bn) | 2022 (USD bn)* | 2022 Growth %* |
| 1 | Communication Services | 23 | 24 | 24.5 | 2.3% |
| 2 | Data Center Systems | 2.6 | .76 | 2.85 | 3.4% |
| 3 | Devices | 36 | 41.04 | 44.13 | 7.5% |
| 4 | IT Services | 16.35 | 18.12 | 19.77 | 9.1% |
| 5 | Software | 7.85 | 9.19 | 10.5 | 14.4% |
Sector-wise impact and opportunities
Banking, Financial Services and Insurance (BFSI): The BFSI sector is one of the most rapidly changing sectors in India. With the evolution of emerging technologies like AI, ML, and blockchain, the fintech space is witnessing a revolution. BFSI was affected a lot during the pandemic, and it is also one of the fast recovered sectors in India. This sector recovered quickly, as the companies were able to provide services digitally. This led to the increase in demand for IT services by the BFSI players.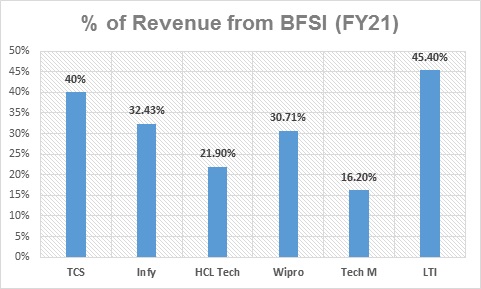 AI and ML are taking the concept of digital lending to a whole new level, as these technologies allow a more accurate and extensive credit risk profiling. The usage of blockchain technology in the banking space is evidently increasing, as some of the countries have already launched their own Central Bank Digital Currencies (CBDCs) and India's Central Bank is also exploring the opportunities to launch its own CBDC. Some of the problems addressed by this currency are to reduce transaction costs for money transfers between countries, reduce transaction time, and digitize transactions.
Major tech players in India like TCS, Infosys, Wipro and L&T Infotech realise more than 30% of their total revenue from the BFSI sector. IT services like cloud computing, data services, and new digital bank capabilities are gaining more demand and the companies accordingly have increased their focus on these services. Reduced banks' bad debts and lower interest rates drove the demand for banking services, thereby increasing the demand for IT services. Global big banks such as Bank of America, Citi Bank, and JP Morgan gave a hint about their moves to increase their investments in digital initiatives to increase efficiency and to reduce costs.
Retail and Consumer Packaged Goods (CPG): Retail sector was hit very hard, as the lockdown was imposed across the country and the total supply chain came to a halt. Non-grocery, apparel, lifestyle and fashion, and logistics companies have taken a hit globally. The demand for IT services from the retail and CPG slowly increased, as the countries across the globe removed the restrictions gradually. With the sectors' strong pipeline coupled with the increased demand, retail companies are expected to increase their investments towards IT services.
With the increased penetration of internet services in the country, many retail companies are expanding their foothold from traditional brick and mortar models to digital platforms. Companies like Reliance and TATA have increased their focus to providing retail services through their own websites and applications. With the usage of available extensive data, the companies are trying to improve customer relationships, determine price and promotions, new product/market launch and estimate the demand by applying predictive analytics. Big data and analytics are IT trends that are going to change the shape of the entire retail and CPG sector.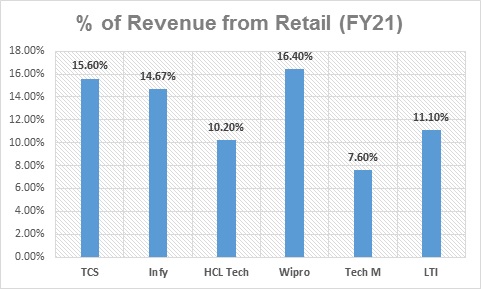 The retail and CPG sector was a considerable revenue provider for Indian tech giants. Wipro, TCS, and Infosys realized 16.4%, 15.6%, and 14.67% of their total revenue from the retail sector. With the increased competition for market share in the digital retail space, the retail players are expected to increase their investments in the IT space, and with this, the IT players are going to get benefitted.
Manufacturing: The manufacturing sector contributes to approximately 16-17% of the country's economy and provides employment opportunities to around 20% of India's workforce. During the pandemic-related lockdowns and restrictions on the movement of goods, the entire supply chain was disrupted and this brought the entire manufacturing to a stand-still. The demand picked up and the supply chain is back on track, though the manufacturing activity has not reached the same level as before the pandemic.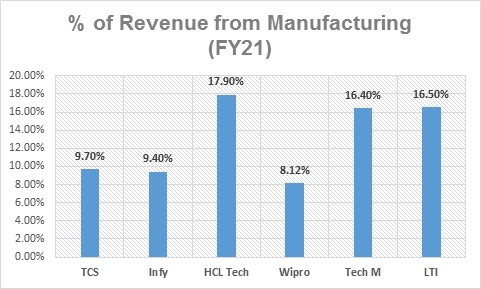 Information Technology plays a key role in making the manufacturing process less cumbersome and more automated. IT helps businesses run smoothly through communication, inventory management, management information system (MIS), customer relationship management (CRM), etc. Robotics, 3D printing, industrial IoT, AI learning machines, predictive analytics are some of the emerging technologies in the manufacturing space, that can reshape the entire sector. The companies are exploring the capabilities of these technologies and trying them out on a trial basis. HCL Tech, LTI, and Wipro derive around 16-18% of revenue from the manufacturing sector.
Communication, Media and Technology: CMT sector can be considered as one of the least affected sectors in the country. Particularly the media sector witnessed a huge demand, as people were confined to their homes and had so much time at their disposal. In the communication sector space, spending on 5G rollout and B2B use cases of 5G may get delayed as the players reassess their capital allocation priorities. The entertainment industry has massively evolved in the last few years. Gaming has moved from localized-storage-based to cloud-based and it has already crossed the combined value of the movies and music industry. Amazon, Meta, Microsoft, and other leading players are entering into the space of metaverse. Metaverse is banking on the rollout of 5G services across the world, as this would need a bandwidth of around 120 Mbps.
Google Fiber and Space X's Starlink are leveraging on their infrastructure that carries data and content to sell internet access and mobile services. This may disrupt the entire telecommunication network, that's been in use for many decades. Consumer technology is changing its business model towards Technology-as-a-Service. Technology holders are passing their ability and patents to other players, to mutually benefit out of the deal. In a similar kind of deal, India and Japan entered into an agreement recently, in which India will manufacture semiconductors for which the technology will be provided by Japan. Tech Mahindra sees the highest percentage of revenue from the CMT sector, around 49%, whereas L&T Infotech does not have presence in this space.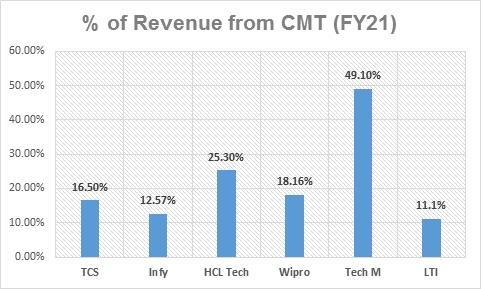 Others: From our research point of view, this sector consists of industries like Energy and Utility, Travel and Hospitality, Life Sciences and Healthcare, and Public Services. We will have a look at this segment company-wise, as presence and revenue realization is different for each company in these industry verticals.
TCS realizes around 29,927 crores from the others segment, contributing around 18.2% of the company's total revenue. The company has a presence in the Life Sciences segment. Infosys realized revenue from the industry verticals like Energy and Utilities (12.5%), Hi-Tech enterprises (8.5%), Life Sciences and Healthcare (6.8%) and Others including public services and segments of businesses in India, Japan, China (3.1%). HCL Technologies realized around 13.9% of the total revenue from Lifesciences and Healthcare, and 10.8% of the revenue from Public Services. Wipro realized around 13.53% and 13.07% of the total revenue from Healthcare and Energy & Utilities respectively. Tech Mahindra realized around 10.9% of its total revenue from Healthcare, Lifesciences, Government and others. L&T Infotech realized around 10.1% and 5.8% of the total revenue from Energy & Utilities and Others respectively.
Top Technology Trends
India has the world's third-largest start-up ecosystem that is growing at breakneck speed. Technology is evolving at a rapid pace, enabling the world to change at a faster pace. Covid-19 has changed the way IT professionals work and paved the way for a virtual and contactless digital work environment. The IT companies are also adapting to the changes accordingly, in order to stay put in the market and some companies already made changes in the direction to enjoy the benefits of prime-mover and have a competitive edge over their competitors.
Artificial Intelligence (AI) and Machine Learning (ML): AI is the ability of a digital computer or computer-controlled robot to perform tasks commonly associated with human beings, which is still in early stages, will have notable effects on how we live, work and play. AI currently finds applications in navigation apps, smartphone assistants, and ride-sharing apps for its superior image and speech recognition. AI is also used to predict demand and to detect the changing patterns of consumer behavior. AI and ML are closely related, ML being the method to train a computer to learn from its inputs to achieve AI. ML finds applications in speech recognition, speech-to-text conversion, traffic prediction, self-driving cars, online fraud detection, etc.

Robotic Process Automation (RPA): RPA is a software technology used in the building, deployment and managing of software robots that mimic human actions interacting with digital systems and software. These software robots can perform a wide range of actions like understanding the content on screen, typing the right letters, navigating systems and identifying and extracting data. RPA streamlines workflows, making the company more profitable, agile and responsive, and also improving employee satisfaction.

Quantum Computing: It harnesses the phenomena of quantum mechanics and applies it to computing to deliver solutions to complex problems that today's supercomputer may not solve. Quantum computing was, in recent times was used in the prevention of the spread of the coronavirus and the development of vaccines. It also finds applications in banking and finance, to manage credit risk, for high-frequency trading and fraud detection, and to solve real-life problems like reducing atmospheric carbon, etc. The revenues for the global quantum computing market are expected to cross $8.6 billion by 2027.

Virtual Reality (VR) and Augmented Reality (AR): VR immerses the user in an environment whereas AR enhances the environment. In the coming years, it is expected that these technologies will further get integrated with our lives. VR and AR have enormous potential in training, education, entertainment, and marketing. Global tech giants are making their moves in the area of Metaverse, trying to combine both these aspects of AR and VR, creating a digital world. The global VR and AR market is forecasted to grow to $209.2 billion by 2022. Mixed Reality (MR) and Extended Reality (ER) are extensions of VR and AR.

Blockchain: Blockchain, also referred to as Distributed Ledger Technology (DLT), stores the history of any digital asset transaction and makes these data unalterable and transparent through the use of decentralization and cryptographic hashing. This technology is used in cryptocurrencies, Non-Fungible Tokens (NFTs), Central Bank Digital Tokens (CBDTs) and so on. Few countries in the world have developed their own Central Bank Digital Currencies (CBDTs), while Bahamas becoming the first country to launch its own CBDT "Sand Dollar" on blockchain technology. Several industries like BFSI, logistics are involving and implementing blockchain technology to increase their efficiency.

Internet of Things (IoT): IoT is a system of interrelated communicable devices that has the ability to transfer data over a network without human intervention. In today's world, there are IoT-enabled devices, home appliances, cars and so on that are connected and exchange data over the internet. IoT enables better safety, efficiency and decision making for businesses as the collected data is analyzed. It helps organizations to monitor their business processes, improve the customer experience, improve productivity, and generate more revenue. The global spending on IoT devices is expected to reach $1.1 trillion by the end of 2022.

5G: 5G is the fifth generation of cellular technologies. It is believed that 5G would be 100 times faster than 4G and would create never before seen opportunities for people and businesses. 5G is expected to make businesses more efficient and give consumers more access to information at a fast rate. With the use of 5G, drone delivery, cloud-connected traffic control, emergency response to global payments, next-level gaming and entertainment and so on are possible. It is expected that by 2035, 5G will enable $12.3 trillion of global economic output and support 22 million jobs worldwide. 5G services will bring VR and AR to life, as these would need high bandwidth.
The other notable emerging technology trends that are going to leave an impact on the information technology industry are edge computing, computer vision, customer data platforms, cybersecurity mesh, digital health, digital twin, Internet of Behaviors (IoB), and spatial computing.