About ITC Ltd
ITC Ltd., incorporated in the year 1910, is a Large Cap company (having a market cap of Rs 237900.62 Cr.) operating in Tobacco sector.
ITC Ltd. key Products/Revenue Segments include
Cigarettes which contributed Rs 29076.48 Cr to Sales Value (61.77% of Total Sales)

Packaged Food Item which contributed Rs 5717.32 Cr to Sales Value (12.14% of Total Sales)

Agricultural Products which contributed Rs 3349.12 Cr to Sales Value (7.11% of Total Sales)

Paper & Paper Boards which contributed Rs 2843.97 Cr to Sales Value (6.04% of Total Sales)

Others which contributed Rs 2394.66 Cr to Sales Value (5.08% of Total Sales)

Tobacco Unmanufactured which contributed Rs 1780.97 Cr to Sales Value (3.78% of Total Sales)

Service (Hotel) which contributed Rs 1121.45 Cr to Sales Value (2.38% of Total Sales)

Printed Materials which contributed Rs 428.65 Cr to Sales Value (0.91% of Total Sales)

Other Operating Revenue which contributed Rs 356.04 Cr to Sales Value (0.75% of Total Sales), for the year ending 31-Mar-2014.
For the quarter ended 31-Mar-2015, ITC Ltd has reported Standalone sales of Rs. 9188.25 Cr., up 4.41% from last quarter Sales of Rs. 8800.22 Cr. and up 0.47% from last year same quarter Sales of Rs. 9145.14 Cr. Company has reported net profit after tax of Rs. 2361.18 Cr. in latest quarter.
ITC Ltd management includes Mr.A R Noronha, Mr.Angara Venkata Girija Kumar, Mr.Anil Baijal, Mr.Anthony Ruys, Mr.Bagri Giriraj, Mr.Biswa Behari Chatterjee, Mr.Bose Kamal Ranjan, Mr.Dutta Saradindu, Mr.Krishnamoorthy Vaidyanath, Mr.Kurush Noshir Grant, Mr.Malik Hemant, Mr.Mukherjee Nilanjan, Mr.Nakul Anand, Mr.P Sen Gupta, Mr.Pathak Arun, Mr.Pillappakkam Bahukutumbi Ramanujam, Mr.Pradeep Vasant Dhobale, Mr.R K Rai, Mr.Rajiv Tandon, Mr.Rastogi Mukul, Mr.Robert Earl Lerwill, Mr.S B Mainak, Mr.S Roy, Mr.Sahibzada Syed Habib-ur-Rehman, Mr.Serajul Haq Khan, Mr.Singh Jagdish, Mr.Sunil Behari Mathur, Mr.Yogesh Chander Deveshwar, Ms.Meera Shankar, Mr.Biswa Behari Chatterjee.
ITC Ltd has Deloitte Haskins & Sells as its auditors. As on 31-Mar-2015, the company has a total of 8,015,519,541 shares outstanding.
OVERVIEW OF Q4 FY15 RESULTS
Steep increase in taxes/duties on cigarettes has led to unprecedented pressure on legal cigarette industry sales volumes.

Profit Before Tax at Rs. 3348 crores and Net Profit at Rs. 2361 crores, registered a growth of 3.9% and 3.7% respectively during the quarter.

Excluding CSR / Social Investments programme expenditure, PBT and PAT grew at 6.4% and 7.8% respectively.

Additionally, financials for the quarter include Rs. 58 crores towards costs associated with rationalization of Safety Matches manufacturing operations. Earnings Per Share for the quarter stood at Rs. 2.95.

Other Expenditure for Q4 FY15 is higher by 10.2% Vs. Q4 FY14 due to higher CSR expenditure mandated by the Companies Act 2013 and increase in local taxes.

ITC examines prospects for inorganic growth that arise from time to time not only in this business segment but also in the other businesses. The Company continues to evaluate opportunities to grow its businesses through acquisitions and Joint Ventures and is guided by considerations such as strategic fit, valuation, financial viability, ease of integration etc.

In February 2015, the Company acquired the 'Savlon' and 'Shower to Shower' trademarks and other intellectual property rights for identified markets from the Johnson & Johnson group.
Cigarettes Business
This year Govt. had two rounds of sharp increase in Excise Duty - in July 2014 and February 2015. This includes a cumulative increase of 115% on filter cigarettes of 'length not exceeding 65 mm', which has widened the price differential between legal and illegal cigarettes and made it extremely difficult for the legal cigarette industry to counter the unabated growth of illegal cigarettes in the country. Over the last 3 years, the incidence of Excise Duty and VAT on cigarettes, at a per unit level, has gone up cumulatively by 98% and 104% respectively.

Bidi, khaini, chewing tobacco, gutkha and illegal cigarettes which presently constitute over 88% of total tobacco consumption in the country.
ITC Ltd expanded the market presence of KwikNic nicotine chewing gum adding the pharmaceutical channel to the product's distribution footprint.
The hospitality sector continues to be impacted by a weak pricing scenario in the backdrop of excessive room inventory in key domestic markets and sluggish macro-economic environment both in India and major source markets. The segment revenue registered a growth of 8.1% during the quarter.
The Paperboards, Paper and Packaging segment was impacted by the continuing slowdown in the FMCG industry and input cost pressures. Consequently, during the quarter, the Segment Revenue declined by 4.6% and the Segment Profits grew a muted 1.1%.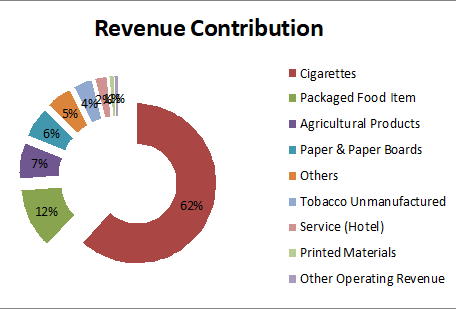 ITC Ltd Share Holding

COMPANY FINANCIAL INFORMATION
Balance Sheet

Income Statement

QoQ Results

Projection
VALUATION
Relative Valuation

PEx Value per Share 509.20 Rs

EPSx Value per Share 900 Rs

EBITx Value per Share 278.85 Rs

EBITDAx Value per Share 299.75 Rs

Technical Analysis

Name

Value

Action

RSI(14)

33.974

Sell

STOCH(9,6)

15.563

Oversold

STOCHRSI(14)

7.235

Oversold

MACD(12,26)

-8.670

Sell

ADX(14)

45.170

Sell

Williams %R

-91.355

Oversold

CCI(14)

-93.6053

Sell

ATR(14)

8.2929

High Volatility

Highs/Lows(14)

-8.0500

Sell

Ultimate Oscillator

46.958

Sell

ROC

-5.824

Sell

Bull/Bear Power(13)

-20.5520

Sell

Buy: 0

Sell: 8

Neutral: 3

Profitability and Growth

ITC

Peer

Return of Equity

33.51

19.42

Return on Assets

28.94

10.44

Return on Capital Employed

32.60

20.03

Gross Profit Margin

34.76

9.98

Operating Profit Margin

37.47

12.88

Net Profit Margin

25.57

12.35

Key ratios

Quick Ratio

0.68

0.65

Current Ratio

1.25

1.19

Cash Ratio

0.25

0.10

D/E Ratio

-

-

Coverage Ratio

-

0.71

Action We expect stock to consolidate for some time. For

long term, we expect business to improve. BUY (long term)

Stock price 297.50

TARGET 338

Downside 283 - 275

Symbol (NSE) ITC

(BSE) BOM: 500875

Market Cap 237900.62 Cr