Kellton Tech Solutions Ltd - BASIC INFORMATION
Kellton Tech Solutions Ltd., incorporated in the year 1993, is a Small Cap company (having a market cap of Rs 316.76 Cr.) operating in Information Technology sector.
| | |
| --- | --- |
| Key Stock Indicators | |
| BSE Code | 519602 |
| NSE Code | NA |
| Reuters Code | KELL.BO |
| Stock Beta | 1.6201 |
| Price (Rs) as on 31st July 2015 | 75 |
| Equity Capital (Rs Cr) | 21.74 |
| Face Value (Rs) | 5.00 |
| Market Cap (Rs cr.) | 316.76 |
| Book Value (Rs) | 8.99 |
| Avg. Volume (52 Week) | 107,450 |
| 52 wk H/L (Rs) | 7.72 / 87.00 |
| Shareholding Pattern | |
| (As on July 29, 2015) | % Holding |
| Promoters | 62.78 |
| Institutions | 5.2 |
| Public | 29.33 |
CATALYST FOR GROWTH
Massive expansion plans. Company made a whooping total of 8 acquisitions in last three years.

Synergic growth in revenue and earnings because of the acquisitions.

Investments in future technology which has potential to grow fast.

Promoters and management increasing stake in company.

Revenue expected to increase 3.5 times for next fiscal.
Kellton Tech Solutions Ltd - RECOMMENDATION
With experienced promoters, strong margins and its planned expansion KELLTON will be able to grow exponentially over the next few years. We recommend BUY on the stock at CMP of Rs. 75 to target of Rs. 113 (PE of 23.74x March FY16) over next 1 year.
| | | | | |
| --- | --- | --- | --- | --- |
| | 2013 | 2014 | 2015E | 2016E |
| Total Income | 49.15 | 133.84 | 182.77 | 450.00 |
| Total Expenditure | 42.74 | 120.56 | 164.07 | 379.44 |
| EBIDTA | 6.41 | 13.29 | 18.70 | 70.56 |
| Reported Profit After Tax | 3.73 | 6.37 | 7.30 | 21.06 |
| EBITDA Margin (%) | 13.04% | 9.93% | 10.23% | 15.68% |
| PAT Margin (%) | 7.59% | 4.76% | 3.99% | 4.68% |
| PE ratio (Cons.) | 10.41 | 5.82 | 35.74 | 23.74 |
Kellton Tech Solutions Ltd - BUSINESS DISCRIPTION
Kellton Tech Solutions Limited is a global software services company providing consulting, systems integration, and outsourcing solutions to clients in key industry verticals worldwide. It provides a mix of expert industry knowledge, process and technology framework, robust associations, and a skilled, global workforce to offer solutions that create viable results.
The Company's full services portfolio consists of Consulting, Enterprise Solutions, Application Development and Management, Internet and Emerging Technologies, Information Management, Outsourcing Services and Mobility Solutions.
Kellton Tech's expertise in technology is wide ranging. The organization covers the entire technology landscape including, Web, SMAC (Social, Mobile, Analytics, Cloud), ERP-EAI and IoT and proudly displays its expertise in enabling web based solutions, creating hyper-intelligent solutions through new age architectures (SMAC and IoT) and providing Enterprise Resource Planning services to businesses.
Some of the major clients include Flipkart, Jabong, Nestle, GE, Sony, MakemyTrip, Nokia, PVR, GroupOn.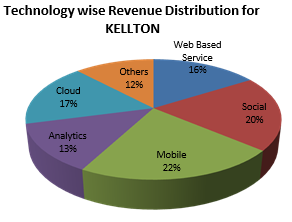 PRODUCTS OFFERED
KLGAME™ is designed in a fashion to serve many verticals ranging from stadiums, museums, to retail and airlines. A museum/ store / mall can utilize this platform as a museum guide/ goods locator/ to push offers and coupons etc. It consists of Mobile SDK which resides on mobile phone/ wearable devices and connects with the beacons to fetch beacon location & related data and Engine which continuously fetches user location from mobile applications and stores it in the database.
Kellton Tech Mobility Platform is a location-based application platform comprising features such as geo-location, bar code/QR code, dynamic mobile forms, voice-to- text, unified notification, etc. The platform addresses the need to manage mobile work-forces, mobile resources and out-door industry processes like inventory, supply chain and warehouse management through BlackBerry and Play Book applications making your enterprise truly mobile in each aspect.
Drupal Wizard gives you the APIs to build forms by merely specifying the details of the form. It will create the underlying HTML on its own provided you just specify the fields you want in it.
Kellton Tech builds a connected world. Kellton Tech's IoT helps organizations connect and engage with the customers.
ACQUISITIONS
Company made a whooping total of 8 acquisitions in last three years. Some of the recent transactions are mentioned bellow.
ProSoft Group: acquired in May 2015, which consists of four companies – ProSoft Technology Group Inc, Intellipeople Inc, Cyber-World Solutions Inc and ProSoft Business Solutions LLC. It is a leading edge, global IT service provider. These services include Enterprise Resource Planning, Business Process Management, Business Integration Services, Service Oriented Architecture, Business Activity Monitoring, Enterprise Portals and Cloud Solutions. ProSoft has strategic partnerships with leading software companies like SAP (Services Partner), IBM (Premier Partner & Reseller), SoftwareAG (NA Associate Partner and Reseller), Microsoft (Gold Certified Partner) and Oracle (Partner) to provide the best value to our customers with a professional difference.

Media report suggests it has agreed for $14 million dollar earn-out agreement for 3 years for the acquisition, which adds $40 million to the top line and $3 million to bottom line of Kellton's balance sheet. Acquisition was mainly to strengthen customer base especially in the ecommerce space.
SUBSIDIARIES - Kellton Tech Solutions Ltd as on 30/07/2015
| | | | |
| --- | --- | --- | --- |
| | MCS Global INC | Kellton Teach Inc | Dbydx Software PvtLtd |
| Year End | 2014 | 2014 | 2014 |
| No Of Shares | 750000 | 501000 | 8323765 |
| Investment Cost | 8.67 | 3.07 | 4.06 |
| Holding -% | 100 | 100 | 100 |
| Subsidiary's Year | 201406 | 201406 | 201406 |
| Equity Subscribed | 4.51 | 0.6 | 0.83 |
| Sales Turnover | 6.38 | 3.07 | 2.05 |
| Profit After Tax | 2.28 | 3.88 | 0.51 |
| Total Assets | 19.4904 | 52.2938 | 5.9076 |
| Total Liabilities | 8.6068 | 45.4285 | 3.0272 |
| Country | U.S. | U.S. | India |
Skan DbyDx Software Pvt Ltd. is a worldwide provider of outsourced product development and consulting to emerging and established technology companies.

With a staff of over 150 highly skilled personnel, DbyDx core competency lies on mobile application, Rich Internet Application (RIA) development & quality assurance. DbyDx Software has Global Delivery Centers in United States and Asia.

Supremesoft Global Inc, offers technology consulting services tailored for the public sector or private industry. It provides Web 2.0 design; cloud computing, social network software, mobile application development and automation testing, content management, online video publishing, e-commerce and Microsoft Office solutions. It caters to companies in media and entertainment, publishing, advertising, education, retail, software companies and finance. Supremesoft also serves clients at all levels of public service: Federal, state, and local.

The acquisition adds a revenue of 9 million USD and furthers Kellton Tech's involvement and expertise in the areas of IT application development, cloud computing, mobility solutions and data analytics. Some of the clients include Microsoft, Oracle, Sun Microsystems, and IBM.

eVantage Technologies Inc – which provides enterprise consulting solutions and application outsourcing to multi-national corporations. It offers solutions to Enterprise Application Integration(EAI), Dataware Housing areas, SAP DIAW, eDocxpress – which electronically stores, retrieves, redacts ad pints documents for delivery to request and eImmigate – a workflow- based immigration software with back office support.

The acquisition enhanced Kellton Tech's capability and expertise in the areas of service-oriented architecture, ERP, EAI and Business Intelligence.

VIVOS IT Solutions and Services which provides staffing & consulting solutions in diverse fields such as Management, Healthcare, Life Science and Government Services with strong focus on Healthcare & Life Sciences Industry.

Its key customers include Alcon, Covance, ETrade, Emergent Bio-solutions. It was funded by 100% disinvestment in MCS Global-which expertise in building enterprise software solutions through Consulting; End to End Product Engineering, Staff Augmentation, and strong offshore development practice.
MANAGEMENT AND GOVERNANCE
Company was established in 1993 but the new management took company in 2009. They have started building strategies aggressively since then. Number of employees now stands at 650, 450 in India and 200 in US. Now with the acquisition the strength has increased to 1000+. Promoters in the company have increased the stake from 57.3 to 62.8% showing they believe in their own performance.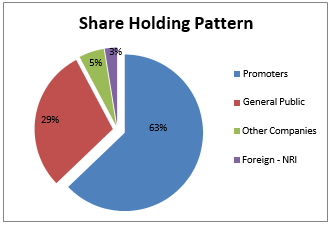 GENERAL - TOP MANAGEMENT as on 27/07/2015
| | |
| --- | --- |
| Name | Designation |
| Krishna Reddy Chintam | Managing Director |
| Niranjan Reddy Chintam | Executive Chairman |
| Rajendra Vithal Naniwadekar | Director |
| Srinivas Potluri | Director |
| Brij Mohan Venkata Mandala | Director |
| Sreevidya Chintam | Additional Director |
| Karanjit Singh | Additional Director |
| Srikanth Reddy Kolli | Company Secretary |
INDUSTRY OVERVIEW AND COMPETITIVE POSITION

The Indian software industry's exports grew by about 13% in fiscal year 2014 to $87 billion (around Rs.5.4 trillion), driven by its ability to offer solutions that integrate new business models such as analytics and cloud-based services, which are part of SMAC (cloud, mobile, analytics, big data and social media services) with traditional ones, according to Nasscom's Strategic Review 2014 report. Indian IT vendors will generate at least $225 billion in SMAC-related revenue in 2020 – says International Data Corp. Research firm Zinnov has released an estimate that the cloud computing market within India is expected to reach 1.08 Billion by 2016.
India has emerged as the second largest mobile market globally, behind only China. With over 870 million mobile subscribers, businesses are jumping on to the mobile opportunity. Moreover, the nation has also emerged as the third-largest smart phone market. Both consumers and business buyers in India continue to harbor an aggressive appetite for mobile devices, adding to the already large collection of devices that are still in active use. Rising focus on the mobile web platform is affecting a number of business aspects, including ecommerce spending and online advertising.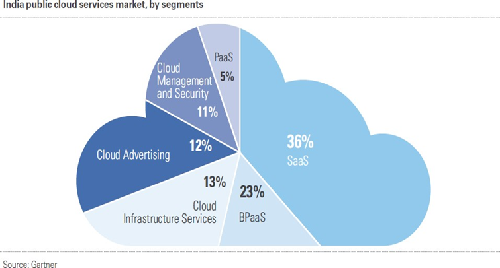 Indian company's investment consistently surpasses its global counterparts in all aspects of SMAC with 42% of Indian companies investing in social media as part of external communications for customers and suppliers (global average 33%), 48% investment in public cloud applications (global average 24%) and 4 0% in adopting mobile technologies for customers (global average 31%).
Around 85% of the Indian companies are digitally astute, as measured by C-suite collaboration in comparison to 54% in the US and 69% in the UK. 71% of the Indian companies have a single multi-year roadmap and IT leaders in 80% of those companies shared a detailed understanding of corporate strategy at par with their CEOs.
Groundbreaking these technologies and providing solutions to clients will help leverage KELLTON grow better than industry.
INVESTMENT RATIONALE
Expansion plan – Management has a target of $80 million (≈Rs 512 Cr) revenue for March FY16 and $100 million for September FY16. North America contributes almost 50% for its revenue, India about 40% and Europe 10%. In the coming years Kellton expects majority revenue from India.
Company plans to grown both organically and inorganically. Organically via contracts by private and government companies with both Indian and US based revenue is expected to increase. To grow inorganically, Kellton has made total of 8 acquisitions in last three years and plans to acquire few more companies in the future to posses best technology and to increase customer base.
ProSoft Group directly adds Rs 256 Cr to the KELLTON's top line. Acquisition of Supremesoft Global provides additional revenue of Rs 58 Cr. We estimate synergy of ProSoft Group, eVantage, Supremesoft Global and Skan DbyDx Software to be more than Cr 75 Cr. Overall Kellton should demonstrate agility to integrate the culture, ethos, management and its technology effectively to deliver better results. With the combined synergetic effect of these series of mergers and acquisitions, we believe company has potential to reach revenue of at least Rs 450 Cr by FY16 March.
Investing in future technology – like the 90's was the era of search engines, 00's when internet took over the world and introduction of iOS & Android have changed our lifestyles and the way of doing business. SMAC is definitely the technology for tomorrow. Companies like Apple, Google, Capgemini, Cognizant have invested billions of dollars in these technologies. Application of these technologies are limitless, from enterprise applications like ERP, CRM and BPM to Cross-platform mobile development SMAC is everywhere. Valuation for private companies in same business have sky rocked.
Well established client base – applications of these technology is used my many household names. Some of the major clients include Flipkart, Jabong, Nestle, GE, Sony, MakemyTrip, Nokia, PVR, GroupOn. With subsidiary companies it has broadened its client base.
Majority revenue is project related but Kellton said it will also generate annuity based revenue from next year.
Promoters and Management has increased their stake from 57.85% in March 2014 to 62.78% in March 2015. Management believes Kellton's share is undervalued and they see its share price sky rock in the future.
Company plans to raise $25 million dollars (≈Rs 160 crores) through institutional placement to a private equity via preferential allotment, with 60:40 ratio of debt and equity. For equity part Kellton has issued warrants of Rs 30 lakh for Rs 90 each. This is convincing for the investors when company is trading at Rs 75 a share. It said remaining amount will be funded by QIP in the month of October or November 2015.
VALUATION
Kellton is in growth phase. Its revenue grew 800% in last two fiscals and we company still has potential to grow similarly.
Growth potential of Kellton explains its higher P/E and P/BV valuation. Stock is trading at PE of 35x FY15, little expensive compared to its peer but its extraordinary growth rate justifies it. We value Kellton at PE (Consolidated) of 24x FY16 at 113.12 per share, with revenue at Rs 450 Cr to net profit of Rs 21.06 Cr.
Comparison with its nearest competitor
| | | | |
| --- | --- | --- | --- |
| Persistent systems | | Kellton Tech | |
| Enterprise Value | 5169.68 | Enterprise Value | 344.85 |
| Market Capitalization | 5256.4 | Market Capitalization | 338.94 |
| Book Value | 169.36 | Book Value | 8.99 |
| P/BV | 3.88 | P/BV | 8.67 |
| P/E(TTM) | 19.29 | P/E(Consolidated) | 12.39 |
| EV/EBIDTA | 15.8 | EV/EBIDTA | 43.38 |
| EV/Sales | 4.02 | EV/Sales | 9.32 |
We recommend BUY on KELLTON. One may accumulate stock at CMP of Rs 75 and hold for 6 to 9 months with the target of 113.
RISKS
Gartner Report on April 2015 forecasts worldwide IT spending in 2015 to shrink by 1.3 percent, down from 2.4 percent growth in last quarter's update. This will pose a marginal threat to companies whose major revenue is dependent on IT.

Total of 5039 shareholders hold the entire company. Being minority shareholder has its limitation. It may also pose difficulties to buy / liquidate stock for Institutional or bulk investors.

Too many acquisition posts threat of integration. 50-55% of acquisition ends up failure statistics says.
FINANCIAL ANALYSIS
Company reported net profit of Rs 5.50 crores in the quarter ending March against Rs1.48 crores same quarter last year up 271% and Rs 4.48 crores in the last quarter up 22.77%.
YEARLY CONSOLIDATED RESULTS as on 30/07/2015
| | | | | | |
| --- | --- | --- | --- | --- | --- |
| | March 2012 | March 2013 | March 2014 | March 2015E | March 2016E |
| Total Income | 39.28 | 49.15 | 133.84 | 182.77 | 450.00 |
| Total Expenditure | 34.94 | 42.74 | 120.56 | 164.07 | 379.44 |
| EBIDTA | 4.34 | 6.41 | 13.29 | 18.70 | 70.56 |
| Interest | 0.28 | 0.96 | 3.34 | 4.56 | 22.50 |
| EBDT | 4.06 | 5.45 | 9.95 | 14.14 | 48.06 |
| Depreciation | 0.89 | 0.96 | 2.33 | 3.18 | 13.50 |
| PBT | 3.17 | 4.49 | 7.62 | 10.95 | 34.56 |
| Tax | 0.23 | 0.76 | 1.25 | 3.66 | 13.50 |
| Reported Profit After Tax | 2.94 | 3.73 | 6.37 | 7.30 | 21.06 |
| Equity | 43.48 | 43.48 | 43.48 | 43.48 | 43.48 |
| EPS (Unit Curr.) | 0.83 | 1.05 | 1.54 | 1.68 | 4.84 |
| EBITDA Margin (%) | 11.05% | 13.04% | 9.93% | 10.23% | 15.68% |
| PAT Margin (%) | 7.48% | 7.59% | 4.76% | 3.99% | 4.68% |