Mirza International Limited - Company Profile
Established in the year 1979, Mirza International Limited is India's leading manufacturer and marketer of leather footwear and finished leather. The company is headquartered in Kanpur and has corporate and marketing offices in New Delhi. The company has a footprint across 30 countries. The company has 25% market share in men's leather footwear in UK. Mirza International is the preferred supplier to leading international brands. Apart from supplying leather products to global retailers, the company also has global in-house brands – namely the Bond Street, RedTape and OakTrak. The company recently acquired brand Yezdi to increase its product offerings. The company has in-house design studios, strong supply- chain, marketing and distribution network and state-of-art manufacturing plants.
Mirza International Limited - Investment Summary
| | |
| --- | --- |
| CMP(04/9/17)(Rs) | 158.70 |
| 52 Week H/L | 176.45/69.00 |
| Market Cap (Cr) | 1,905.05 |
| Equity Cap (Cr) | 24.06 |
| Face Value (Rs) | 2.00 |
| Promoter Holding (%) | 73.78 |
| Non-Promoter Holding (%) | 26.22 |
| Total (%) | 100.00 |
Strong demand in domestic branded segment.

Strong global brands as clients.

Expansion into sports shoes, leather garments and accessories

In-house manufacturing capability.

Strong brand presence of brands Red Tape and Oaktrak.
Mirza International Limited - Financial Summary
| | | | | | |
| --- | --- | --- | --- | --- | --- |
| Particulars(Rs. Cr) | FY13 | FY14 | FY15 | FY16 | FY17 |
| Net Sales | 643.4 | 707 | 918.3 | 925.8 | 935.7 |
| Cost of Sales | 579.3 | 639.6 | 840.3 | 812.9 | 830.2 |
| Profit after Tax | 43.44 | 43.37 | 51.16 | 78.09 | 71.2 |
| EPS( Rs) | 4.69 | 4.68 | 5.52 | 7.21 | 5.92 |
Outlook
Mirza International limited has revenue of Rs.936 crores in FY17, up by 1% from FY16 revenue of Rs.926 crores. Although the net profits have grown at an average rate of 15.5% over the last 5 years, the PAT dropped from Rs.78.09 crores in FY16 to Rs.71.2 crores in FY17. Footwear and garment segments showed excellent growth in the domestic markets, whereas exports to UK and USA were down due to lack of demand in Q2 FY17. The company has launched new brands-Bond street and Red Tape Sports – both of which have been successful post launch. Mirza International now has products in mid-segment, premium segment and sports segment. Due to the under-penetration of branded footwear in the Indian markets, the brands Red Tape and Bond Street are expected to go a long way in terms of growth in sales revenue.
Company Overview
Mirza International limited is engaged in manufacturing and marketing leather products and leather footwear. The company's operations are divided into two segments: the footwear division and the tannery division. The company operates an in-house shoe production facility and a design studio in London. Its brands include Red Tape and Oaktrak. The Red Tape brand's product portfolio includes footwear for men and women, shirts, Jackets, denims, pants, shorts and accessories. Oaktrak is a brand of formal footwear including casual and urban styles.
Mirza International limited has been the leading Indian supplier of leather footwear to global brands since last 15 years. Approximately 75% of total revenue generated is from sales in international markets. 85% of the total overseas sales are private label goods supplied to leading international footwear companies. The company's operates in 30 countries and the main overseas markets are UK, France, Germany and USA.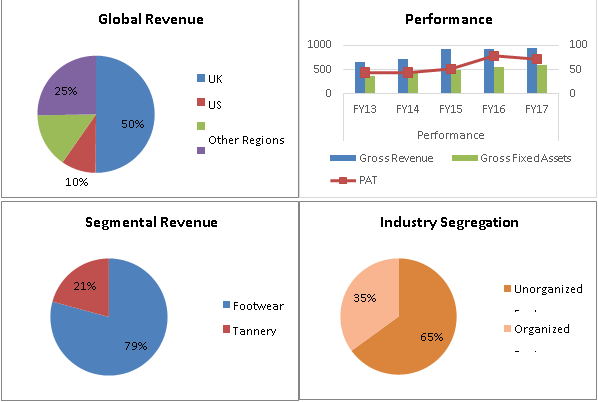 As seen from the graphs above, Mirza International's major share of revenues come from UK (50%). The topline revenues and bottom line profits have grown steadily and fixed assets have grown at a healthy rate. 79% of the company's revenue comes from footwear and remaining 21% comes from tanneries (clothing and accessories). However, the footwear industry is largely unorganized and thus only 35% of the industry is occupied by companies like Mirza International Ltd, Bata India etc.
Mirza International Limited - Performance
Mirza International limited is one of the largest suppliers of leather footwear and leather accessories in the branded market in UK. London city is considered to be one of the leading fashion capitals of the world. Nearly 15% of the total men's footwear supplied in UK is sold under the company's own brands Red Tape and Oaktrak, while remaining 85% is supplied to reputed global brands. The company has also been aggressively expanding its presence in USA. The company's sales are expected to grow by CAGR of 8.0% in FY18. UK and USA have different business models – UK has a local team of designers and sale is done directly, while USA market has agents for the company for sale execution. The company has entered into e-commerce space and is concentrating on branded selling. Nearly 10% of the turnover is being spent on brand building projects and ad campaigns. The company has its presence in all major e- commerce websites such as Flipkart, Myntra, Amazon, Snapdeal, Jabong and Indiatimes shopping.
The company's business segments include Shoe division and tannery division. During FY17, the revenue from shoe division increased to Rs.843.56 crores as against Rs.818.86 crores in FY16. Revenue from tannery division was 210.96 crores in FY17 as against Rs.240.88 crores in FY16. Revenue from overseas sales stood at Rs.650.68 crores in FY17 as against Rs.691.71 crores in FY16, a decrease of 6% YOY. While revenue from UK operations decreased by 3% from Rs.464.26 crores in FY16 to Rs.452.04 crores in FY17, revenues from USA operations have shown a 3% increase from Rs.89.51 crores in FY16 to Rs.92.23 crores in FY17. Domestic sales stood at Rs.285.88 crores in FY17 as against Rs.237.01 crores in FY16, an increase of 20.62%. This shows that the company's flagship brand Red Tape enjoys customers' confidence in overseas as well as domestic markets.
| | | | | |
| --- | --- | --- | --- | --- |
| Segment/Division | | FY17 (Rs. Cr) | FY16 (Rs. Cr) | Growth (%) |
| Shoe Division | | 843.56 | 818.86 | 3.01% |
| Tannery Division | | 210.96 | 240.88 | -14.20% |
| Overseas Operations | | 650.68 | 691.71 | -6.30% |
| | UK Operations | 452.04 | 464.26 | -2.70% |
| | USA Operations | 92.23 | 89.51 | 3.04% |
| Domestic Operations | | 285.88 | 237.01 | 20.62% |
The company operated in a highly competitive global market in a complex regulatory environment. Steep increases in rental cost, increasing cost of raw materials after the cow slaughter ban, ever changing consumer preferences and intense competition are some of the risks the company faces. The company plans to mitigate these risks by extending offerings in allied areas of garments and accessories. The company is now planning to leverage its leadership position in the manufacture of leather goods to replicate the success in the sports shoe segment. The company's brands are well accepted in overseas as well as domestic markets and the company is planning to focus on expanding geographic presence in new countries and deeper penetration in the existing markets through aggressive marketing and distribution. The company plans to engage more customers through online platforms.
Mirza International Limited - Brands
Red Tape: Red Tape is a premium brand of Mirza International Ltd. It has emerged as a front runner in international markets. It is the only Indian footwear brand to sell globally and earn significant overseas revenue. In UK, it is targeted at men's mid-segment category and is amongst UK's leading brands of footwear. In UK, the product is present across multiple brand outlets and leading retail chain stores. It is accessible at 300 prime outlets and across 1200 shop windows. It is also available on top e-commerce websites. Apart from UK, Red Tape footwear is also sold in USA where it is present across 500+ shop windows. In India, the brand is marketed through a network of 120 exclusive brand shops across 30 cities. The brand forayed into apparels sector in 2006 and unveiled men's clothing and line-up of accessories which include Shirts, Trousers, Denims, Sweaters, Jackets, belts, socks and wallets.

Oaktrak: Oaktrak is a niche brand of formal footwear, designed exclusively for executives and businessmen. The range is both casual and urban, with emphasis on comfort and style.Oaktrak is sold through independent outlets, small retailers and larger retail chains. Primary markets for the brand are UK and South Africa.
Key Ratios
| | | | | | |
| --- | --- | --- | --- | --- | --- |
| Key Ratios | FY13 | FY14 | FY15 | FY16 | FY17 |
| Debt-Equity Ratio | 0.61 | 0.66 | 0.59 | 0.43 | 0.28 |
| Current Ratio | 1.23 | 1.16 | 1.18 | 1.59 | 1.64 |
| Inventory Turnover Ratio (x) | 4.65 | 3.69 | 4.08 | 3.52 | 3.54 |
| Total Asset Turnover Ratio (%) | 127.16 | 114.81 | 139.79 | 122.06 | 122.2 |
| EBITDM (%) | 18.01 | 17.23 | 15.53 | 18.74 | 17.2 |
| EBITM (%) | 14.91 | 14.11 | 12.85 | 15.95 | 14.0 |
| ROCE (%) | 13.26 | 12.01 | 13.92 | 15.56 | 26.1 |
| RONW (%) | 17.28 | 15.13 | 16.37 | 17.61 | 19.6 |
| Payout (%) | 10.68 | 10.69 | 9.06 | 7.70 | 8.40 |
| Price/Book Value (x) | 0.68 | 0.91 | 2.57 | 2.37 | 3.80 |
| EV/EBITDA (x) | 2.77 | 3.64 | 6.89 | 7.09 | 7.50 |
| Market Cap/Sales | 0.27 | 0.37 | 0.88 | 1.13 | 2.03 |
The company's debt has been reducing over the past 5 years compared to the equity which is positive news for the shareholders as more of the net profits would accrue to them. The company has sufficient liquidity to finance day-to-day operations. The inventory turnover ratio has reduced over previous years which is positive news for the company. The revenues generated using existing assets have remained stable. The company's margins have remained stable, although revenues have increased marginally. The market's valuation of the company has been optimistic over the last few years due to the company's growth prospects in both overseas and domestic markets. In summary, the company's liquidity, efficiency and profitability has remained stable over the period under review and has a potential for improvement.
Management Profile
Key Personnel

Designation and Experience

Auditors

Irshad Mirza

Executive Chairman: He is the recipient of the prestigious Padma Shri Award in 2010 in recognition of his contribution to trade and industry. He has experience of around 50 years in the field of Industrial

& Leather technology and business management.

M/s. Khamesra Bhatia & Mehrotra

Rashid Ahmed Mirza

Managing Director: He is the driving force behind Mirza International's sustained growth and success since inception. He holds a diploma in leather technology from London. His experience extends across Industrial & leather technology and business management. He is

responsible for overall management of the company.

Shahid Ahmed Mirza

Whole-time Director: He holds a diploma in Leather Goods Technology from UK. He has three decades of experience in leather technology. He is incharge of the

shoe division of the company and is responsible for the purchase of raw materials and equipment.

Tauseef Ahmed Mirza

Whole-time Director: He holds a diploma in Shoe Technology from UK. He overlooks manufacturing operations of the shoe division of the company in Noida and Greater Noida. His responsibilities include management of design and development and shoe manufacturing function at different units of the company. He is actively involved in setting up an ultra- modern shoe manufacturing unit in Greater Noida. He is also involved in overseas marketing operations of the

company.

Tasneef Ahmed Mirza

Whole-time Director: He holds a degree in Leather Technology from Leicester University, UK. He is a leather technologist having 20 years' of experience in leather technology. He is incharge of Tannery division

of the company and core operations of the company (acquiring leather).
Investment Rationale
Strong demand in domestic branded segment

The domestic branded sales have shown excellent growth driven by both branded footwear and garments. In FY17, the branded sales can be broken down into sales form online(e-commerce) sales of 25%, 37% from retail sales and rest from wholesale trade. The company's revenues grew 20.62% in the domestic segment from Rs.237.01 crores in FY16 to Rs.285.88 crores in FY17 backed by robust demand. The company's flagship brands Red Tape and Oaktrak have attracted younger generation of fashion conscious people with higher disposable incomes. The company has set a target of Rs.450 crores from the domestic market sales in FY18.

Strong global brands as clients

Nearly 75% of the company's revenue comes from overseas operations. 50% of the revenue alone comes from UK market where the company earned Rs.452.04 crores in FY17. Remaining 25% of the revenue comes from USA and European markets. Only 15% of the company's footwear is sold under in-house brands. Remaining 85% is sold to global brands as unbranded footwear. These footwear products are then sold by the global brands under their own brands. The company's global clients include River Island, Matalan, Elan Polo and Steve Madden among others. The profit margins thus acquired by the company are consistent at 7%. These margins indicate a good performance given the intense competition in the sector where fashion trends change often.

Expansion into sports shoes, leather garments and accessories

The company has entered allied segments of sports shoes and leather garments and accessories through brands Red Tape, Athleisure and Bond Street. The products include sports shoes, jackets, belts, wallets and other clothing accessories. The company has diversified its product offerings which mitigates the market risk to a certain extent. The shoes are currently being imported from China and the company plans to manufacture on its own once the sales reach a critical point. The product has received a positive response from customers and they are now ready to buy formal shoes, causals and sports shoes from Red Tape outlets. The opportunity for the sports shoes could be higher than leather shoes given the mass market appeal and price point.

In-house manufacturing capability

The company has five fully integrated in-house shoe production facilities with an installed capacity of 3.35 million pairs of shoes per year. The company also has a state-of-the-art double density direct injection polyurethane plant and a tannery with a capacity of 20 million sq. ft per year. Shoes are produced at these facilities using the latest technology.

| | | |
| --- | --- | --- |
| Manufacturing Facility | Location | Purpose |
| Tannery | Magarwara, Unnao, UP | Leather Processing |
| Shoe Factory | Magarwara, Unnao, UP | Men's Shoes |
| Shoe Factory | Sahjani, Unnao, UP | Men's Shoes |
| Shoe Factory | UPSIDC, Unnao, UP | Men's Shoes |
| Shoe Factory | Greater Noida, UP | Women's Shoes |
| Shoe Factory | Noida, UP | Women's Shoes |

Strong brand presence of brands Red Tape and Oaktrak set to drive growth

Red Tape and Oaktrak are well established and successful brands having an international presence, including prime markets-UK and USA. Red Tape brand was launched in 1996. The sales under these brands have grown at a CAGR of 16% over the last 5 years. These brands are designed and manufactured in the company's Indian manufacturing facilities.

Red Tape Products:

Oaktrak Products:
Mirza International Limited - Industry Overview
Indian Leather Industry
The Indian leather industry accounts for 13% of the world's leather production of hides/skins. The country ranks second in terms of footwear and leather garments production in the world and accounts for 9% of the world's footwear production. Indian leather industry has grown drastically, transforming itself from a mere raw-material supplier to a value-added product exporter. India's export of leather and leather products for FY17 touched $5.67 billion against a corresponding value of $5.85 billion in FY16, a drop in growth by 3.23%. Export of different categories of footwear, which is valued at $2.77 billion, holds a major share of 49% in the Indian leather export industry. This is followed by leather goods and accessories with a share of 23%, finished leather 16%, leather garments 9% and Saddlery & Harness 3%.

The major markets for Indian leather products are USA, Germany, UK, Italy, Spain, France, Hong Kong, UAE, China, Netherlands, Belgium and Poland.
The Government of India has identified the leather sector as a focus sector in Indian Foreign Trade Policy in view of its immense potential for export growth prospects and employment generation, especially for weaker sections, and supporting the economy through its foreign exchange earnings. Accordingly, the government is also implementing various initiatives for the growth of the leather sector. With the implementation of various industrial developmental programs and export promotional activities, the Indian leather industry aims to augment the production and exports, and thus create additional employment opportunities. The leather industry has positioned itself well to take advantage of new market opportunities, keeping in view its past performance, skilled manpower, innovative technology, increasing industry compliance with international environment standards and dedicated support of allied industries.
Indian footwear market is witnessing a steady popularity among teenagers and youth. They are using online platforms for purchase of footwear which is slowly occupying a significant share of total sales volume. The brick and mortar retail industry is witnessing intense competition from e-commerce offerings. The growing fashion conciousness globally has pushed the effectiveness of the leather
industry and competitiveness of the companies. India is the second largest footwear producer in the world, with footwear production accounting for 9% of global annual production of 22 billion pairs. India, annually produces 2.1 billion pairs, of which 90% are consumed internally while the remaining are exported primarily to European nations which include UK, Germany, Italy and France. Footwear exports from India have grown at a CAGR of 20% over the last 5 years backed by growing demand from european nations The footwear market in india is broadly classified into three segments – Men's, Women's and Kids. Men's market is currently growing at a CAGR of 10%. Men's market contributes around 60% of sales in the footwear segment as against women's share of 30%. The women's segment is growing at a much faster CAGR of 20%.
The scope for diversification into other products such as leather garments and goods has been enhanced in recent times. However, India has been unable to optimally utilize its resources due to low recovery ability of livestock, recent ban in cow slaughter, use of outdated technologies by most tanneries and footwear manufacturers, weak footwear components industry and limited presence of large scale manufacturing units. The fast changing fashion trends are difficult to adapt for the Indian leather industries. High competition from other Asian countries like China, Vietnam and Indonesia pose a risk to growth prospects of the Indian leather industry. Furthermore, these countries are meeting customer preferences by providing innovative leather products that have superior design and quality at lower prices.
Raw Materials
Leather is durable and flexible material created by tanning animal hide/skin, often cattle hide. It can be produced at manufacturing scales ranging from cottage industry to heavy industry. Leather is used in making various goods – Clothing (shoes, hats, jackets, and belts), book-binding, leather wallpaper, and furniture covering. It can be produced in various types and styles.
The leather manufacturing processes can be divided into three fundamental sub-processes: preparatory stages, tanning and crusting.
The preparatory stages are when the hide/skin is prepared for tanning. Preparatory stages may include: preservation, soaking, liming, unhairing, fleshing, splitting, greasing, pickling and bleaching.
Tanning is a process that stabilizes the protein of the raw hide, making it suitable for a variety of end applications. The principal difference between raw and tanned hides is that raw hides dry out to form a hard inflexible material, while tanned material dries to a flexible form. Many tanning methods and materials exist. The most common tanning material is chromium. The hides, when finished pickling, are typically between pH 2.8 and 3.2. At this point, the hides are loaded into a drum and immersed into a float that contains tanning liquor. The hides soak, while the drum rotates slowly about its axis, till the tanning liquor slowly penetrates through the full thickness of the hide. Once the process achieves even penetration, the pH of the float is raised in a process called basification, which fixes the tanning material to the leather.
Crusting is a process that thins, retans and lubricates the leather. It includes coloring operation. Crusting culminates in drying and softening operation.
Consolidated Balance Sheet
FY13

FY14

FY15

FY16

FY17

EQUITIES AND LIABILITIES

SHAREHOLDER'S FUNDS

Total Share Capital

18.54

18.54

18.54

24.06

24.06

Reserves and Surplus

232.8

268

294

421.6

479.6

Total Reserves and Surplus

232.8

268

294

421.6

479.6

Total Shareholders Funds

251.3

286.6

312.5

445.6

503.6

NON-CURRENT LIABILITIES

Long Term Borrowings

50.38

45.44

30.97

27.69

14.82

Deferred Tax Liabilities [Net]

18.98

20.58

11.72

14.91

16.67

Other Long Term Liabilities

2.03

3

4.27

5.13

6.04

Long Term Provisions

4.83

5.37

7.87

8.22

10.06

Total Non-Current Liabilities

76.22

74.39

54.83

55.95

47.59

CURRENT LIABILITIES

Short Term Borrowings

104

143.5

152.5

162.7

127.1

Trade Payables

48.5

66.92

82.78

55.78

39.61

Other Current Liabilities

18.33

36.84

46.27

28.89

31.74

Short Term Provisions

7.59

7.51

7.99

9.42

16.24

Total Current Liabilities

178.4

254.8

289.6

256.8

214.7

Total Capital And Liabilities

506

615.8

656.9

758.4

765.9

ASSETS

NON-CURRENT ASSETS

Tangible Assets

251.6

307.8

307.7

336.3

349

Capital Work-In-Progress

29.84

7.46

2.78

8.52

1.93

Fixed Assets

281.5

315.3

310.4

344.8

350.9

Non-Current Investments

0.7

0.7

0.7

0.58

3.79

Long Term Loans And Advances

4.71

3.46

4.63

4.95

8.13

Total Non-Current Assets

286.9

319.5

315.8

350.4

362.8

CURRENT ASSETS

Inventories

138.3

191.6

225.2

263

264.2

Trade Receivables

32.55

42.02

43.33

63.42

67.36

Cash And Cash Equivalents

3.87

6.35

5.76

11.45

6.51

Short Term Loans And Advances

1.65

2.4

5.72

6.67

5.53

Other Current Assets

42.72

53.97

61.12

63.5

59.47

Total Current Assets

219.1

296.3

341.1

408

403.1

Total Assets

506

615.8

656.9

758.4

765.9
Consolidated Income Statement
FY13

FY14

FY15

FY16

FY17

INCOME

Total Operating Revenues

643.4

707

918.3

925.8

935.7

Other Income

0.33

0.38

0.65

2.97

0.88

Total Revenue

643.7

707.4

919

928.7

936.6

EXPENSES

Cost Of Materials Consumed

229

259.7

367.1

377.2

322.7

Purchase Of Stock-In Trade

153

183.5

208.3

159.8

192.5

Changes In Inventories Of FG,WIP And Stock-In Trade

- 11.82

- 39.04

- 27.11

- 33.31

- 11.86

Employee Benefit Expenses

32.86

36.56

45.73

59.41

71.27

Finance Costs

31.57

32

39.29

31.87

25.93

Depreciation And Amortisation Expenses

19.92

22.04

24.62

25.83

29.06

Other Expenses

124.8

144.8

182.4

192.2

200.6

Total Expenses

579.3

639.6

840.3

812.9

830.2

Profit/Loss Before Tax

64.39

67.78

78.72

115.8

106.4

Tax Expenses-Continued Operations

Current Tax

20.27

22.81

25.73

34.56

33.43

Deferred Tax

0.68

1.6

1.83

3.17

1.77

Total Tax Expenses

20.95

24.41

27.56

37.73

35.2

Profit/Loss For The Period

43.44

43.37

51.16

78.09

71.2

OTHER ADDITIONAL INFORMATION

EARNINGS PER SHARE

Basic EPS (Rs.)

4.69

4.68

5.52

7.21

5.92

Diluted EPS (Rs.)

4.69

4.68

5.52

7.21

5.92
Stock Performance Chart