Rolta India Limited is an information technology company. It is primarily engaged in the engineering design/ geographic information system (GIS) solutions, e-business and other IT-related services. Its operating segments include Enterprise Geospatial & Engineering Solutions (EGES), and System Integration & Enterprise IT Solutions (EITS).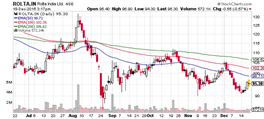 Rolta India Limited - Key Parameters
BSE

500366

NSE

ROLTA

REUTERS

RLTA.IN

INCEPTION

1989

IPO

1990

INDUSTRY

IT Services

CMP (as on 18/12/2015)

95

Stock Beta

1.56

52 Week H/L

84.20 – 196.80

Market Cap (Cr)

1485

Equity Capital (cr)

161.33

Face Value (Rs)

10

Average Volume

Shareholding Pattern (%)

Promoters

51.35

Non Promoters

48.14

Others

0.51
Rolta India Limited - Potential Catalysts
Planned Acquisition of AdvizeX

Strategic partnership with Zhenfa to establish feet in Solar

Transfer of Defence Business to Subsidiary will bring down expenses
Recommendation
We believe with superior project management skills and its planned expansion Rolta India will be able deliver excellent results over next few years. But decreasing margins and increase in debt level are concerning factors investors fear about. For the past two years company has withhold dividends which pose concern for long term investors as they don"t see any cash in their hands. Increase in Debt/EBIDTA and Interest Coverage ratios will result in lenders rethink about the repayment of funds and may lead to increase in interest rates.
We recommend HOLD on the stock at CMP of Rs. 95 (Current PE of 6.25x).
Rolta India Limited - Financial Summary
| | | | | |
| --- | --- | --- | --- | --- |
| Yearly Income Statement | 2014 | 2015 | 2016 E | 2017 E |
| Revenue | 3135.55 | 3710.18 | 4044.60 | 4426.16 |
| EBIDTA | -98.99 | 1307.34 | 1312.51 | 1544.80 |
| EBIT | -551.53 | 685.34 | 623.93 | 805.63 |
| Profit After Tax | -762.27 | 245.17 | 168.15 | 237.59 |
| EPS | 24.26 | 15.20 | 10.42 | 14.73 |
| PE | | 6.36 | 9.28 | 6.57 |
| EBIDTA Margin | -3.18% | 35.53% | 32.58% | 34.90% |
| EBIT Margin | -17.71% | 18.63% | 15.49% | 18.20% |
| PAT Margin | 12.48% | 6.61% | 4.16% | 5.37% |
BUSINESS DISCRIPTION
Rolta India Ltd was incorporated in 1982. The Company together with its subsidiaries provides engineering design/geospatial information system (GIS) solutions, e-business, and other information technology related services in India and internationally.
Rolta India Ltd is a leading provider of innovative IP-led IT solutions for many vertical segments, including Federal and State Governments, Defense/HLS, Utilities, Oil & Gas, Petrochemicals, Financial Services, Manufacturing, Retail, and Healthcare. Rolta is recognized for its extensive portfolio of indigenous solutions based on field-proven Rolta IP tailored for Indian Defense/HLS. By uniquely combining its expertise in the IT, Engineering and Geospatial domains, Rolta develops exceptional IP-based Cloud-ready solutions to enable its customers globally to readily exploit the power of BI, Big Data Analytics, and IT-OT Fusion. Rolta is a multinational organization headquartered in India. The Company operates from over 40 locations worldwide and has executed projects in more than 45 countries. Rolta equity shares are listed on BSE and NSE in India, its GDRs are listed on the Main Board of London Stock Exchange and its "Senior Notes" are listed on Singapore Stock Exchange.
The Company operates in two segments which comprise of Enterprise Geospatial & Engineering Solutions (EGES); and Systems Integration & Enterprise IT Solutions (EITS). The EGES segment offers geo spatial services for asset management and facilities management, as well as geographic information systems. Its solutions provide capabilities in applications, such as mapping, surveying, image processing digital photogrammetry, etc to various federal and local governments, environmental protection agencies, utilities, telecommunications companies, emergency services providers, infrastructure planning agencies, and defense and homeland security agencies. This segment also offers defense solutions; design automation tools and engineering services for plant design automation and mechanical design automation to engineering procurement and construction companies; and engineering and design services for projects in the oil and gas, power, chemicals, and petrochemicals sectors. The EITS segment provides end-to-end e-security services and solutions in the areas of business intelligence and enterprise performance management. This segment offers networking/Oracle infrastructure services. The Group has overseas presence in North America, Europe, Australia and the Middle East.
Operations
Defense and Security
Rolta India Ltd continues to sustain and strengthen its leading position in the Indian Defence & Security markets as a provider of indigenous Command, Control, Communications, Intelligence, Surveillance and Reconnaissance (C3ISR) solutions by continually enhancing its portfolio.
Battlefield Management System (BMS): Ministry of Defence (MoD) has selected the exclusive consortium of BEL and Rolta India as a Development Agency for the Battlefield Management System (BMS) project worth over Rs. 50,000 Crore.

The BMS is categorized as a "Make" programme under the DPP, and is one of the largest projects being indigenously developed and manufactured for the Indian Army. This prestigious programme is meant to deliver Command, Control and Communications (C3) capabilities to the fighting echelons, operating at the forward edge of the Tactical Battle Area at the Battalion and Combat Group levels. BMS is a situational awareness and visualization system that aims to optimize the operational effectiveness of tactical units.

As a part of its consortium with BEL, Rolta India is responsible for the complete BMS application development and software licensing, GIS software and services. Rolta will also jointly work with BEL for manufacturing subsystems for the soldier system, the overall system design, integration, installation, commissioning and maintenance of the BMS programme. The project is progressing well.

Intelligence, Surveillance and Reconnaissance (ISR): The Company"s indigenous ISR solutions are being exploited by hundreds of users in Indian Defence. These high-tech Image Exploitation Systems are deployed at field formations and utilized to serve critical operational needs of providing essential inputs for operational planning, intelligence acquisition and surveillance.

Rolta India Ltd is the only Company in India to have developed and released highly sophisticated indigenous ISR software solutions that are used for assessing and interpreting troop movements and enemy build up at forward locations to counter threats like insurgency, infiltration, etc. With the latest 64-bit release of this software suite, Rolta has now joined just a handful of companies worldwide that have this sophisticated technology to fully exploit the latest advances in satellite and aerial imaging, and cutting edge computing platforms.

Optronics: To further strengthen its indigenous ISR portfolio, the Company has signed definitive agreements to establish a Joint Venture with Meprolight, a leading International Electro-Optics company. To be owned 51% by Rolta India and 49% by Meprolight, the JV will take advantage of technology transfer from Meprolight for developing and manufacturing state-of-the-art Optronics devices based on Image Intensifier and Thermal Imaging technologies in India, for addressing the growing demand for night fighting capabilities by the Indian defense and security forces.

Communications: In the mission-critical communications area, the company has won sizeable orders from West Bengal, Maharashtra, Kerala, and AP police forces. Very recently, the company also successfully implemented the nationwide high power radio communication system-based NAVTEX solution for the Directorate General of Light Houses and Lightships (DGLL). The system provides automated messaging for the delivery of navigational, meteorological warnings and forecasts, as well as urgent marine safety information to ships. Designed to provide a minimum assured coverage of 250 Nautical Miles from the Indian coastline of over 7,000 km, this state-of-the-art system has been established over 20 sites.

Homeland Security: Rolta"s indigenous safety solutions, which include world-class software like Rolta GeoCAD™, Rolta Command, and Control™, and Rolta India Crime Analytics™, have been recognized for the significant value they bring to "Safe City" programs across the nation. These solutions have been implemented for numerous police forces in many states and are being used to speedily respond to citizens.
Geospatial Domain: Rolta India has executed hundreds of projects worldwide leveraging and sharpening its domain expertise. It has used this experience and know-how to develop an extensive suite of over 30 software products and solutions to address "Smart City" initiatives globally. These products typically provide intuitive actionable insights in real-time through contextual integration of heterogeneous systems and a variety of sensors. The latest release of its spatial integration platform Rolta Geospatial Fusion OnPoint™ includes 64-bit support that helps deployments for managing massive data and is, therefore, uniquely suited to address diverse Smart City segments. Rolta and Hitachi India Pvt. Ltd. entered into MoU to jointly address significant market opportunities in high-growth business segments in India, and to explore establishing a JV for strategic business collaborations for infrastructure systems in large verticals, including Smart City initiatives. Some examples of success in various Smart City segments:
City Planning, Citizen Services and eGovernance:
After winning large projects for City Planning applications in Dubai, Abu Dhabi, and Saudi Arabia, the Company has now been selected for a multi-million dollar contract in another major Middle-East country which entails implementing Web-enabled GIS with 2D/3D "intelligent maps" for secure access by various stakeholders.

The Company implemented a national GeoPortal for Citizens for an apex organization in Saudi Arabia, which has been selected to receive the prestigious "Geospatial World Excellence Award".

The Company completed a US Trade & Development Agency project for collecting and monitoring Nanjing"s transportation data from hundreds of sensors and providing dashboards to assist in the management of traffic and environmental parameters in real-time. Rolta leveraged its patented Rolta iPerspective™, a platform for integration of disparate sources of data, Rolta OneView™ for business intelligence, and Rolta Geospatial Fusion™ to integrate spatial attributes.

Rolta India Ltd recently won a large order in India from the state of MP for a "smart governance" solution to establish a "State Residential Data Hub" ("SRDH") to streamline delivery of benefits directly to citizens. Rolta"s SRDH is a repeatable solution and suited to fulfill the needs of various States, who are under the directives of the Central Government to implement SRDH solutions.

After successfully delivering a "Rural Livelihood" solution in Bihar, Rolta won a large order from the state for a "Smart Healthcare Portal".

Rolta"s eGovernance solution implementation recently received the prestigious "eGovernment Excellence Award 2015" from the Government of Bahrain.
Utilities and Assets Management:
After establishing its credibility with Thames Water in the UK through some key projects for spatially enabled analytics for asset management, Rolta India recently won a contract from the client for a strategically important solution for performance and regulatory compliance reporting services, an area of interest to most utility companies in the UK, thereby opening up a new avenue for business.

In recognition of Rolta"s commitment to providing high-value innovative solutions and services, Northern Power Grid in UK awarded significant additional scope to enhance their spatially-enabled business systems.

Rolta India contracted with IBM in Qatar to integrate its GIS solutions with IBM's Asset Management Solution for Ashgal.
Transportation:
The Company was awarded a contract by Dubai RTA for developing a system for centralized issuance of electronic No-Objection Certificates ("eNOC") to various agencies for carrying out public works in a coordinated manner, thereby reducing costs and delays. Most GCC countries have evinced keen interest in such an eNOC solution.

With its geospatial integration approach, Rolta India implemented web-enabled planning and map-publishing system leveraging Rolta OnPoint™ for direct access by various stakeholders, including the public, through a secure portal in Saudi Arabia.

In a recent engagement, Rolta was asked by an apex Transport Authority in the Middle-East to develop a sophisticated and unified security solution to streamline access to their Internet and intranet systems by diverse users, including access by the public.

Another project being executed by Rolta in the Transportation vertical is for a provincial Ministry of Transportation (MOT) that manages Canada"s largest network of transit, road, highway, border, and bridge infrastructure. The solution will provide a platform to MOT for prioritizing budget allocations for maintenance and capital projects.

Rolta India Ltd has been selected to develop a Traffic Impact System in the UAE. This multi-million dollar project will leverage Rolta Geospatial Fusion OnPoint™ and provide a comprehensive solution to improve the overall financial health of operations, and increase cost recovery on capital projects.
Engineering Information Management: Rolta is positioned very strongly due to its unique ability to integrate its portfolio of engineering solutions with enterprise-level IT applications, thereby raising the value proposition much beyond traditional applications and services.
Enterprise IT Consulting Services
Rolta"s Enterprise IT Consulting group"s world-class expertise in Oracle technologies is well recognized. Rolta has successfully completed numerous projects for EBS upgrades, BI consolidations, EPM, and Fusion Middleware. The Company is looked up to for providing cutting-edge solutions for deployment of sophisticated IT Infrastructure such as for Cloud enablement and enterprise security, with multi-year Managed Services engagements. Rolta received an IT Excellence Award from VMware in India, for the "Best implementation of Private Cloud Automation", recognizing Rolta"s expertise and innovative approach to implementing such cutting edge technologies. Rolta is Oracle"s worldwide Platinum Partner with specializations across an extended Oracle Technology stack. Rolta and Oracle jointly address some complex customer needs to leverage Rolta"s expertise and IP.
The Company built upon its enviable track-record in BFSI for designing and implementing sophisticated applications, including Hyperion-based EPM solutions. Many large banks engaged Rolta for developing and implementing applications like balance sheet planning, and forecasting. The Company won a contract to provide guidance and support to implement technologies for Comprehensive Capital Analysis and Review (CCAR), a stress test imposed by the U.S. Federal Reserve that incorporates proposed capital outflows and assesses capital planning processes.

The Company has completed many projects for Oracle technology upgrades across many vertical segments. For example, Rolta recently upgraded the Oracle E-Business Suite for a global provider of blood and plasma supplies, a successful completion of the project to migrate their ERP system from a competing platform to Oracle R12.

Driven by recognition of the unique benefits of Rolta SmartMigrate™, the automated solution for migration of applications and databases from one technology platform to another, Rolta is being increasingly sought by customers wanting to consolidate technologies. For example, Safran Software Solutions, a Norwegian multinational company, completed the migration of their flagship "Safran Project" solution for risk management in asset-intensive industries, using the Rolta technology.
Business Intelligence and Big Data Analytics
During the year, the Company continued to gain significant traction in BI/Big Data Analytics area with new opportunities for Rolta OneView™ and major extension of scope of existing engagements. The Company was engaged by clients in Transportation, Chemicals, and Utilities, besides Oil & Gas. The release of Rolta OneView™ 6.0 has positioned the solution platform even higher in the competitive landscape by significantly enhancing its features and pre-built functionality. It is now Cloud-ready and supports multi-tenancy and multi-site implementations. This release brings significant innovations in predictive and prescriptive analytics and supports various languages such as Chinese, Japanese, Russian, Spanish, German and Arabic. Rolta is now able to gain much wider access to the large SAP customer base through its strategic OEM partnership. The Company is engaged in paid pilot projects in various verticals in many regions, some of which are close to contract awards.
Upstream: Rolta won a prestigious order from Cairn India for implementing a sophisticated analytics solution with Rolta OneView™ to provide spatially-enabled predictive analytics in real time to take preemptive action to minimize downtime of production wells. Similarly, another premier O&G exploration and production company in the Middle-East engaged Rolta to develop a solution for Composite Risk Management. The Company continues to work with the client to enhance the scope of BI and analytics insights for decision support.

Refining: One of the largest global refiners, a Fortune 500 company, selected Rolta OneView™ for its ambitious program to implement an enterprise-class, scalable solution to provide an integrated view of operations across all functional areas at all of its refining units to improve reliability of operations. Rolta OneView™ demonstrated its wide pre-built functionality and flexibility to meet the customer"s specific needs for reduction in maintenance cost per asset and process quality improvements.

Chemicals: An Oman petrochemical manufacturer selected Rolta to implement Rolta OneView™ to provide an enterprise Manufacturing Intelligence Solution with OT/IT integration. With high ROI realized quickly, the customer has awarded a sizable add-on contract for extra functionality. Rolta India is in the process of deploying Rolta OneView™ for a major US company to enable them to get deeper insights into quality processes and performance across their widely dispersed manufacturing plants. This would enable the customer to achieve cost and capacity optimization.

Transport: Utah and Nevada Departments of Transportation (DOT) engaged Rolta to develop and implement path-breaking solutions with a focus on exploiting Rolta OneView™ features for BI/Analytics. These trend-setting implementations are expected to set new geo-enabled BI/Analytics standards for State DOTs in the U.S. This is a repeatable solution eminently suited to fulfill the needs of DOTs under the nationwide MAP 21 initiative.

BFSI: Building upon its BI/Big Data and Data Science expertise, Rolta has added several products to its portfolio for predictive analytics to address "Asset Liability & Liquidity Management", "Fraud & Crime Prevention", and "Early Warning for Stressed Assets" for the BFSI vertical.
Rolta India Ltd. key Products/Revenue Segments include
Company has Walker Chandiok & Co. LLP as its auditors. As on 30-Sep-2015, the company has a total of 161,329,096 shares outstanding.
MANAGEMENT & GOVERNANCE
Shareholding pattern as on Sept 30th, 2015
Description as on

30/09/2015

No

%

Indian (Promoter & Group)

82849179

51.35

Total of Promoter

82849179

51.35

Non Promoter (Institution)

25611047

15.88

Government(Central / State)

102

0

Financial Institutions / Banks

4128490

2.56

Foreign Institutional Investors

21186866

13.13

Foreign Institution Others

294789

0.18

Non Promoter (Non-Institution)

52041856

32.26

Total Non Promoter

77652903

48.14

Total Promoter & Non Promoter

1.61E+08

99.49

Custodians(Against Depository Receipts)

827014

0.51

Grand Total

1.61E+08

100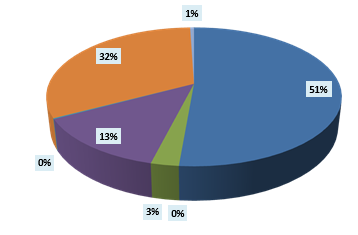 | | |
| --- | --- |
| | Officers and directors |
| Kamal K. Singh | Executive Chairman of the Board, Managing Director |
| Hiranya Ashar | Joint Managing Director - International Operations, Group Chief Financial Officer, Whole-time Director |
| Preetha R. Pulusani | President, International (Americas) and Director |
| Verinder Khashu | Head - Legal / Compliance, Company Secretary |
| Atul Dev Tayal | Joint Managing Director, Chief Operating Officer - Domestic Operations, Whole- time Director |
| Vijay Kumar Chopra | Non-Executive Independent Director |
| Rupinder Kaur | Non-Executive Independent Director |
| K. R. Modi | Non - Executive Independent Director |
| Mavila Vishwanathan Nair | Non-Executive Independent Director |
| T. C. Venkat Subramanian | Non-Executive Independent Director |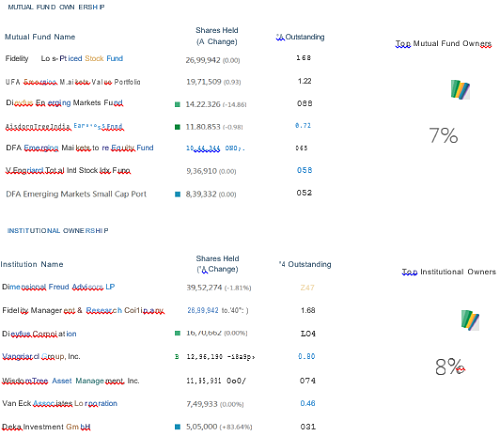 INVESTMENT RATIONALE
Planned Acquisition of AdvizeX
It is a US-based company which provides total solutions consisting of hardware, software, advisory & technology services for implementing IT strategies like Cloud computing & Virtual data centers.
This acquisition brings to Rolta a strong portfolio of products and services, over 2,500 active customers, a large technology-enabled work force, and very robust partnerships with industry leaders. With this acquisition, Rolta is now among the top national partners of Oracle, Microsoft, HP, EMC, and VMware in the US, and has been recognized by its partners and customers through various awards for technology innovation and excellence.
Strategic partnership with Zhenfa to establish feet in Solar
Rolta Power and China-based Zhenfa New Energy Science and Technology Co. Ltd. has signed an agreement to build solar parks in India, targeting a capacity of 2 GigaWatt by 2020.
India has had a "Solar Mission" for the last five years under which the government plans to increase India"s installed solar power base to 100 GW by 2022.
Its focus on mega solar projects in the middle kingdom has propelled it to the No. 1 EPC and No. 4 project developer spots in China solar industry in the year 2014. Cumulatively, there are 3000 MW of completed and building-in-progress PV power plant – 1.3GW is self-invested and developed – accounting for 10% of the PV market in China.
Transfer of Defence Business to Subsidiary will bring down expenses
The transfer is proposed in order to streamline the defence business as a separate and distinct business in a legal entity that is solely dedicated to providing an impetus to expand the defence business. Further, the regulations such as FDI, Investment Caps etc., governing the various verticals of the Company's business are different, each of which have specific compliance requirements. The Board is of the opinion that the transfer will provide greater autonomy and operational efficiency in terms of expanding the defence business and entering into strategic partnerships. The terms of Transfer shall be decided by the Board of the Company.
Optronics devices, based on image intensifier and thermal imaging technologies, expected to address the growing demand for night fighting capabilities by the Indian security forces
It has joint venture with Meprolight, the Israel-based electro-optics company, for manufacturing and developing state-of- the-art optronics devices based on image intensifier and thermal imaging technologies in India.
The JV, to be owned 51% by Rolta and 49% by Meprolight, will take advantage of technology transfer from Meprolight for manufacturing optronics devices, which can address the growing demand for night fighting capabilities by the Indian defence and security forces.
Revenue in‐line but margins decline
Rolta reported revenue growth of 18.33% YoY to Rs 3135.55 Cr. EBITDA margin is consolidating and we expect further weakening of margins mainly due to inflationary pressure, raising employee expenses& higher sub-contracting cost. However we expect down the line Margins as well as EPS boost further to 10.42 for FY16 due to lower tax provisioning.
| | | | | |
| --- | --- | --- | --- | --- |
| | 2014 | 2015 | 2016 E | 2017 E |
| EPS | 24.26 | 15.20 | 10.42 | 14.73 |
| PE | | 6.36 | 9.28 | 6.57 |
| EBIDTA Margin | -3.18% | 35.53% | 32.58% | 34.90% |
| EBIT Margin | -17.71% | 18.63% | 15.49% | 18.20% |
| PAT Margin | 12.48% | 6.61% | 4.16% | 5.37% |
We expect Rolta"s debt/EBITDA to approach 4.35x over the next 12-18 months from levels that were in the 3.6-3.8x range, mostly because of its adoption of a more aggressive financial policy and growth challenges in its mature defense and aggressive energy markets with huge competition.
VALUATION
Rolta is currently trading at 95 per share with a market capitalization of 1485 Crores. It has total debt of 5097.96 Cr with long term Debt to Equity of 3.77. It has total cash and bank balance of 546.96Cr.
Key Ratios
| | | | | |
| --- | --- | --- | --- | --- |
| | 2012 | 2013 | 2014 | 2015 |
| Debt-Equity Ratio | 0.86 | 2.16 | 3.76 | 3.77 |
| Long Term Debt-Equity Ratio | 0.69 | 1.87 | 3.31 | 3.42 |
| Current Ratio | 0.94 | 1.05 | 1 | 1.49 |
Turnover Ratios
| | | | | |
| --- | --- | --- | --- | --- |
| Fixed Assets | 0.5 | 0.48 | 0.67 | 0.67 |
| Inventory | 0 | 0 | 0 | 0 |
| Debtors | 2.82 | 3.56 | 4.49 | 3.44 |
| Total Asset Turnover Ratio | 0.51 | 0.44 | 0.56 | 0.54 |
| Interest Cover Ratio | 3.62 | 2.35 | 1.76 | 1.68 |
| ROCE (%) | 12.74 | 12.42 | 12.49 | 12.02 |
| RONW (%) | 14.59 | 21.99 | 36.86 | 20.22 |
| Payout (%) | 20.64 | -5.71 | 13.08 | 20.57 |
We value ROLTA using DCF at 108 (for FY16) with expected growth rate at 9.86% per annum. For valuation we assume that over the period company will keep capital structure unaltered and tax rate unchanged.
Du Pont Model (Consolidated)
| | | | | |
| --- | --- | --- | --- | --- |
| | 2012 | 2013 | 2014 | 2015 |
| NP / PBT (X) | 0.85 | 0.97 | 1.89 | 0.86 |
| PBT / EBIT (X) | 0.72 | 0.58 | 0.43 | 0.41 |
| EBIT / Sales (X) | 0.25 | 0.25 | 0.18 | 0.19 |
| Sales / Assets (X) | 0.51 | 0.44 | 0.42 | 0.54 |
| Assets / Equity (X) | 1.87 | 3.55 | 5.82 | 5.67 |
DIVIDEND
| | |
| --- | --- |
| Year End | Dividend-Amount |
| 2015 | 0 |
| 2014 | 0 |
| 2013 | 48.4 |
| 2012 | 48.4 |
| 2011 | 56.5 |
| 2010 | 52.39 |
| 2009 | 48.31 |
| 2008 | 48.28 |
| 2007 | 40.06 |
| 2006 | 31.97 |
| 2005 | 22.29 |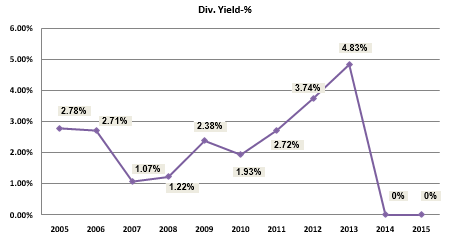 CONCUSSION AND RECOMMENDATION
We believe with superior project management skills and its planned expansion ROLTA will be able deliver excellent results over next few years. But decreasing margins and increase in debt level are concerning factors investors fear about. For the past two years company has withhold dividends which pose concern for long term investors as they don"t see any cash in their hands. Increase in Debt/EBIDTA and Interest Coverage ratios will result in lenders rethink about the repayment of funds and may lead to increase in interest rates.
We recommend HOLD on the stock at CMP of Rs. 95 (Current PE of 6.25x).
RISKS AND CONCERNS
Lower interest rates pose risk of rise in inflation
Recent 50bps cut in inflation by RBI has given rise to room for inflation to increase. It will hurt even more to already wounded margins of Rolta.
Excessive debt
It has 5097 Cr with long term debt/equity of 3.7 which is huge for IT company industry standard. If Rolta doesn"t come up with a strategic measure to reduce debt, it may alert bankruptcy level.
In addition it has huge dollar debt. There is some concern over Rolta which has borrowed too much. Rising interest rates could make it more expensive to refinance its debts.
FINANCIALS
For the quarter ended 30-Sep-2015, the company has reported Standalone sales of Rs. 489.90 Cr., up 9.27% from last quarter Sales of Rs. 448.35 Cr. and down -2.51% from last year same quarter Sales of Rs. 502.51 Cr.
Company has reported net profit after tax of Rs. 165.28 Cr. in latest quarter.
Revenue Segment wise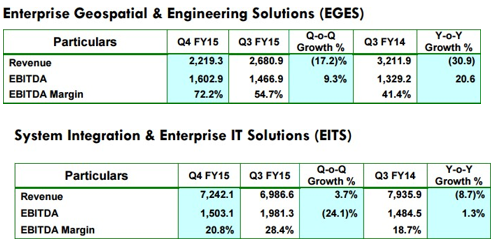 Quarterly Income Statement

201412

201503

201506

201509

201512 E

201603 E

Total Income

974.23

955.84

991.17

997.10

1015.17

1041.16

Total Expenditure

621.93

635.54

675.89

666.37

692.04

697.78

Employee Expenses

212.17

184.61

193.62

213.57

209.94

225.72

Other Expenses

409.76

450.93

482.27

452.8

482.11

472.06

EBIDTA

352.30

320.30

315.28

330.73

323.13

343.37

Depreciation

156.31

172.14

163.65

171.24

174.61

179.08

EBIT

195.99

148.16

151.63

159.49

148.52

164.29

Interest

106.31

102.02

108.15

115.71

107.00

108.00

PBT

89.68

46.14

43.48

43.78

41.52

56.29

Tax

13.12

10.13

2.76

1.47

5.39

7.31

Adjusted PAT

76.56

36.01

40.72

42.31

36.13

48.99

EPS

4.75

2.23

2.52

2.62

2.24

3.04

EBIDTA Margin

36.44%

33.85%

32.06%

33.42%

31.84%

32.99%

EBIT Margin

20.27%

15.66%

15.42%

16.12%

14.63%

15.78%

PAT Margin

7.86%

3.77%

4.11%

4.24%

3.56%

4.71%
Yearly Income Statement

2014

2015

2016 E

2017 E

2018 E

Revenue

3135.55

3710.18

4044.60

4426.16

4862.62

Total Expenditure

3234.54

2402.84

2732.09

2881.37

3116.84

EBIDTA

-98.99

1307.34

1312.51

1544.80

1745.78

Depreciation

452.54

622.00

688.58

739.17

790.18

EBIT

-551.53

685.34

623.93

805.63

955.60

Interest

316.42

401.34

461.26

532.98

614.35

PBT

-867.95

284.00

185.07

272.65

341.25

Tax

-105.68

38.83

16.93

35.06

43.89

Deferred Tax

0.00

0.00

0.00

0.00

0.00

Profit After Tax

-762.27

245.17

168.15

237.59

297.37

Equity

161.33

161.33

161.33

161.33

161.33

Face Value

10

10

10

10

10

Outstanding Shares

1.61E+08

161329096

1.61E+08

1.61E+08

1.61E+08

EPS (Unit Curr.)

24.26

15.20

10.42

14.73

18.43

PE

6.36

9.28

6.57

5.25

EBIDTA Margin

-3.18%

35.53%

32.58%

34.90%

35.90%

EBIT Margin

-17.71%

18.63%

15.49%

18.20%

19.65%

PAT Margin

12.48%

6.61%

4.16%

5.37%

6.12%