What is IPO (Initial public offering)
When a private company issues shares to the public for the first time, it is called IPO or Initial public offering. The company can decide to go public for a number of reasons including raising money for growth or to allow employees, owners, or early investors to liquidate their shares.
How IPO Works:
To understand how an IPO works, let's look at Amit's business. Amit owns a very successful chain of food trucks in Indore but Amit sees a better future for his business and wants to expand his business operations to other cities. To do that, he decides to issue shares to the public in the primary market to raise the necessary capital required to purchase new trucks and inventory, and for expenses towards marketing and staff. Amit can't issue stock by himself to the public. For that, he needs an Investment bank. Based on the value of the business, Amit and the Investment bank determine the IPO price, the number of shares they will employ and the percentage of Amit's business they will sell. Investment Bankers value Amit's business at 10crore and Amit decides to sell 10% of the company, which means Amit will be raising Rs 1crore (10% of 10crore). The Investment bank decides to issue 10 lakh shares at Rs 10 each. The Investment bank then lists the shares in the stock exchange for the public to buy. Investors can now buy the shares of Amit's food truck business by participating in an IPO.
What is the eligibility criteria required to invest in IPO
There are no such eligibility criteria to apply for IPO all you need to have is a DEMAT account and money in your bank account.
How to open a Demat account
Here is the video for open a Demat account in ATS (Aditya Trading Solutions)
Still have a question in open a demat account
After opened a demat account you can apply for IPO
How to apply IPO (Initial public offering)
Here is the video for apply a IPO in ATS (Aditya Trading Solutions)
Here are the Steps for applying IPO with ATS
Step 1: Go to https://ipo.adityatrading.in/ & Click on Apply here Button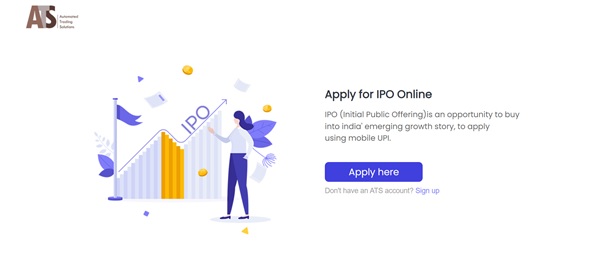 Step 2: Enter you Client ID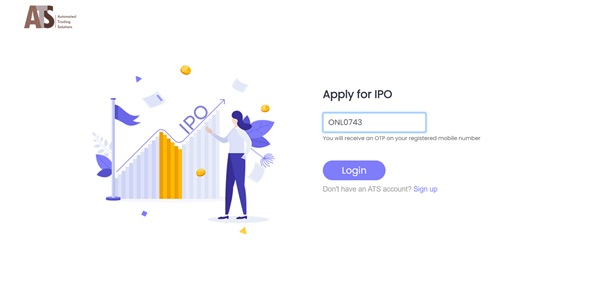 Step 3: Enter the OTP that you will receive in your registered mobile number.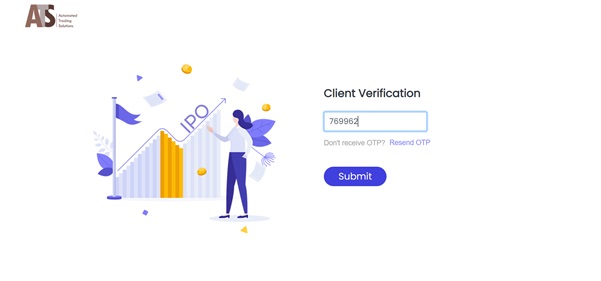 Step 4: List of all the open IPO's will be in front of you. Click on apply button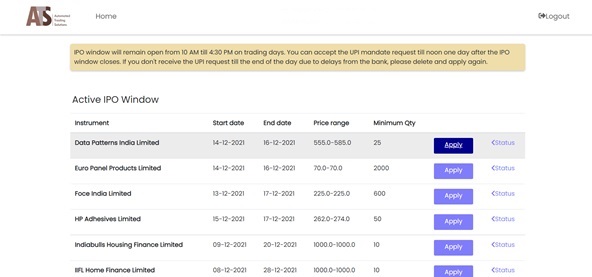 Step 5: Enter UPI ID of the bank linked to your demat account, Quantity (with respect to lot size), and cutoff price and Click on Submit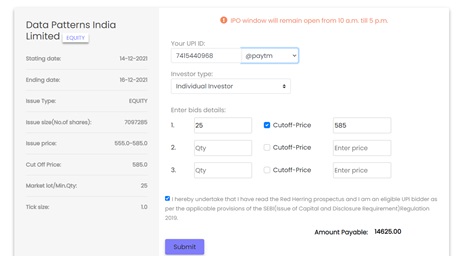 Step 6: You'll receive the mandate request on your UPI app. Click on the proceed/pay button and enter your UPI Pin.
You have now applied for IPO. You can check the status by login again and clicking on status click
Best IPO to buy in India
| | | | | |
| --- | --- | --- | --- | --- |
| Company | Listing Date | IPO Size (in $) | IPO Price (in Rs.) | % gain/ loss |
| One 97 Communication (Paytm) | 18-Nov-21 | $2.46 billion | 2,150 | Down 27.4% |
| Coal India Ltd. | 4-Nov-10 | $2.05 billion | 245 | Up 39.8% |
| General Insurance Corporation | 25-Oct-17 | $1.52 billion | 912 | Down 52.1% |
| SBI Card & Payments Services Ltd. | 16-Mar-20 | $1.39 billion | 755 | Down 9.7% |
| Reliance Power Ltd. | 11-Feb-08 | $1.36 billion | 450 | Down 48.3% |
| New India Assurance Co Ltd. | 13-Nov-17 | $1.29 billion | 800 | Down 54.6% |
| Zomato Ltd. | 23-Jul-21 | $1.26 billion | 76 | Up 65.8% |
| DLF Ltd. | 5-Jul-07 | $1.24 billion | 525 | Up 8.5% |
| HDFC Life Insurance Co Ltd. | 17-Nov-17 | $1.17 billion | 290 | Up 18.8% |
| SBI Life Insurance Co Ltd. | 3-Oct-17 | $1.13 billion | 700 | Up 1.1% |
Current & Upcoming IPO's in India
| | | | | | |
| --- | --- | --- | --- | --- | --- |
| Company | Open date | Close date | Shares/Lot | Price Range | Issue Size (in Cr) |
| Data Patterns (India) Limited | 14-Dec-21 | 16-Dec-21 | 25 | 555-585 | 588.22 |
| MedPlus Health Services Limited | 13-Dec-21 | 15-Dec-21 | 18 | 780-796 | 1398.3 |
| HP ADHESIVES LIMITED | 15-Dec-21 | 17-Dec-21 | 50 | 262-274 | 125.96 |
| UPCOMING | | | | | |
| Brandbucket Media & Technology Ltd. | 20-Dec-21 | 23-Dec-21 | 2000 | 55 | 8.25 |
| Wherrelz IT Solutions Ltd. | 16-Dec-21 | 21-Dec-21 | 800 | 171 | 2.01 |
| Clara Industries Ltd. | 16-Dec-21 | 21-Dec-21 | 3000 | 43 | 3.02 |
| Supriya Lifescience Ltd. | 16-Dec-21 | 20-Dec-21 | 54 | 265 - 274 | 700 |
For further queries regarding investments, financial planning and guidance, please call us at +91 7305923322
Please write to us at research@adityatrading.com
To read more posts from ATS, check our blog at https://adityatrading.in/