| | | | | |
| --- | --- | --- | --- | --- |
| Industry | Market Price | Recommendation | Target | Time Horizon |
| Education | 27.85 | Sell | 22.28 | 6 Months |
Zee Learn Ltd (ZEELEARN), incorporated on 4th January 2010, is one of the leading education providers in India with the fastest growing chain of K-12 Schools. The company operates through its various brands, namely, Mount Litera Zee School, Kidzee, Braincafé, Zee Institute of Creative Art (ZICA) and Zee Institute of Media Arts (ZIMA), so as to impart better education to today's youth. It helps children in realizing their unique potential through their state-of-the-art, infrastructure and facilities, well trained teachers, and a proprietary pedagogy. Mount Litera Zee School, chain of schools with over 103 schools in approximately 98 cities, also runs a chain of pre-schools, Kidzee, with over 1,500 pre-schools in approximately 550 cities. Its offerings also include Zee Institute of Media Arts, which is a television and film training institute, and Zee Institute of Creative Art, which is a classical and digital animation training academy.
Investment Summary
| | |
| --- | --- |
| CMP (Rs) | 27.85 |
| 52 Week H/L | 48.65/24.40 |
| Market Cap (Cr) | 908.13 |
| Face Value (Rs) | 1.00 |
| Promoter Holding (%) | 57.52 |
| Non-Promoter Holding (%) | 42.48 |
| Total (%) | 100.00 |
Company's promoters' have 95.45% of their holding pledged.

Company had a low ROCE of 5% during the previous financial years.

Acquired MT Educare through a preferential allotment

Lower operating profit margin.
Financial Summary
| | | | | | |
| --- | --- | --- | --- | --- | --- |
| Particulars(Rs. Cr) | FY18 | FY17 | FY16 | FY15 | FY14 |
| Total Assets | 937.21 | 746.06 | 705.08 | 682.96 | 609.72 |
| Total Revenue | 272.54 | 272.54 | 184.28 | 153.31 | 131.62 |
| Profit after Tax | 49.28 | 49.28 | 33.51 | 15.08 | 9.89 |
| EPS( Rs) | 2.00 | 2.00 | 1.00 | 0.00 | 0.00 |
Outlook and Valuation
The company's Q2 results were in line with estimates, company's net sales decreased for this quarter compared to last quarter by 10.58% YoY. Net profit for the quarter stood at 139.30 crores, which is 1.16% lower than the previous quarter. The company's promoters have pledged 95.45% of their holding and return on equity is considerably low. Considering all these points, we have recommended an AVOID rating to ZEE Learn, as the high risk doesn't justify sufficient upside.
Company overview:
Zee Learn Ltd was incorporated on January 4, 2010, is one of the most diversified premium education companies which deliver learning solutions and training to various segments of society through their multiple products including Kidzee, Zee Schools, Zee Institute of Media Arts, Zee Institute of Creative Arts and E - Learning Online Education and Testing. Zee learn's main purpose is to improve human capital by providing quality education through their chain of Schools, pre-schools, youth vocational institutes and online ventures. Mount Litera Zee Schools are the fastest growing chain of K-12 schools in India with over 65 schools coming up in the country. Kidzee is the largest chain of preschools with over 700 pre-schools.
On January 20, 2010 the company obtained certificate of commencement of business. As per the scheme of arrangement between ETC Networks Ltd, Zee Entertainment Enterprises Ltd and the company, the erstwhile ETC Networks Ltd merged and vested in Zee Entertainment Enterprises Ltd on March 31, 2010. Upon such merger, the education business undertaking of Zee Entertainment Enterprises Ltd was de-merged and vested in the company with effect from April 1, 2010. In accordance with the Composite Scheme, upon merger and subsequent de-merger, the entire Business, assets, properties and liabilities of the Education Business Undertaking of Zee Entertainment Enterprises Ltd was transferred to and vested with the company with effect from April 1, 2010. The company shares were listed on the Bombay Stock Exchange Ltd and National Stock Exchange Ltd with effect from December 20, 2010.
Zee Learn has entered into a new strategic line of manpower recruitment and training business through the newly incorporated subsidiary Liberium Global. Librium provides these essential services around training, lateral hiring, temporary staffing, human resource business process outsourcing and ensures quality services through soft skill training, pre-screening, a better understanding of customer needs and absolute adherence to compliance.
Zee learn leading Brands
Kidzee:
Kidzee is a market leader in the preschool division of the Company which brings a structured and research-based curriculum to help preschoolers discover their potential. The Company's proprietary pedagogy, Interactive Illume, has become a clear differentiator and with the launch of imagine, it has become India's first preschool to integrate Augmented Reality in Learning. But Kidzee is having a tough competition and it becoming very difficult to maintain that position as there are other brands which are growing rapidly like EuroKids, Bachpan Shemrock, Hello Kids, etc.
The Mount Litera Zee Schools:
The Mount Litera Zee Schools is a leader in the field of providing holistic, quality and state-of-art education and covers the entire spectrum of education from kindergarten to K-12. It is the second-largest network of schools in the private-unaided category in India with over 122 schools across 100+ cities in India. A proprietary K-12 education model, Litera Octave gives every student an opportunity to achieve his/her true, unique potential.
The ZIMA:
The ZIMA division is a creative and training academy for the film-making and media industry. It has the best in class and international standard curriculum for its courses coupled with cutting-edge technology and infrastructure and highly experienced faculty from the Film, TV, and Journalism industry. Currently, the courses in ZIMA are available in Mumbai, Noida, and Jaipur.
ZICA:
ZICA is India's first full-fledged Classical and Digital Animation training academy offering training in 3D Animation, Visual Effects, Graphic Design, and Web Design. Courses in ZICA are available in 14 centers across the countries and include major cities like Mumbai, Pune, Noida, Bengaluru, Chennai, Kolkata, Mangalore, Ranchi, Bhubaneswar, Guwahati, etc.
Librium:
The division offers the entire gamut of HR services including Remuneration Management & Solutions, Talent Management, Skill Development and HR Business Process Outsourcing.
MT Educare:
The division fulfills the educational and aspirational needs of a diverse range of students from Class V to students appearing for Engineering and Medical entrance exams, exams for CA and MBA aspirants. Even in this division, there are lots of other institutions and online coaching centers which are providing best quality and with low fees.
Management Profile
| | |
| --- | --- |
| Key Personnel | Designation and Experience |
| Mr. Himanshu Mody | Non-Executive Director: Mr. Himanshu is a Non-Executive Director of the Board, currently heads Group Finance & Strategy for the Essel Group. He has almost 12 years in the industry. After his MSc in Finance from University of Strathclyde, Glasgow, he started his career as a management trainee with Barclays Bank, London city office. After a 2 year intensive course, he returned to India to start the Fun Republic chain of multiplexes as a senior member in the finance team. |
| Dr. Manish Agrawal | Independent Director: Dr. Manish Agrawal is a Non-Executive Independent Director of the Board. He completed M.B.B.S. from University of Bombay, D. (Ortho) from College of Physicians & Surgeons, M.S. (Ortho) from University of Bombay, D.N.B.(Ortho), National Board of Examination, New Delhi and Diploma in Tissue Banking from National University of Health, Singapore. |
| Sangeeta Pandit | Independent Director: Zee Learn has appointed Mrs. Sangeeta Pandit as an Additional Director of the Company with effect from December 01, 2013. She also holds Directorship in The Indian Card Clothing Company Ltd. |
| Surjit Banga | Independent Director: Surjit Banga, a Non-Executive Independent Director, is a highly experienced, senior banker. He was the Managing Director of SBI Factors and Commercial Services Ltd and has been associated with several other institutions with a professional career spanning almost 40 years in India and abroad. |
Key Ratios
| | | | | | |
| --- | --- | --- | --- | --- | --- |
| Key Ratios | FY18 | FY17 | FY16 | FY15 | FY14 |
| Debt-Equity Ratio | 0.68 | 0.68 | 0.82 | 1.49 | 1.41 |
| Current Ratio | 0.79 | 0.79 | 0.90 | 0.83 | 0.45 |
| Inventory Turnover Ratio (x) | 28.78 | 28.78 | 13.22 | 13.84 | 4.66 |
| Total Asset Turnover Ratio (%) | 28.68 | 28.68 | 24.19 | 21.46 | 18.71 |
| PBDIT Margin (%) | 39.34 | 39.34 | 34.86 | 29.90 | 26.95 |
| PBIT Margin (%) | 35.21 | 35.21 | 29.43 | 23.16 | 19.64 |
| ROCE (%) | 5.89 | 11.32 | 8.30 | 2.49 | 1.86 |
| RONW (%) | 13.94 | 13.94 | 11.45 | 6.02 | 4.23 |
| Price/Book Value (x) | 3.24 | 3.24 | 5.32 | 3.92 | 4.95 |
| EV/EBITDA (x) | 12.87 | 12.87 | 28.24 | 29.64 | 42.75 |
| Market Cap/Sales | 4.25 | 4.25 | 8.62 | 6.48 | 9.07 |
Recommendation Rationale
The company's promoters' holding is around 57.52% out of which promoters have pledged 95.45% of their holding, which is a negative point for the company. If the promoter is holding 50% and if the pledged share is 50% of his total holdings, then ultimately the promoter is holding only 25% because at any point of time the lender can sell those shares in case of any correction in share price or in the market. There are many options available for a promoter to raise money. Shares pledging is considered as the last option to raise funds. So, share pledging is a clear signal of high levels of leverage and such stocks are better to be avoided.

Recently the company acquired a controlling 44.5% stake in MT Educare, a Mumbai-based firm that runs the popular Mahesh Tutorials coaching classes, for about Rs 200 crore as the Subhash Chandra-controlled Zee Group looks to expand its footprint and make inroads into the government-supported skilling and vocational segment. Zee signed a definitive agreement to invest Rs 200 crore in MT Educare through a preferential allotment of equity shares at Rs 62.57 a piece. Zee Learn also made an open offer to the shareholders of MT Educare to acquire up to 1.86 crore fully paid-up equity shares, constituting 26% of the share capital, at a price of Rs 72.76 per share. Zees learn high margin business was around 37-38% for the first 9 months for that year and had acquired a debt company for a premium price.

Operating profit margin for the year ended Sep 2018 was 26.42% and 38.85% in 2017, this year operating profit margin is almost 12.43% lesser than the previous year, which is again negative point for the company.

Company has a low ROCE of 5% for last financial year.

The company's consolidated debts as of September 30, 2018, is around Rs.444 Crores versus the same period last year it was about Rs.254 Crores, but that was excluding MT, so if we add Rs.180 Crores of MT at that point of time the picture is more or less comparable. The company breakup of their debt of Rs.444 Crores, about Rs.164 Crores comes into Zee Learn Ltd about Rs.120 Crores comes into the digital venture, which is over 100% subsidiary and Rs.159 Crores comes from MT.

The company's capital expenditure for Q2 was around Rs. 4.5 Crores excluding MT. MT generally has CAPEX of about Rs. 1.5 Crores, which is essentially some part of the content and largely in the CAPEX goes into the new centers or the centers, which get shifted to new locations.
Industry Overview
Education Industry
The education sector in India is estimated at US$ 91.7 Bn in FY18 and is expected to reach US$ 101.1 Bn in FY19. With approximately 28.1% of India's population in the age group of 0-14 years, educational sector in India provides great growth opportunity. With evolving times the purpose of education has evolved from imparting knowledge to all-round development of students to groom them to be literate citizens. The schools guide the students to explore their potential and understand their passion while also developing their skills like language, technology, cross-cultural understanding etc.
Schools are adopting innovative and practical teaching methods and have brought about a sea change in the teaching methodology with the use of technology.
India holds an important place in the global education industry. India has one of the largest networks of higher education institutions in the world with 850 universities and 42,026 colleges. With both the Government and the private sector stepping up to invest in the Indian education sector, the number of schools and colleges has seen an uptrend over the past few years. A total of 35.7 Mn people were enrolled in higher education institutes in FY17. India ranks 124th in literacy rates with a literacy rate estimated at 75% in 2016. In 2017, 8% of the schools in India were RTE (Right to Education) compliant. Education spending is close to 2.7% of GDP in India in FY18 versus a global average of 4.5%. Gross Enrolment Ratio (GER) in higher education was 25.2% in FY17, which the Government aims to increase to 30% by 2020. The country has become the second-largest market for e-learning after the US and online education is expected to reach US$ 1.96 Bn by 2021 with around 9.5 Mn users.
The Indian education system can be broadly classified into formal and informal with K-12 (schooling of lower primary, primary and secondary sections) and higher education (graduate and post-graduate colleges) falling under the formal sector. The informal sector mainly comprises pre-schools, coaching institutes, and vocational education. Slowly with the rising interest of parents and the growing demand for quality, the pre-schooling segment is becoming a part of formal education with many schools having pre-schools.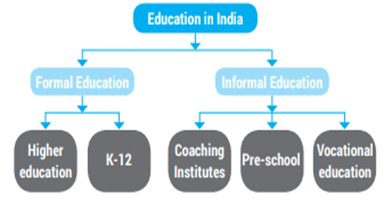 K12
The current K-12 school system in India is one of the largest in the world with more than 1.5 Mn schools that have more than 250 Mn students. Private schools account for about 25% of total schools.
Based on the differential geography and income levels of the Indian population, three different sub-markets have emerged within private school segments namely:
High-End Schools (having fees >Rs 60,000 per annum),

Mid-Market Schools (having fees between Rs 12,000 - 60,000 per annum) and

Affordable Private Schools (having fees
As per rules, schools are formed as non-profit organizations, and any surplus generated is needed to be plowed back into the improvement of the school. With increasing awareness, private Indian players are collaborating with international brands to provide international standard quality education. Schools are investing in information and multimedia education technologies to provide better education infrastructure to students. An increase in technology has also influenced the education sector due to which smart classes are gaining acceptance. Technology-driven learning is introducing a qualitative and quantitative differences to education. The introduction of online learning in the Indian education system has changed its scenario, with its reach and economical access.
Higher Education
India's higher education system is the largest in the world with over 70 Mn students and it ranks second in terms of student enrolment in higher education. By 2025, the segment is expected to reach US$ 35.03 Bn. This includes various institutions providing graduate courses in various streams and post-graduate courses. Mostly higher education is controlled by the government under various Central and State universities. However private players are foraying in a big way in post-graduate courses. With the increasing need for formal education, higher education has become commonplace and an increasing number of students are opting for post-graduate courses with a view to secure more competitive jobs.
Pre-schools
There are close to 106 Mn children in the 2-5 age group, out of which 60 Mn children go to pre-school or an early childhood education center. With a market size of US$ 1.18 Bn, India has the highest number of preschool children enrolled globally (Source: Kaizen Education, 2014). Currently, India has close to 0.5 Mn private pre-schools including both organized and unorganized. The segment is majorly unregulated in the country with pre-school education not being compulsory. The National Commission of Protection for Child Rights (NCPCR) has formed guidelines for private pre-schools to ensure child safety and bring uniformity and inclusiveness. All pre-schools are required to be registered with NCPCR and ensure police verification of all employees.
Coaching institutes
With child development becoming the priority for parents, there has been a tremendous rise in coaching institutes that offer both curricular and extra-curricular activities. Coaching classes offer tuitions for all grades, preparation for entrance exams, and coaching for higher education as well. In extra-curricular, coaching institutes cover everything from day-care to soft skill development to dance, art, craft, computer training, etc. There has been a tremendous rise in coaching institutes with increasing competitiveness and a growing need for all-round development. Many schools offer extra-curricular activities on their campus to formalize these activities and provide an element of security and assurance to parents.
Manpower training
Teacher training is emerging as a huge demand area, as teacher quality is a big barrier to improvement in learning outcomes. Despite being the second largest education system in the world, there is serious shortage of good faculties in India. There is a huge requirement for both pre-service and in-service training for teachers. Of the 9 Mn teachers working in schools (K-12), only 80% are professionally trained. Pre-service teacher training has mainly been in the hands of government and private institutes that provide Bachelor's and Master's degree in education. Social enterprises have mainly been driven by non-profit models with some for-profit models emerging, given the need of the hour. While there is a strong need to change the policy to revamp teacher training in India, there is huge opportunity for entrepreneurs to design solutions that can help train teachers to be more effective in the classrooms.
Peer Review
| | | | | | |
| --- | --- | --- | --- | --- | --- |
| Name | Last Price | Market Cap. | Sales Turnover | Net Profit | Total Assets |
| NIIT | 85.85 | 1,436.57 | 361.87 | 5.15 | 902.86 |
| Zee Learn | 27.75 | 904.87 | 186.34 | 45.76 | 478.66 |
| Aptech | 171.50 | 684.17 | 159.14 | 19.06 | 243.98 |
| MT Educare | 55.55 | 401.23 | 181.11 | -121.47 | 353.77 |
| Career Point | 69.00 | 125.32 | 71.09 | 12.99 | 447.70 |
| Everonn Edu | 12.15 | 29.22 | 17.62 | -947.06 | -409.69 |
| Educomp Sol | 2.15 | 26.33 | 177.48 | -475.56 | 2,113.19 |
| CORE Education | 1.75 | 20.05 | 152.12 | -534.57 | 192.52 |
Stock Performance Chart